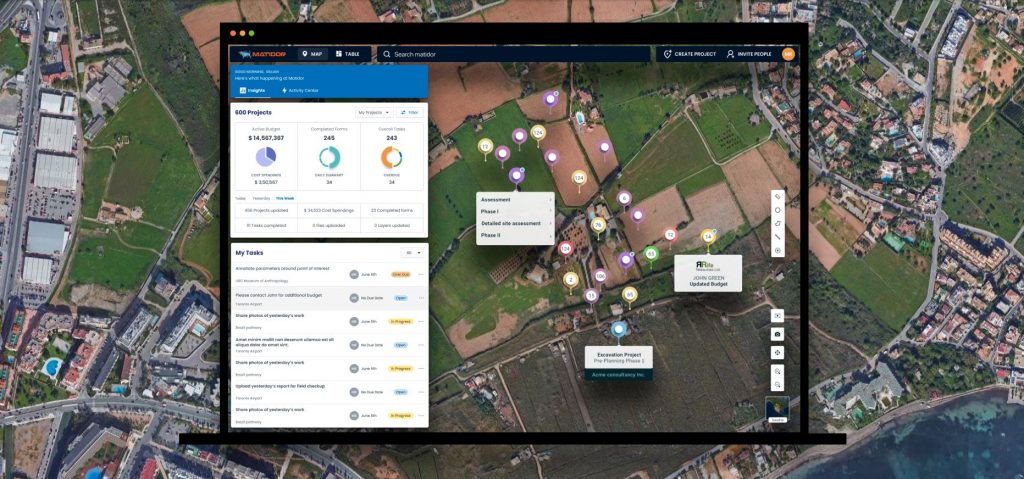 Does your team have to use more than one platform to track expenses and project details from multiple sites? Do you spend days collecting information from different consultants at different locations to create month-end reports?
It's time to control your entire project portfolio in a single user-friendly platform like Matidor.com.
Matidor.com is a one-stop shop for optimized field project management. It meets professionals' needs by supporting an increase in the number of sites managed, improving worker collaboration, and finding new operational efficiencies within real-world projects.
No more piling up paper-based documents is needed or multiple spreadsheets of all kinds of formats to track essential data and tasks. Create your own project templates, prevent budget overruns and reduce the risks of losing information today with data cloud storage and project archives available at your fingertips.
You will be able to track payroll expenses, contractor fees and other expenditures in one single platform with live updates seen by all your teammates in the field & other stakeholders, even across the globe.
If you are already working with accounting software or a project management app you enjoy,  you do not need to worry about compatibility. Our team of experts will make the integration seamless, fast, ensuring absolute continuity in the entire process.
Moreover, you don't have to be a GIS expert to use this accessible tool, since additionally to a very intuitive, user-friendly platform that integrates with other GIS tools within minutes, immediate support during and after the implementation is guaranteed from our team.
Think about leveraging a cloud-based, secure, affordable and powerful GIS project management tool without putting a heavy investment upfront. With our unlimited-user model, you can onboard as many collaborators as you need – including team members, partners and clients. Because with Matidor.com, you pay per project, not per user.
Knowing that there is no one-size-fits-all solution, our team performs an in-depth analysis of your business needs during an initial call. Thus, we can provide a customized solution to meet your company's unique demand.
Book a demo today to learn how we can improve the way you manage project sites.

Share This:
---
More News Articles