Advertise With Us
EnergyNow.com is The Leading US & International Daily Online News and Data Media Service dedicated to providing essential up to date energy industry information with a focus on the American oil & gas industry. Using a strategic combination of daily emails, ever changing "live" website content, a constantly growing subscriber/viewer base and social media channels. 
Are You Looking to Expand and Promote Your Business in The U.S? 
We'll put together a program for your success! By understanding the Energy Buyers and ensuring your brand/service and message is delivered to a focused target audience of decision makers and key influencers!
Key Analytics
240,000+

Audience size (Subscribers, Visitors & Followers)

175,000+

Website monthly visitors

250,000+

Website monthly page views

32,000+

Newsletter subscribers

155,000+

LinkedIn followers

41.4%

Producers & Operators percentage of total subscribers/followers
Introductory Video
EnergyNow supports companies like yours by assisting with digital marketing advertising, content development & publishing to provide exposure to the energy market in the US, Canada & Worldwide. Publish your company content to our targeted energy audience.
Content Marketing Packages
EnergyNow offers three unique marketing packages that help drive greater brand & service/product awareness for your business. Each package includes content publishing on EnergyNow, marketing & exposure on EnergyNow, dynamic microsite on the EnergyNow SHOWCASE digital marketplace, free access to the IGNITE Marketing & Sales Academy events & learning resources.
The perfect digital marketing tool to promote your company, products & services with a visual ad featuring a background image, headline, call to action and other elements to drive traffic to your website or latest campaign. We feature the banner ads on the EnergyNow.ca website, daily newsletter & social media channels. EnergyNow.ca banner advertising gets over 750,000 page & image views every month.
SPARK One Time Publishing Service
You can post any type of digital content (featured article, video, case study & many others) on our websites, daily newsletters & social media channels for a full week.  Connect with our energy audience of 240,000+ energy professionals & decision makers.

Your post also comes with our LeadiD software & reporting, giving you a list of who read or watched your company content.  Also, you can publish in Canada & the U.S. for no extra charge.  These add ons are FREE with this special SPARK promotion (regular price is $250).

If you invest in one of our Annual Content Marketing Packages, we will credit the $500 towards the final cost.  This offer must be activated within 60 days of publishing your SPARK content post.
LeadiD can help generate identified sales leads from your digital content & advertising using powerful proprietary software developed by EnergyNow. LeadiD will identify interested people who have read, watched, or listened to your digital content on EnergyNow or clicked your EnergyNow Banner Advertisement. The primary purpose of LeadiD is to drive identifiable leads to your sales personnel, giving them access to decision makers and buyers so you can quickly respond to sales opportunities and help strengthen your sales pipeline.
LeadiD will provide content & ad analytics (views/clicks & average time) and available Visitor Contact Details supplied in a weekly or time-sensitive report delivered to your key sales manager or leader.

To learn more about LeadiD, please check out the links below:
LeadiD Introductory Video: https://youtu.be/uF1Azoax9mc
LeadiD Promotional Landing Page: https://marketing.energynow.ca/leadid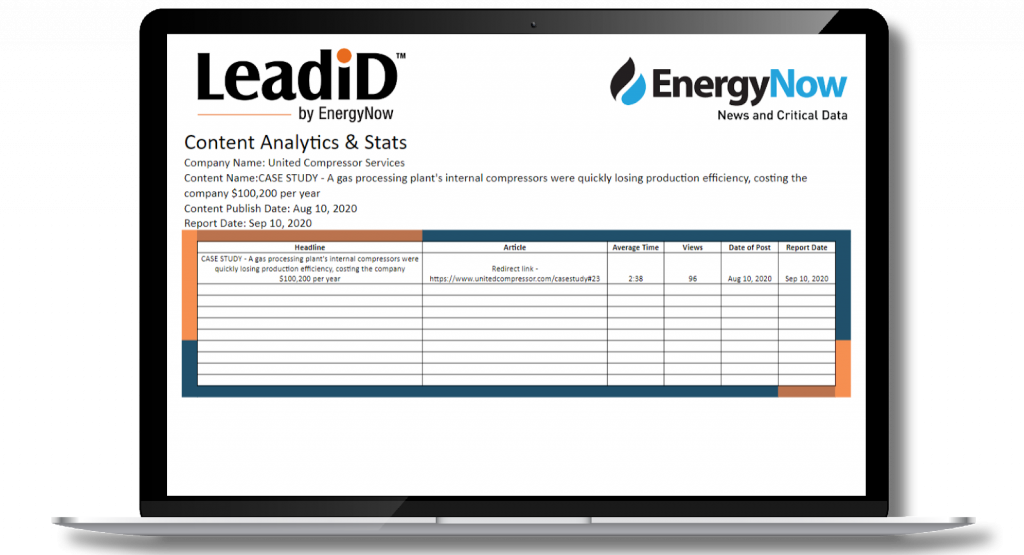 Access Media Kit
If you wish to learn more, speak to an account manager or place an order, please contact us at [email protected].