(Bloomberg)
Oil rose toward $122 a barrel as investors weighed a tight supply outlook and the impact of China's eventual return from virus curbs.
West Texas Intermediate gained for a second session after closing 0.2% higher on Monday, shrugging off a broader market rout that was driven by expectations of higher interest rates to cool inflation. Supplies are tighter than during other recessionary periods and prices could withstand a possible economic slowdown, oil historian and S&P Global Inc. Vice Chairman Daniel Yergin told Bloomberg Television.Brent's nearest futures contract is trading more than $3 above the next month, a bullish structure that points to a hard-pressed crude market. That strength has grown in recent days as Libya suffered a renewed setback to its production.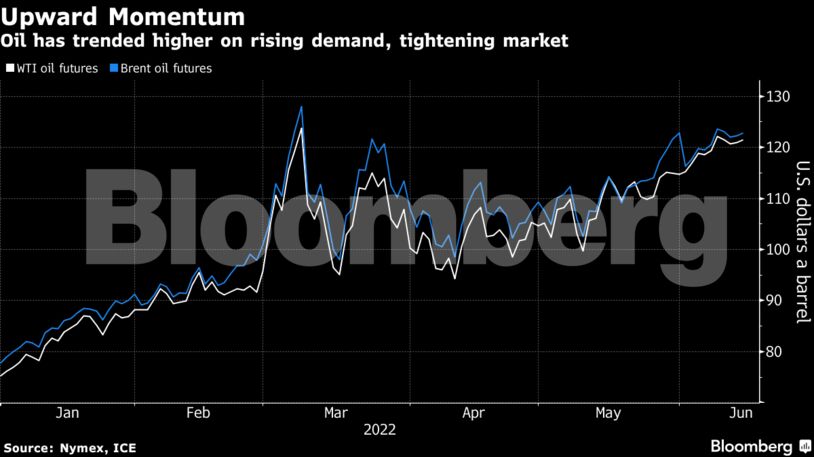 Russia's war in Ukraine has exacerbated a tightening of the crude and fuels markets, and fanned inflation worldwide. The White House is preparing for President Joe Biden to make a trip to Saudi Arabia, but rejected the idea that it would be largely to talk about oil production. Crude has rallied more than 60% this year and several Wall Street banks are calling for further gains in the coming months.
"Meeting increasingly tight supply and increasingly high demand in coming months presents a significant challenge," Saad Rahim, chief economist of commodities trader Trafigura Group, said. "Governments around the world are choosing to cushion demand as much as possible for the time being, via subsidies and tax cuts, so the full impact of higher prices may not be felt for some time yet."
Prices
WTI rose 0.6% to $121.59 a barrel at 10:35 a.m. in London.
Brent for August settlement gained 0.5% to $122.92 a barrel.
Some Asian buyers have been snapping up Middle Eastern oil earlier than usual in the physical market, in a sign of robust demand. The spot buying activity, which normally picks up pace after the release of official selling prices, started even before Iraq, Kuwait and Iran had made their announcements.
There has also been significant strength in the North Sea market that helps set the global Dated Brent benchmark price. On Monday, the Brent, Forties and Ekofisk grades were all being bid at higher levels than Friday — when Forties traded at its highest in more than a decade.
Share This:
---
More News Articles