(Bloomberg) 

Brent crude headed for its biggest weekly drop since March as a potential end to yearslong sanctions raised the prospects of Iran ramping up supplies.Futures in London rose above $66 a barrel on Friday, but they remained on track for an almost 4% weekly decline. Benchmark prices climbed with a wider decline in markets, and found technical support at their late-April lows.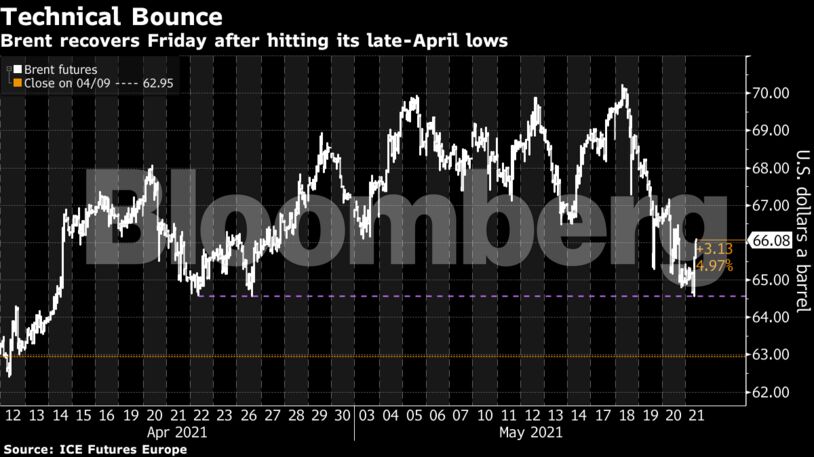 While Brent topped $70 on Tuesday, the market has dramatically repriced as a deal to lift restrictions on Iran's oil exports appeared to inch closer.
President Hassan Rouhani said world powers have accepted that major sanctions will be lifted, though details and finer points still needed to be ironed out.
Some of the most optimistic analysts estimate the country could return to pre-sanctions production of almost 4 million barrels a day in as little as three months. Iranian oil output has been rising this year and was about 2.4 million barrels a day last month, according to estimates compiled by Bloomberg.
Oil has also been swept up in a broader selloff in commodities and equities markets following concerns about inflation, speculation that the U.S. Federal Reserve will ease stimulus and China's warning on measures to cool price spikes. The surge in the coronavirus continues to haunt some major consumers, with India's largest refiner canceling a tender to buy Middle Eastern crude.
"The market is a bit surprised at how quickly they could come to a deal," said Warren Patterson, head of commodities strategy at ING Groep NV, in reference to the Iran negotiations. There's potential for additional barrels "much quicker than many in the market were initially expecting."
Prices
Brent for July settlement rose 1.2% to $65.92 a barrel at 8:39 a.m. in New York
West Texas Intermediate for July delivery increased 1.3% to $62.88 a barrel, but is also lower for the week
With traders gearing up for even more supply, Brent's nearest timespread had approached a bearish contango structure in an indication market tightness is easing.
Negotiators in Vienna, where Iran and the U.S. have engaged in indirect talks to restore a nuclear deal, which former President Donald Trump abandoned in 2018, have taken a "major step," Rouhani said Thursday, according to Iranian state TV.
Prior to the implementation of sanctions, Iran was producing about 3.8 million barrels a day of crude. Only Iraq and Saudi Arabia's output exceeds that amount within the Organization of Petroleum Exporting Countries.
Still, Citigroup Inc. estimates overall global demand is strong enough to absorb any additional supply, including from Iran and that prices will continue to climb.
Other oil-market news:
China is set to extend its dominance in the global oil market as planned tax adjustments spark a chain reaction, prompting processors to boost crude imports and raise refinery run rates.
Another overactive hurricane season could be in store for the Atlantic this year, with government forecasters predicting as many as 20 named storms after a record number slammed into the U.S. mainland in 2020.
Share This:
---
More News Articles