By Ann Koh and Alex Longley
Oil dropped below $45 a barrel as a consensus within OPEC+ to postpone an output hike planned for January remained elusive ahead of a meeting of the cartel's power brokers later on Monday. Futures in New York declined 1.7%. Most participants in an informal online gathering of OPEC+ ministers on Sunday supported keeping production curbs at current levels into the first quarter, said one delegate, although there was opposition from the United Arab Emirates and Kazakhstan.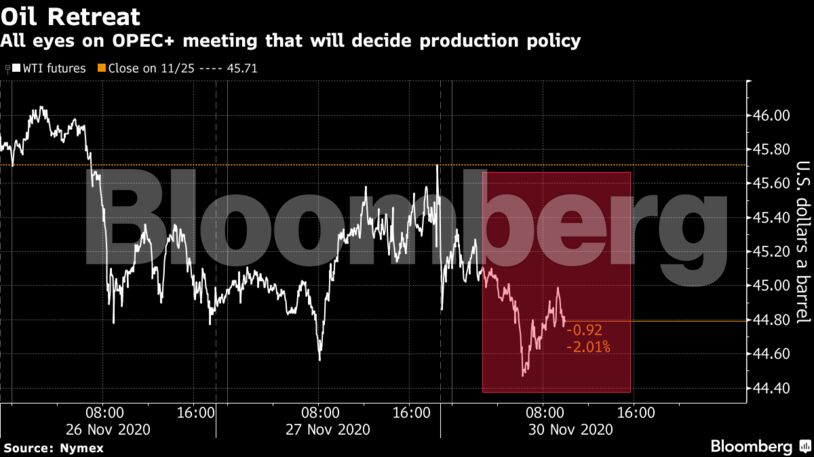 Oil is still set for the biggest monthly gain since May as Covid-19 vaccine breakthroughs raised optimism for a long-term rebound in fuel consumption. Yet failure by OPEC+ to agree on extending output curbs would see producers restore about 1.9 million barrels a day in supply, potentially pushing the global market back into surplus.
While a majority of OPEC-watchers are expecting a three-month delay to the planned output increase, a recent price rally may complicate talks. Some producers such as Iraq — which is seeking cash upfront for a long-term crude-supply contract — are keen to pump more.
"The current grumbling is part of the game," said Hans van Cleef, senior energy economist at ABN Amro. "It is a matter of finding a balance between generating sufficient income and not flooding the market with oil. I personally think that they will postpone the previously agreed production increase by three months and then gradually increase it."
Prices
West Texas Intermediate crude for January delivery fell 75 cents to $44.78 a barrel as of 10:28 a.m. London time

Prices are up about 25% this month

Brent for January settlement slid 2% to $47.24
Vaccine optimism is also having an impact on oil's forward curve. Brent's prompt timespread flipped into backwardation at the start of last week — a sign that concerns about oversupply have eased — although it moved back into contango on Friday.
"With the strong rally we have seen in the flat price and timespreads more recently, I am sure some members would question: why roll over cuts?" said Warren Patterson, head of commodities strategy at ING Group. "If Brent were still trading closer to $40, I think there would be less hesitation, as it would be pretty clear that OPEC+ needs to do more."
Click here to follow TOPLive coverage of the OPEC meeting
China is continuing its robust rebound from the virus-induced crash. An official gauge of manufacturing activity rose faster that expected in November, while at least one fuel supplier is gearing up for an expected surge in air travel ahead of the Lunar New Year holiday in February. However, Indian diesel sales are slipping again, with a festive-season demand boost proving fleeting.
The Middle East, meanwhile, is once again seeing rising tensions. A refinery in Iraq's north was hit by a rocket, causing a fire, according to Al-Arabiya television. That comes after Iran accused Israel and the U.S. of being behind the assassination of one of its top nuclear scientists Friday, vowing revenge.
Share This:
---
More News Articles