By Rachel Adams-Heard and Naureen S. Malik
(Bloomberg) 

U.S. natural gas terminal developer Tellurian Inc. has cut roughly 40% of its workforce in a massive restructuring effort aimed at slashing costs and rescuing a struggling, $29 billion export project.The Houston-based company founded by shale gas pioneer Charif Souki 

laid off

 as many as 70 workers, according to people familiar with the situation. The company could also put off a final decision on whether to build the Driftwood liquefied natural gas export terminal in Louisiana by 12 to 18 months, said one of the people, who asked to not be identified because the information isn't yet public.

Tellurian announced a series of senior management changes Monday, including the appointment of Kian Granmayeh, formerly director of investor relations, as chief financial officer, replacing Antoine Lafargue.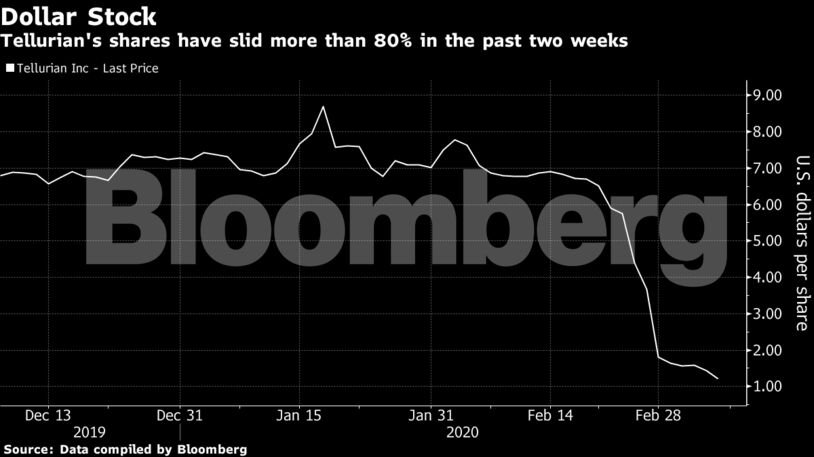 "We are reducing our costs and reorganizing the company to make Tellurian resilient in the face of current challenges in financial and energy markets," Chief Executive Officer Meg Gentle said in the statement announcing the reshuffle in senior management.
Tellurian has emerged as one of the hardest-hit energy stocks in America amid the ongoing coronavirus-driven rout in commodities markets. The company was already reeling from a warm winter that sapped global demand for LNG and record low prices for the heating fuel. It also failed to finalize a deal with a major Indian customer for the Driftwood project last month. Souki and Tellurian co-founder Martin Houston were forced to sell shares in what was essentially a margin call.
Shares have plunged more than 80% over the past two weeks, and the company is in talks with a lender to renegotiate terms.
Tellurian didn't immediately respond to a request for comment on the staff cuts.
Read More: Latest Gamble by Restaurateur Turned Gas Baron Hits the Skids
Souki has meanwhile spent little time at the company's offices in recent days, according to the people familiar with the situation.
Souki's Shares
In an interview last week from his home in Aspen, Souki said his role has been more that of an "elder statesmen" offering advice when needed to the people actually running the company. He said he was forced to sell shares due to the terms of a financing agreement. Souki, who continues to be Tellurian's second-largest shareholder after Total SA, also said that the impact of the virus means that for the time being, "everything has been delayed a few months."
The layoffs began late last week and hit multiple departments, including Tellurian's upstream gas-producing team, terminal operations and analysts and marketers in between, the people said.
As part of the latest restructuring, Souki's son, Tarek Souki, will no longer be senior vice president of LNG marketing and trading and will instead shift his focus to trading only, according to one of the people familiar with the situation. In Monday's statement, Tellurian said he will continue as an executive vice president of the company and president of Tellurian Trading UK.
Lafargue, the former CFO, will join Tellurian's marketing group as senior vice president of LNG marketing. Amos Hochstein, who previously held that job title, is now executive vice president of LNG marketing.
Share This:
---
More News Articles