Author: Nancy Abrams
G&B Portable Fabric Building's Zero Impact Solutions
As the Fabric Building and Tensile Membrane Structures Industry is changing, G&B wants to focus on the Environment and what we do to help Zero Impact Initiatives for Natural Resource Management and Extraction Sites. Our last few articles have focused on why Fabric Buildings are important for providing Critical Infrastructure to companies in the Mining, Oil and Gas Processing, Commercial Construction, Resource Extraction, and Commercial Agriculture Industries and we want to keep building on this momentum. We've also made major moves into the Military, Industrial Aviation, and Nuclear business sectors as our Steel Structures outlast our competitors in harsh environments.
Globally the Fabric Building Market is set as a 12 Billion dollar industry. We know our Certified Fabric Structures are the Economic Solutions for Zero Impact and Environmentally Sustainable projects required for the growth of the Energy and Resource Management Industries throughout North America.
Zero Impact Projects by G&B
G&B's Fabric Buildings are the perfect solutions for Oil Drilling, Gas Extraction, Oil and Gas Pipeline Construction as well as Mining Storage and Warehousing. As an example, G&B has supplied and installed energy infrastructure for Pipelines, Potash and Gas Processing facilities throughout North America.
Photo Credit G&B Portable Fabric Buildings Critical Construction Project in Ezsterhazy Saskatchewan.
G&B completed a project in 2018 providing Critical Component Storage Warehousing for corrosive materials. Above is a photo of the project that was started in 2018. Over the past year, G&B has been periodically working on this Potash site; supplying and installing Fabric Structures. Initially G&B supplied and installed one 72×154 Storage Building but in 2019, the Potash Company contacted G&B to supply and install two more Fabric Building Systems. All Buildings for this project are NBCC 2015 and Can/CSA S16-14 compliant. The Buildings are A660 Certified and have been erected on precast concrete foundations, with the granular foundation consisting of gravel or firm clay.
In 2019 G&B completed a project for a Pipeline Company in Canada supplying and installing a 40×98 Tent-Style Fabric Building. This building was constructed with 8 Powder Coated Steel Trusses erected on a Base Rail Foundation. As a Cold Storage Warehouse, the building follows Alberta's Building Codes, Code 2014 and CSA S16-14. This building includes a 12×14 Electric Steel Overhead Door and 4 Gable End Vents on the end walls.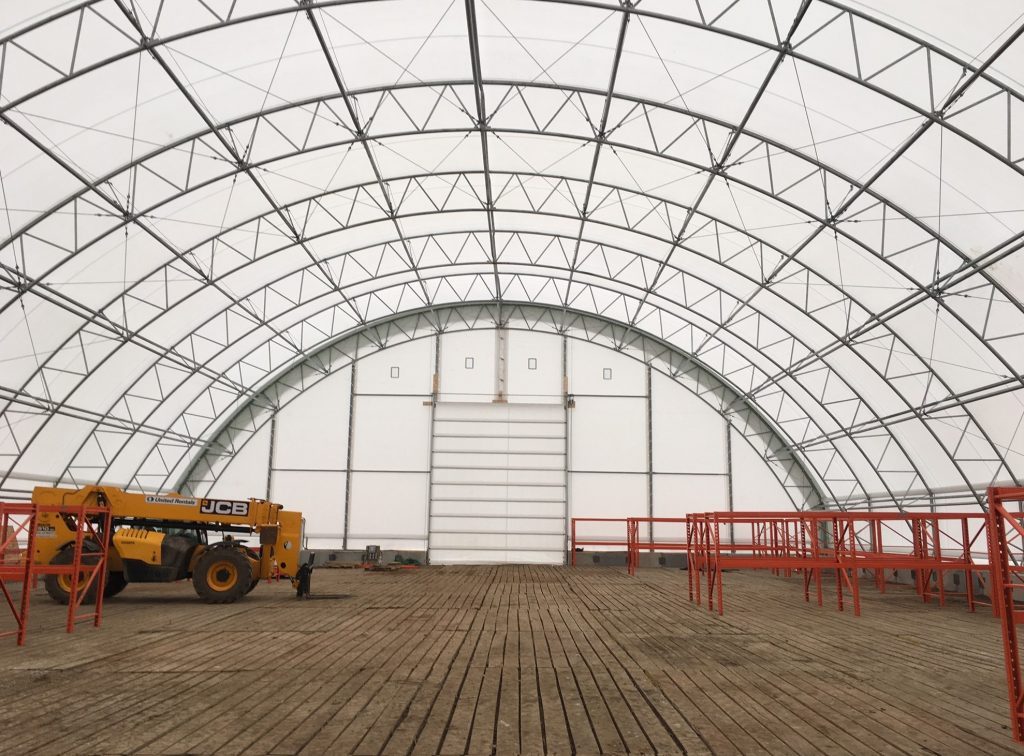 Photo Credit G&B Portable Fabric Buildings Critical Construction Project in Lloydminister, Saskatchewan.
Environmentally Conscious and Economical Solutions by G&B
With G&B's Pre-Engineered and Portable Membrane Structures, Stamped and Certified drawings are just a phone call away. Our Woven Polyethylene Fabric Composition is manufactured to withstand corrosive materials and harsh environments. Our North American Steel Trusses and Tubes are engineered for Snow Loads, Wind Pressure and any other environmental conditions that will affect the longevity of a G&B Structure. If you want to look at our full list of certifications, check out our last article: "Critical Components Infrastructure by G&B Portable Fabric Buildings" or visit our website www.gandbbuildings.com.
Site Specific engineering and preparation is necessary in off the grid resource management and off the grid storage solutions as well as work applications. A G&B Portable Fabric Building comes with a variety of Foundation Options. Moveable Pre-Cast Solutions, Rig Matting, or Construction Mats are often used for temporary road and heavy equipment surfaces. Our Buildings can be designed to be transportable by Crane, making your next Pipeline construction project and critical infrastructure site work for you.
Zero impact initiatives are simple with a G&B Portable Fabric Building. Disaster relief, Construction Sites, Sports and Athletic facilities are now a reusable asset. We focus on environmental due diligence and utilizing renewable and reusable assets.  That's why G&B's Tensile Architecture is the number one choice for Resource Extraction and Management Sites.
The Industry is changing, the Economy is changing, and the World is changing. Let G&B Protect Your Assets and help you Grow your Operations with Zero Impact Construction and Economical Solutions.
AnySize… AnyTime… AnyPlace
Original: www.linkedin.com/pulse/environmental-economic-building-solutions-gb-nancy-abrams
Share This:
---
More News Articles