(Bloomberg)
A U.S. trade court has reinstated a tariff exemption on some imported solar panels, a decision that benefits domestic clean-energy developers.Former President Donald Trump last year eliminated a loophole that exempted double-sided solar panels from import duties, but that "constituted an action outside the president's delegated authority," U.S. Court of International Trade Judge Gary Katzmann said in a ruling Tuesday.
As a result of the court's ruling, all of the companies that paid tariffs under the Trump era proclamation will receive refunds, according to the industry trade group Solar Energy Industries Association.The judge's ruling is the second blow to domestic panel makers in the past week, after the U.S. Commerce Department rejected Wednesday a request from a group of anonymous manufacturers to extend a separate set of tariffs to cover equipment made in Thailand, Malaysia and Vietnam. However, it will help U.S. developers that fought to restore the tariff exemption on so-called bifacial solar panels.
"This is a major surprise," Philip Shen, an analyst at Roth Capital Partners, said in a note Tuesday. "Just like that, module vendors can import bifi modules into the U.S., and the industry can avoid" the tariffs Trump imposed in 2018,
First Solar Inc., the largest U.S. solar manufacturer, fell as much as 9.3% on Tuesday, the most in intraday trading since Sept. 20. China-based JinkoSolar Holding Co., gained as much as 5.8%.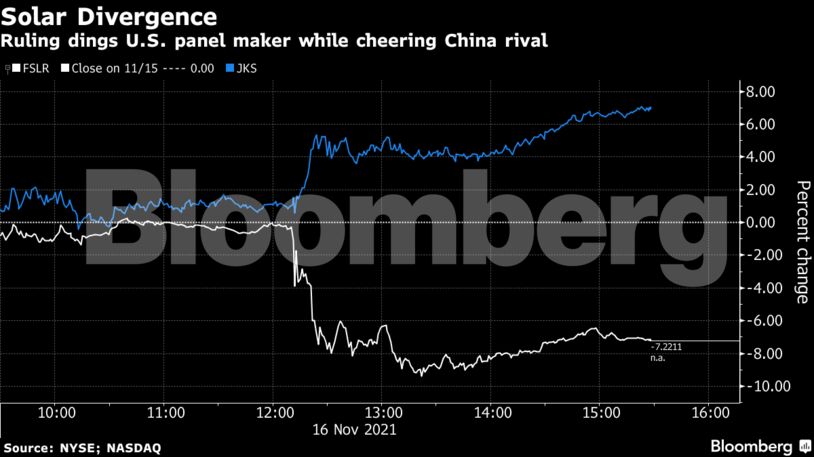 "This is an unfortunate ruling that puts domestic solar manufacturers at risk of immediate and substantial harm." said a spokesperson for Hanwha Q Cells, a South Korean manufacturer of bifacial solar modules that owns a facility in Dalton, Georgia.
"This ruling doesn't help the U.S. solar industry. We want to support a sector, this sets it back," said Brian Lynch, head of solar business development at LG Electronics USA Inc. LG's facility in Huntville, Alabama makes bifacial solar modules.
The judge's decision comes months after the trade court ruled Trump's proclamation hadn't violated an earlier order, effectively allowing his administration to end the exclusion. In December, a Washington-based solar-trade group and some developers challenged the proclamation, contending the administration "failed to follow the required procedures" before acting.
Trump originally approved four years of tariffs on solar equipment imports, starting at 30%. The administration later surprised many in the sector by granting an exclusion for bifacial panels. While they were considered niche products, the tariffs had encouraged some new solar manufacturing in the U.S., and module imports exempt from those duties posed a threat.
The former president's proclamation was "an unlawful attempt to harshen" his tariffs, Abigail Ross Hopper, CEO of the SEIA, said in a statement.
The Office of the United States Trade Representative did not immediately respond to a request for comment. And, the International Trade Commission has no comment to offer.
The case is Solar Energy Industries Association v. U.S., 20-3941, U.S. Court of International Trade (New York).
Share This:
---
More News Articles