PRODUCT FEATURE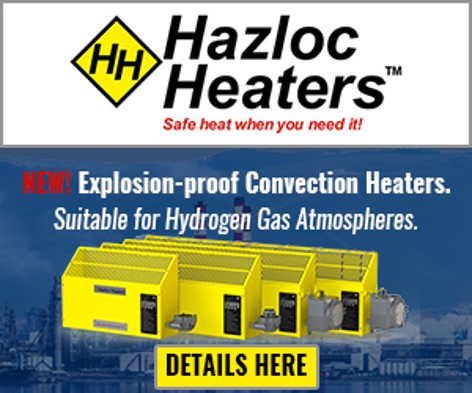 Hazloc Heaters
 is pleased to announce the introduction of the XEC1 ProTektor Series of explosion-proof convection air heaters certified to the most current Canadian and American Division and Zone system standards (CCSAUS).

The XEC1 ProTektor Series of explosion-proof convection air heaters are designed for maximum heating performance and to provide primary or supplementary heating of people or equipment in areas that are classified as hazardous gas atmosphere locations. The four cabinet sizes of XEC1 heaters are available in 119 single-phase and 76 three-phase model choices of voltage, heat output, and Division System temperature class code (T2B or T3A) combinations to meet your specific requirements. Factory built-in options and a selection of electrical enclosures are also available for added convenience and safety. Furthermore, the flexibility of the XEC1 ProTektor design allows, at the time of factory ordering, for users to request that their electrical enclosure, plus any built-in options selected, be mounted on the right side (standard) or left side (option) of the sloped-top cabinet.
Hazloc Heaters
, General Manager, Darren Ochosky, stated, "The XEC1 heater is Hazloc Heaters' 8th series of heaters introduced since we started the company in 2004. This product introduction reinforces our dedication to helping our customers grow and prosper by providing leading edge industrial heating and cooling related products, technical expertise, and outstanding service." Hazloc Heaters™ is also committed to a high standard of quality and on-time delivery performance.Quality is… customers that come back and products that don't!
www.HazlocHeaters.com
More Information Available HERE
Share This:
---
More News Articles