by ENERGYminute
See more articles and infographics from ENERGYminute HERE
An oil spill estimated to be 3,000 barrels (572,807 litres for you metric folk) has occurred near Orange County, California. The spill was reported on Saturday and occurred about 5 miles off the coast, somewhere between an oil processing platform and the pipeline connecting it to shore.
The affected area along California coast
Courtesy of Associated Press
Cause of the spill: Still unclear. However, the current guess is that the pipeline was struck by a ship anchor. Divers are currently investigating to confirm.
In the meantime, the US Coast Guard has deployed a suite of booms and boats to attempt to contain and recover the oil.
Scale compared with past oil spills
gallons of oil spilled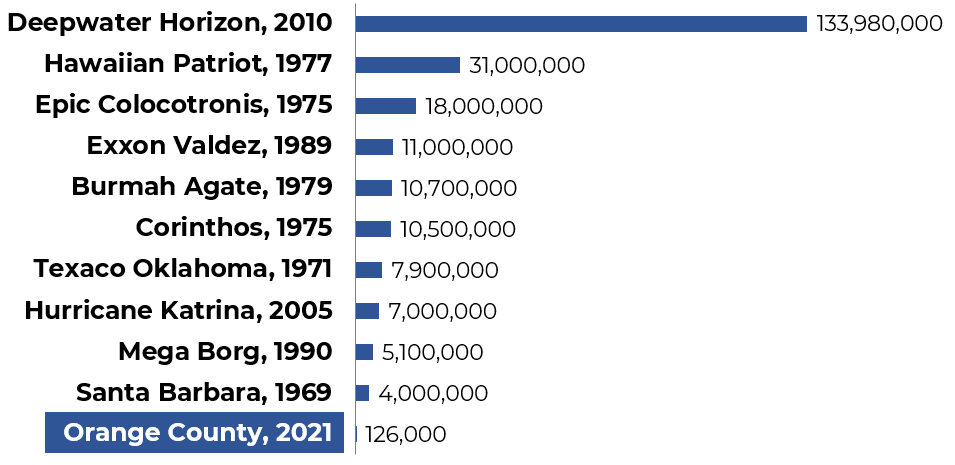 Courtesy of the LA Times
For California, this is one of the largest spills in recent years. At a national scale, the volume of this specific spill is a small fraction in comparison to the largest oil spills in the US.
Since 1969, the National Oceanic Atmospheric Administration (NOAA) has been tracking oil spills across the United States. The OC's spill is roughly 3.8 million gallons shy of cracking the top 10.
Zoom Out: It seems simple to gauge the damage of an oil spill by the volume of oil leaked. An important point from NOAA is that the severity of harm caused by an oil spill is also dependent on the location, season, and environmental sensitivity—not just volume.
So while we know how much was leaked, the full scope of harm caused by the O.C. spill has yet to be determined.

Share This:
---
More News Articles