(Bloomberg) 

More than 1.5 million households in Britain are being forced to switch energy suppliers after two more retailers collapsed on Wednesday, bringing the tally of companies going out of business to seven since early August.

The last two victims were Green Supplier Ltd. and Avro Energy Inc, which both stopped trading on Wednesday. Avro had 580,000 customers and Green had 255,000, accounting for 2.9% of households in Britain. Another five suppliers, with more than 650,000 customers in total, have also gone under since the start of August as natural gas and power prices surged to record-highs.

The announcements follow a prediction made by U.K. Business Secretary Kwasi Kwarteng on Tuesday that more companies would be in trouble. The secretary is holding daily meetings with energy regulator Ofgem to monitor the energy market and "step into gear processes to protect consumers," he said in a tweet Wednesday.

"It's not unusual for smaller suppliers to fail," Kwarteng said.

Kwarteng has held emergency meetings with suppliers during the past few days. Companies have been asking for the price cap on default tariffs to be lifted to allow them to shift some of the pain onto consumers but the government has stated that this won't happen. Instead, state-backed loans are being considered to help ease costs for larger firms to take on the customers of failed companies.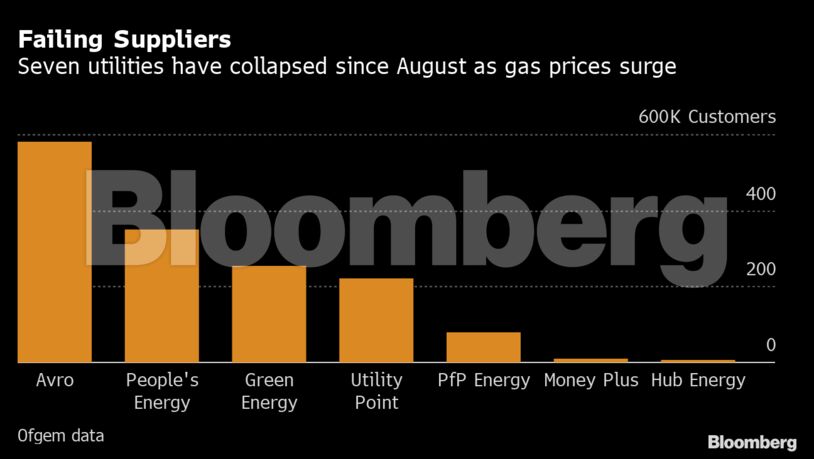 "The current market conditions are unprecedented, with record wholesale energy prices pushing the cost of energy above the price cap," Green said in a statement. "This means that Green, like all other energy suppliers, are selling energy to customers at a loss."
Ofgem will now find a supplier for the customers of Green and Avro. This is usually a straightforward process but larger companies may now be unwilling to take on clients at a loss. High gas prices aren't likely to come down quickly, which as spurred the government to try to hash out a way to protect households and make sure they have a replacement supplier.
"The most important advice we can give you right now is to not panic," said Alex Staker, head of commercial operations at price comparison provider Bionic. "Your energy supply won't be disrupted and your power will not be cut off in the unfortunate situation that your energy supplier does go bust."
Speaking to lawmakers earlier, Kwarteng said the country should be prepared for higher longer-term prices. RBC Europe Ltd. estimates that bills could jump by as much as 400 pounds ($546) a year because of surging costs.
"It's a long winter ahead," said Andy Harris, chief information officer of UtilityPoint, which ceased trading last week. "If we get a cold start, prices could go up even more and other firms could follow."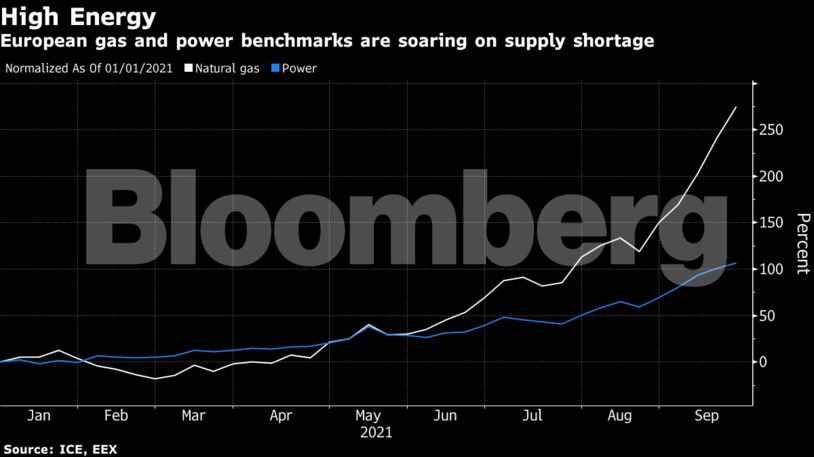 It's not just the U.K. A cold winter could ignite a Europe-wide energy-supply crisis. Prices already at record levels before winter has started has got governments worried. The issue of price volatility and the impact of soaring energy costs on public support for the shift to clean energy was raised unexpectedly at a meeting of EU energy ministers in Slovenia on Wednesday, according to a person with knowledge of the talks.
Several EU countries want the energy crunch to be put on the agenda for the summit of the bloc's leaders on Oct. 21-22, according to an official of the European Commission who declined to be identified.
So far, the effects of the surge in prices is being felt most acutely in Britain. Food shortages may have been avoided for now after officials on Tuesday agreed to give "limited financial support" to help CF Industries Holdings Inc. restart a fertilizer plant halted by high gas prices.
Share This:
---
More News Articles