(Bloomberg) 
ConocoPhillips will use a rebound in oil and gas prices to cut debt by about 25% over the next five years, signaling a focus on financial prudence even after completing one of the biggest shale takeovers in recent years.The Houston-based company will cut its borrowings by $5 billion, it said in a statement Tuesday, essentially returning its debt pile to the same level as before its purchase of Concho Resources Inc. earlier this year. The plan comes in addition to Conoco's $1.5 billion-a-year share buyback, which may be increased by the planned sale of its 10% stake in Cenovus Energy Inc., valued at about $2 billion at current prices.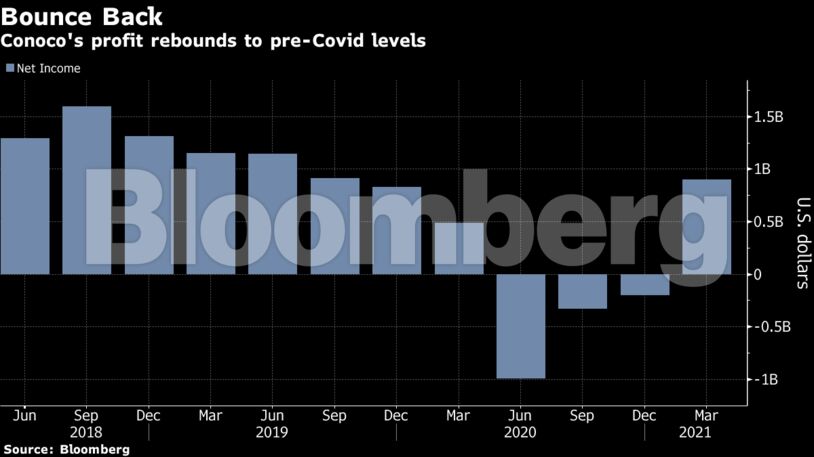 U.S. oil giants Exxon Mobil Corp. and Chevron Corp. also signaled their intention to use surging cash flow to pay down debt and restore their financial strength last week, following a string of damaging losses caused by the Covid-19 pandemic in 2020. The big question is whether independent shale producers like Conoco will do the same given that they have even more debt to work through, or whether they choose to embark on fresh drilling to take advantage of higher oil and natural gas prices.
So far, all signs point to discipline as the U.S. oil industry attempts to rebuild its reputation with investors after a decade of poor returns despite record production from the country's booming shale fields.
Conoco rose 2% in pre-market trading in New York, adding to this year's 32% gain, roughly matching the increase in the S&P 500 Energy Index.
Conoco's adjusted earnings were 69 cents a share in the first quarter, beating the the 54-cent average of analysts' estimates in a Bloomberg survey. Previously, Conoco warned its profit would be hit by $300 million of hedging losses in the period, partly due to positions inherited from takeover of Concho. The company has now closed out all those hedges, it said.
Share This:
---
More News Articles