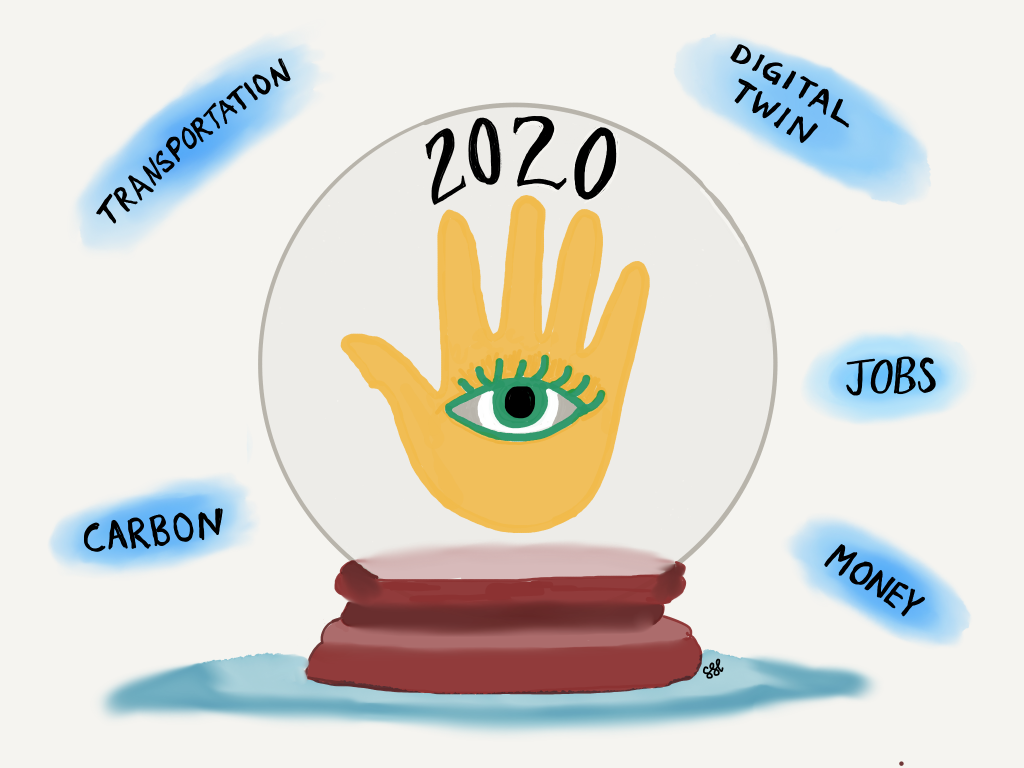 Last year I highlighted 5 digital oil and gas trends that I thought were worth watching. Let's see how they panned out…
Digital Oil and Gas Trends
It's a fool's errand to try to predict the future. 2020 was a crisp lesson in predictability, or perhaps more appropriately, unpredictability. I can almost guarantee that few oil and gas industry risk maps included any references to the sudden arrival of a virulent respiratory disease whose carriers exhibited no symptoms until it was too late to halt transmission.
That's why I chose last year to point out 5 unstoppable trends that needed to be reflected in any digital roadmap under the logic that trends should be able to withstand black swan-y stuff like COVID.
You can find last year's article here
Here's the big five trends:
De-carbonisation of the economy
Electrification of transportation
De-dollarisation and digital money
Digital twinning of complex assets and systems
Transformation of jobs and work
De-carbonisation of the economy
At the outset of 2020, I felt that the long term trend to remove carbon emissions from the global economy was no longer the realm of green ambition and had become fully mainstream.
Way back in December of 2019, the EU announced the EU Green Deal, a sweeping program to achieve continental carbon neutrality by 2050. Obviously this has tremendous implications for the oil and gas industry, particularly those based in Europe, and Repsol shortly after laid claim to be the first global supermajor to announce a goal to be carbon neutral in line with the EU Green Deal. I happened to be in Madrid in January 2020 to appear on a panel discussion with Repsol, and little did we appreciate just how far the de-carbonisation plans would progress.
The drive to decarbonise, particularly among the leading economies, actually accelerated in 2020.
2020 has seen a flurry of bold pronouncements from both oil and gas companies and national economies to achieve carbon neutrality. On February 12, BP's new CEO signalled that the company would comply with European carbon targets, even though the UK would exit the EU by the end of the year. BP correctly assumes that to be able to prosper it needs to comply with the EU carbon agenda. BP also declared that oil markets had achieved peak oil demand either in 2020 or within a year or two of either side.
ENI followed BP's lead with its own announcement in February, trailed by Shell in April.
More national economies stepped up with their own date-based targets to decarbonise, despite the enormous cost of removing carbon from their energy matrix while also dealing with the huge expenditures allotted to supporting economies through the pandemic.
China announced its goal to be carbon neutral by 2060 in September, shortly followed by Japan and South Korea pledging their targets a decade earlier. These developed economies are all big emitters and major consumers of fossil fuels. It's now likely that their national governments will start putting in place aggressive programs to adopt alternative fuels for energy, residential use, industry, and transportation.
It's important to appreciate that the supermajors don't really know how exactly they will achieve this daunting goal they have set for themselves. The closest parallel I can think of is the moonshot from the 1960s, when the US declared its goal to send humans to the moon and bring them home safely within a decade. At the time the country didn't have a true aerospace industry, and many of the technologies needed didn't exist.
But that's leadership for you. And behind leadership there is opportunity.
Electrification of transportation
The second trend I believed to be unstoppable is the shift to battery electric transportation. As I pointed out a year ago, the automotive industry has decisively shifted away from gasoline and diesel engine technology in favour of new electric drive trains. It helps that a number of big cities and large countries this year have announced impending bans on new sales of internal combustion vehicles.
To comply with the EU Green Deal, European automakers (including Volkswagen, Renault-Nissan, Fiat Chrysler, BMW, Daimler), will need to embrace battery vehicles. It's magical thinking to assume that they can stick with internal combustion engines that shift carbon emissions to their customers in other countries.
Even GM has turned in favour of tougher emissions standards. Shortly after the US election in November, GM withdrew from a legal case sponsored by the Trump administration to oppose California's right to set its own fuel economy rules. GM's CEO is now on record advocating the need to find a pathway to an all-electric future. This might be a self-preservation move — GM used to be the largest car maker in the largest market (the US), titles relinquished to Volkswagen and China. A regulatory-fragmented US auto market unnecessarily increases their costs.
The incoming US administration has already made clear its intent to support EV conversions with tax credits, raise fuel economy standards, and financially punish big polluters.
The floodgate of new vehicle models is about to be unhooked, uptake will be strong, and there is no turning back (not least because surveys of electric vehicle customers show zero interest in going back to gasoline).
The capital market believes strongly in the promise — Tesla's stock has risen from $88 to $695 (780%) in a year, while the rest of the automotive market has been largely flat.
The automobile producers are already trying to figure out how to manage down their exposure to the manufacturing of heavy things like engine blocks. This same scrutiny will have to come to the petroleum industry, who will need considerable agility to avoid stranding infrastructure such as oil refineries, gas plants, and pipelines.
De-dollarization and digital money
The third major trend is the shift by the financial sector to adopt digital currencies, which leads to an alternative global currency to the US banking system. Underpinning this trend is the very rapid growth in fintech (or financial technology).
The pandemic has given a boost to the digitalization of payments. Who wants to touch physical paper money and coins so long as there is a risk that the virus might be present? Paper-based work is risky because of the need for people to gather together to perform the processes.
There have been several developments this year that have added impetus to this shift. JPMorgan, the largest US bank by assets, has set up a crypto currency desk and now settles transactions for some bitcoin exchanges. JPMorgan had already set up its own crypto coin, JPCoin. This despite years of dismissive remarks from the CEO that crypto currencies were once a scam.
In April, a crypto derivatives exchange, FTX, introduced an oil futures product that could be purchased using crypto currency, since the oil markets had suddenly become more volatile than crypto markets. Crypto becomes safer than oil?
China is already the biggest market for payments and has made it a national goal to move to fully digital payment systems. The national government has been trialling new digital payment systems in several cities this past year, and will eventually roll out the system nationally. There is likely a link to Ant Group's stalled IPO lurking in rapidly evolving Fintech and private sector control of banking.
Chinese interest in this field is also linked to a movement led by Facebook to create a crypto currency for potential use on its platform. The last thing China needs is to see its economy exposed to further American-led financial systems.
China is the largest car market, the largest energy market and soon, the largest digital payment market. It's only a matter of time before Chinese oil traders consider settlement using a Chinese crypto product.
Digital twinning of complex assets and systems
A year ago, I concluded that the ability to create a digital version of large and complex systems was in sight, and the motivation to do so was already sufficiently compelling.
The pandemic has given this branch of digital innovation additional fertiliser. With capital scarce, employment suffering, and many idle assets, it makes sense to many managers to invest where they can to optimise those assets still operating, and to extract maximum value where possible. Digital twins are an important new tool, if not the most important tool, in the toolbox for business managers to achieve this goal as they are capital light and quickly developed for fast returns.
The costs of building and running digital versions of a real asset continues to fall, while the complexity that can be incorporated goes up. For example, Singapore has built a digital version of its entire nation to help it optimise city design, energy use, transportation services, infrastructure management, and zoning.
I have not seen yet any examples of petroleum companies taking the concept of a digital twin of the supply chain and modelling the chain fully. But the new energy competition (from the likes of Amazon and Google, who are building out their own energy generation facilities to supply their own data centers), are already there.
Industry incumbents are best placed to lead the energy transition, but they will face increasingly capable competition and the deep pockets of the digital industry.
Transformation of jobs and work
Last but not least, I highlighted how the impending arrival of new digital tools would eventually upend established jobs and work practices. Scarcely two months in the new year, we were all confined to quarters and working from home.
Jobs and work have utterly transformed, and at a lightning pace, in just a few months. With widespread vaccination programs still months, if not a year or two, away from being completed, these new work habits are becoming deeply ingrained.
Many jobs in oil and gas are now permanently gone, and if we are indeed at peak demand (per BP's view), we are also heading into structural oversupply, meaning more jobs are at risk.
Training has pretty much entirely shifted to on-line, and the experience of online training is becoming so good that there will be little incentive to return to flying people about for training courses, not to mention the need to figure out carbon offsets for the travel.
And we're only getting started with work transformation. The big innovations, such as self driving vehicles, AI-enabled work, fully autonomous oil fields, lights-out plants, automated offshore facilities, widespread adoption of robots, are still not yet realised.
Conclusions on Digital Oil and Gas Trends
The five slow-moving but sweeping trends that I chose to highlight a year ago have all been given a huge boost in 2020, and the stage is set for acceleration in 2021 in the aftermath of the pandemic.
And may you achieve all possible success in 2021!
---
Check out my book, 'Bits, Bytes, and Barrels: The Digital Transformation of Oil and Gas', available on Amazon and other on-line bookshops.
Take Digital Oil and Gas, the one-day on-line digital oil and gas awareness course.
mobile: +1(587)830-6900
email: [email protected]
website: geoffreycann.com
LinkedIn: www.linkedin.com/in/training-digital-oil-gas
Share This:
---
More News Articles