By Sharon Cho and Alex Longley
(Bloomberg) 

Oil dipped as the prospect of a resurgent virus, forcing more stay-at-home measures in Europe and the U.S., was weighed against signs of improved demand from China and India this week.Futures in New York dropped 0.5% Friday, paring earlier losses as the dollar erased gains. Covid-19 is surging in Europe, with tighter restrictions being imposed in London and Paris, while there's also been a renewed spike in the U.S. Midwest.

Adding to the gloomy price outlook, Libyan oil production is said to have reached about 500,000 barrels a day.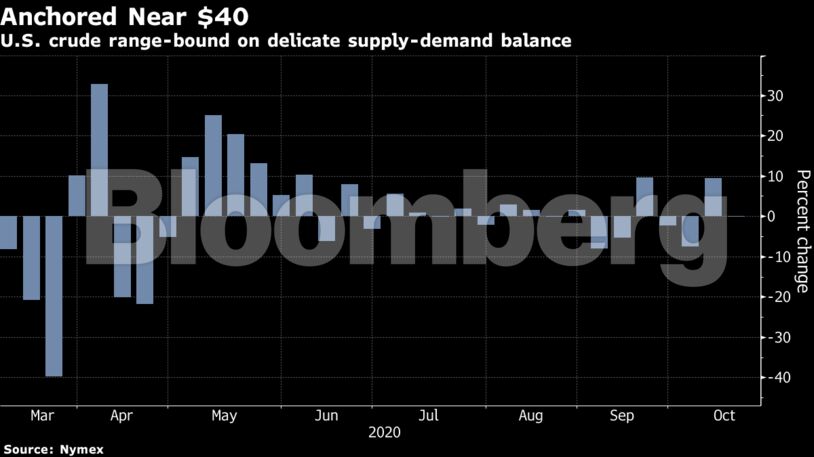 Big questions hanging over the market: The U.S. election, whether the Organization of Petroleum Exporting Countries and its allies go ahead with a planned production increase in January, and the pace of China's and India's demand recovery.
Diesel sales in India surged in the first half of October, while a Chinese mega-refiner was snapping up crude earlier in the week, a sign of a more positive outlook.
"Today's decline is no surprise, in the same way that new bearish Covid-19 news isn't unexpected any more," said Rystad Energy AS analyst Paola Rodriguez Masiu. "Although we will not likely enter such deep lockdowns like in the pandemic's first wave, we still see restrictions again, and they do have an effect in every aspect of our lives, including fuel consumption."
Prices
West Texas Intermediate for November declined 0.5% to $40.74 a barrel at 10:04 a.m. in London.
Brent for December settlement dropped 0.6% to $42.90
Global oil inventories are currently shrinking, but those declines would cease should OPEC+ press ahead with its plan to increase production, according to Gunvor Group Ltd. The shape of the oil futures curve has strengthened markedly in the second half of this week, with Brent's nearest timespread trading at its firmest since July, indicating that oversupply concerns are easing.
Gunvor has also mothballed its refinery in Antwerp and permanently shut the crude units at its Rotterdam refinery. It's the latest sign of pain in the European refining industry, after Total SE and Galp Energia SGPS SA, reported negative refining margins for the third quarter.
Share This:
---
More News Articles