By Rachel Adams-Heard
(Bloomberg) 

With the U.S. oil industry reeling from the collapse in demand this year, the New Mexico shale patch has emerged as the go-to spot for drillers desperate to squeeze as much crude from the ground without bleeding cash. There's just one problem: Joe Biden wants to ban new fracking there. Just over the border with Texas, in a two-county stretch that forms the far western edge of the Permian shale basin, there are more rigs boring oil wells today than anywhere else in the nation. The rock here, once overlooked by wildcatters obsessed with the much-bigger Texas side, has quietly become the most profitable place to produce oil in America. That's attracting cash-strapped fracking outfits after the pandemic pushed crude prices down to just $40 a barrel.But there's a different threat emerging for these drillers, one that won't affect their counterparts across the state line. The Permian in New Mexico, unlike in Texas, lies largely on federal land. And Biden, the Democratic candidate for president, has promised to ban new fracking on federal land on "day one" if elected. That prospect has so unsettled oil executives that they're rushing to build a war chest of federal permits to drill in the state. In the first nine months of the year, permit applications for the region — from companies like Devon Energy Corp. and Concho Resources Inc. —  surged 25%."This is the main place right now pretty much," said Clyde Cox, a 27-year-old who has been hauling equipment to frack locations in the state for the past six months. Back in the summer, he was only servicing one frack site in the area. Today, he's up to three. If Biden gets in, Cox said, "he's just going to shut it down."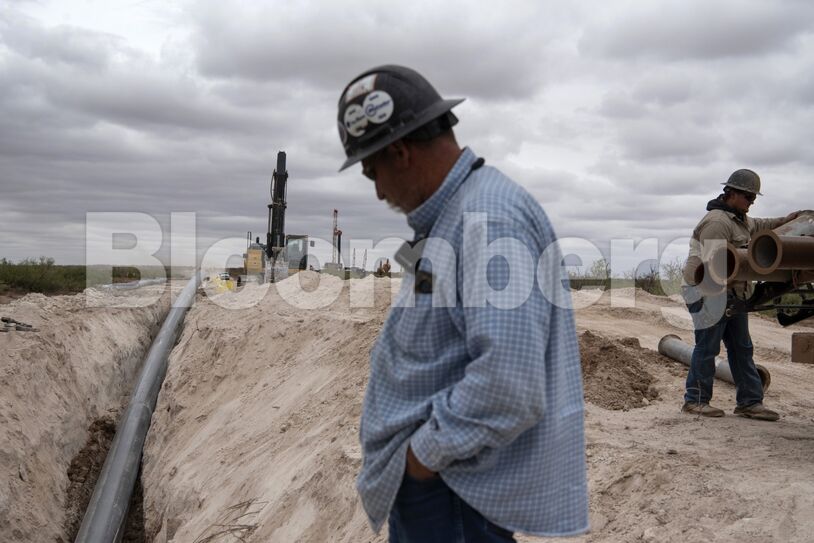 Fracking shale rock transformed American oil in the past decade, reversing a multi-decade decline to remake the nation as the world's No. 1 producer and a resurgent exporter. In the process, New Mexico became the second-biggest producer in the union, second only to Texas, according to the most recent monthly data.
New Mexico wasn't always the crown jewel of the shale patch. In fact, for much of the shale boom's early years, it was little more than a fringe outpost tacked onto West Texas, as far as the industry was concerned. Then companies discovered the true potential of the deeper, oil-rich rock just across the state line and made their push west. Since 2017, production growth in the New Mexico Permian has been outpacing the Texas side, according to Bloomberg NEF. Federal land in Lea County now sports the lowest breakeven cost anywhere in the Permian, according to consultancy IHS Markit. Neighboring Eddy County isn't far behind.
A key advantage is the sizeable amount of natural gas that New Mexico oil wells produce as a byproduct — as much as three times more than in the Texas Midland basin, Bloomberg NEF analyst Anastacia Dialynas said. That means companies get to capture an additional stream of revenue.
"The amount of oil and gas here is crazy," Heath Duffield, a 38-year-old superintendent at S&J Contractors, said earlier this month over the whir of a hydrovac truck that was sucking up water from a trench near a drilling site in Lea County. He counts on drilling on U.S.-owned lands for about 45% of his team's business. Even when much of the oilfield was snuffed out by producers forced to idle rigs earlier this year, this corner of the state provided steady work.
Duffield lives in East Texas but comes to Carlsbad in Eddy County for work, staying a month at a time. Other workers moved to the area permanently, spurring a mad dash for housing.  Last November, the school system surrounding Carlsbad was picking up about 300 kids daily from so-called man camps and RV parks that housed workers and their families who couldn't snag a permanent place to live, according to John Waters, executive director of the city's Department of Development.
Things have slowed down a bit since Covid-19 shut down much of the economy and crude prices crashed, Waters said, but not as much as he would have thought. That all changes if a new president bars oil companies from getting permits to drill on federal lands, he said.
"It scares the heck out of us," said Jim Mayes, a foreman wearing a black sweatshirt with an American flag and a pumpjack on the back, who works on the S&J crew. "I figure they're going to shut it down here before long."
As the Permian boomed, so too has concern about emissions. The Delaware sub-basin, which makes up the majority of the New Mexico side of the Permian, released enough methane into the atmosphere to meet the heating and cooking needs of every home in Houston and Dallas, a group led by the Environmental Defense Fund said in an April report. Flaring, the practice by which drillers burn off excess gas, has also soared. That's sparked criticism from environmentalists and New Mexico residents who last year urged the state to impose stricter rules governing methane emissions.
Environmental groups, at first skeptical of Biden's climate policies, have since warmed to his plan. "Ending leasing on federal lands is a step toward the just and equitable transition we need away from the fossil fuels that are driving climate change," Bobby McEnaney, a senior adviser for the Natural Resources Defense Council's Action Fund, said in an email.
Nationally, most fracking takes place on private land, so Biden's ban means little for companies working on those areas. But roughly 90% of all production in the New Mexico Permian was on state and federal lands last year, according to the New Mexico Oil & Gas Association. The majority of rigs currently active in Lea and Eddy counties are on federal land, said Maria Sanchez, an analyst at Enverus, a shale data firm.
A broad ban on new drilling permits or even lease sales would be difficult for Biden to impose immediately. The U.S. Bureau of Land Management is mandated to perform regular lease sales. If the agency fails to act or moves to deny permits, oil companies could challenge regulators for the leases they hold under contract law. Still, legal challenges could take years to resolve, and activity would likely slow in the meantime.
Even in Texas, which would see very little impact from a ban, oilfield workers say they worry overall activity will slow under a Biden presidency through other environmental efforts, like a crackdown on emissions.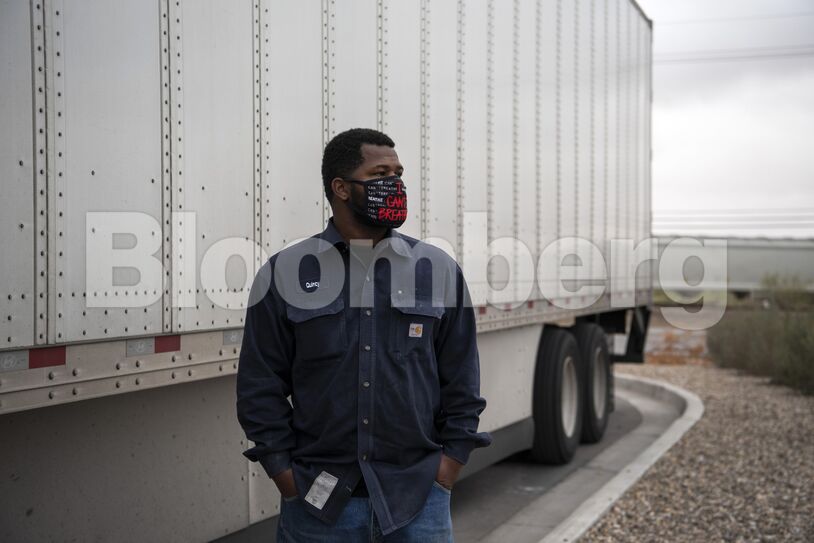 "I want Trump to win. I need him to win," Quincy White, a 36-year-old who hauls crude from wells to pipelines, said outside a truck stop in Pecos, Texas. White was wearing an "I Can't Breathe" face mask in solidarity with the Black Lives Matter movement, but so strong is the oil and gas industry support here that White is willing to set race politics aside and vote for the man he believes will keep him employed. White says his ambition is to one day buy pipelines and other assets from distressed oil companies and "be the first black dude to own it without" inheriting it, he said.
In response to Biden's plan, the American Petroleum Institute, a lobby group, said in a recent report that some 62,000 jobs are at stake in New Mexico alone if a Biden administration imposes a moratorium. The New Mexico Oil & Gas Association points out that oil and gas made up 39% of state revenues in 2019.
So far, the big oil companies are downplaying the potential impact on their bottom lines. Concho said late last year it was tapping wells on its federal land ahead of the election, and that it could easily move rigs across the border to Texas. Others have indicated they won't go down without a fight. "There certainly could be some legal consequences of going through the process," EOG Resources Inc.'s Chief Operating Officer Billy Helms said on an August conference call.
Some are counting on New Mexico's Democratic governor, Michelle Lujan Grisham, to come to the rescue, though she's in the position of weighing her allegiance to her party with her state's dependence on oil and gas. Earlier this month she said it was too early to comment on something that doesn't yet exist.
Back out in Lea County, Duffield, the superintendent, said he's enjoying the work while it lasts.
"Anything they've got rights to they're trying to drill," he said of his employer's customers. "If they don't drill the well, we don't have a job."
Share This:
---
More News Articles