By Low De Wei and Alex Longley
(Bloomberg) 

Oil edged lower on signs that market fundamentals are getting shakier, though there was broader support from the recent slide in the dollar.Futures in New York declined toward $41 a barrel. Consultant Rystad Energy A/S said it expects oil supply to eclipse demand for the next four months, highlighting the risks to crude's recovery from a record glut earlier this year. Prices are showing signs of weakness, both in the structure of futures contracts and the value of physical barrels in key regions including the Middle East and Russia.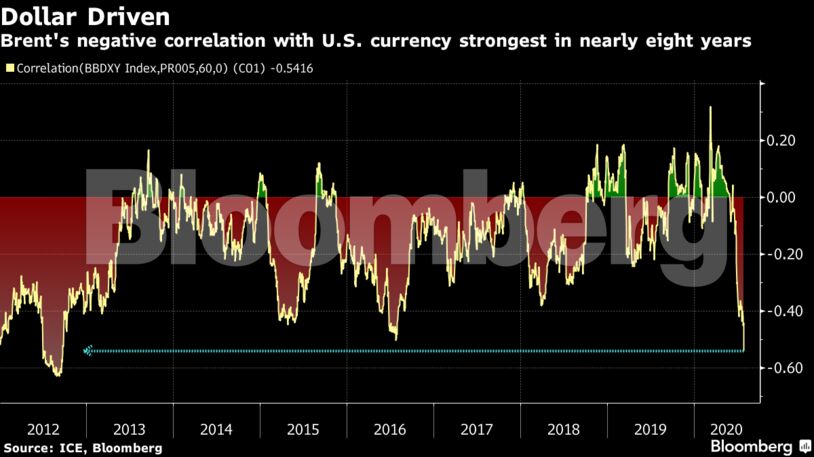 Nervousness is increasing as the OPEC+ alliance prepares to taper its production cuts next month, just as the pandemic stages a comeback in countries from China to Spain. A gauge of dollar strength fell to the lowest level since September 2018, providing some support for commodities priced in the U.S. currency.
"If Chinese imports slow, the market simply does not have another strong source of demand to lean on," said Michael Tran, an analyst at RBC Capital Markets.
Prices
West Texas Intermediate for September delivery fell 0.4% to $41.45 a barrel as of 8:27 a.m. in New York
Brent for September was steady at $43.53
Brent's September futures were 41 cents cheaper than for October, compared with a 23 cent discount a week earlier. The difference between the front- and second-month price is known as the prompt timespread. The same spread for both WTI and Dubai crudes has weakened, another sign of the easing in the physical market.
"Weakening Brent time spreads are indicative of an abundance of physical oil available or an increased difficulty in placing barrels," said Tran.
Other oil-market news
Bloomberg's weekly oil demand monitor showed fears of a second wave of coronavirus infections are preventing a uniform return to pre-crisis levels of motor fuel use and global oil consumption.
A sharp rebound in gasoline consumption that helped to drive oil prices higher appears to be running out of steam, a development that should be a cause for concern across the petroleum industry.
Iran's Islamic Revolutionary Guard Corps started "large-scale" military drills off the Strait of Hormuz on Tuesday, according to a statement on its Sepah News website.
Share This:
---
More News Articles