By Laura Hurst
(Bloomberg) 

BP Plc surprised investors with a slight increase in its dividend, bucking the trend in what has otherwise been a bleak earnings season for Big Oil.

In the final set of results for retiring Chief Executive Officer Bob Dudley, the London-based company offered some respite for investors who received nothing but bad news from BP's peers. Big payouts, whether as dividends or buybacks, are the only thing attracting many investors to the industry in a world increasingly aware of the impact of fossil fuels on climate change and falling energy prices.

Last week Royal Dutch Shell Plc slowed the pace of its share buybacks due to weak macroeconomic conditions, while Exxon Mobil Corp. and Chevron Corp. failed to impress.

"We remain confident in delivering the 2021 free cash flow targets and divestment proceeds, and expect to continue to reduce net debt and gearing," Dudley said on an analyst call on Tuesday. This underpins the company's "ongoing commitment to sustainably growing distributions to shareholders over the long term," he added.

BP shares rose 4.4% to 472.75 pence as of 11:38 a.m. in London, the biggest increase since September.

"BP's results have come in slightly better than expected, but they are still a reflection of the challenging environment for oil and gas companies," said Stuart Lamont, an investment manager at Brewin Dolphin Ltd.

Fourth-quarter adjusted net income was $2.57 billion, exceeding even the highest analyst estimate. That compares with profit of $3.48 billion a year earlier. The company's dividend for the period will rise 2.4% to 10.5 cents a share.
Sustainable Dividend
Big Oil offers generous returns, but analysts are beginning to question the affordability of these payouts due to high levels of debt, volatile markets and investor pressures to invest in clean energy. BP's gearing — a measure of debt to equity — remained above its target of 30% at the end of 2019.
BP is reducing its debt burden in part by selling unwanted assets. It has announced $9.4 billion of deals since the start of 2019, putting it well on course to complete the targeted $10 billion of sales in the two years to 2020, Gilvary said. It announced a further $5 billion by mid-2021.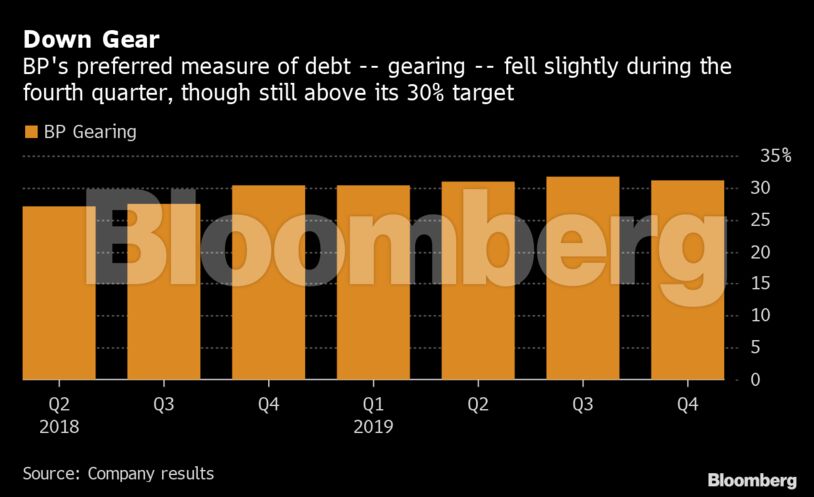 In an interview with Bloomberg TV, Gilvary promised a "major de-leveraging of the balance sheet" this year. BP has so far only received about a quarter of the proceeds from its 2019 divestments, so receipt of the remaining funds will accelerate the repayment of debt this year, he said. "We are very confident that today's dividend is sustainable."
BP completed its share repurchasing program, buying $1.5 billion of stocks in the fourth quarter. The program has offset the dilution from paying dividends in shares, know as a scrip, since the third quarter of 2017 and is on a much smaller scale than Shell's buybacks.
Trading Bump
BP also enjoyed its best year trading oil and natural gas since 2009, helping it weather the impact of lower energy prices and weak refining and chemical margins. Like its peers, the company doesn't disclose the how much money it makes from its trading business, but insiders put the profitability in a good year in the order of a couple of billion dollars.
Oil and gas production increased in the quarter as maintenance season came to an end, with output 2.7% higher than a year earlier at 3.781 million barrels of oil equivalent a day, including the contribution of barrels from strategic partner Rosneft PJSC.
Bernard Looney takes over as the company's CEO on Wednesday. Dudley is credited with saving BP from the brink of collapse following the 2010 Deepwater Horizon catastrophe in the Gulf of Mexico, which killed 11 people and caused the biggest offshore oil spill in U.S. history. His departure is part of a wider changing of the guard, with Gilvary handing over the role to Murray Auchincloss before he retires on June 30.
Looney's task will be to convince investors and the wider public that BP is doing enough to tackle climate change. Last week, the Church of England Pension Board launched a passive index, which includes oil and gas companies, aligned with the goals of the Paris Agreement on climate change. Shell and Madrid-based Repsol made the index. BP and its American peers did not. Looney is set to outline his ambitions for the company on Feb. 12.
Share This:
---
More News Articles