By Grant Smith and Alex Longley
(Bloomberg) 

Oil rose to a more than one-week high in London as supply disruptions in Iraq and Libya reignited concerns over the market's vulnerability to geopolitical risk in key production regions.Brent futures increased to more than $65 a barrel after Libya's oil production almost ground to a halt as armed forces closed a critical pipeline, shuttering output from the nation's biggest oil project. In fellow OPEC nation Iraq, escalating protests stopped work at a minor field on Sunday.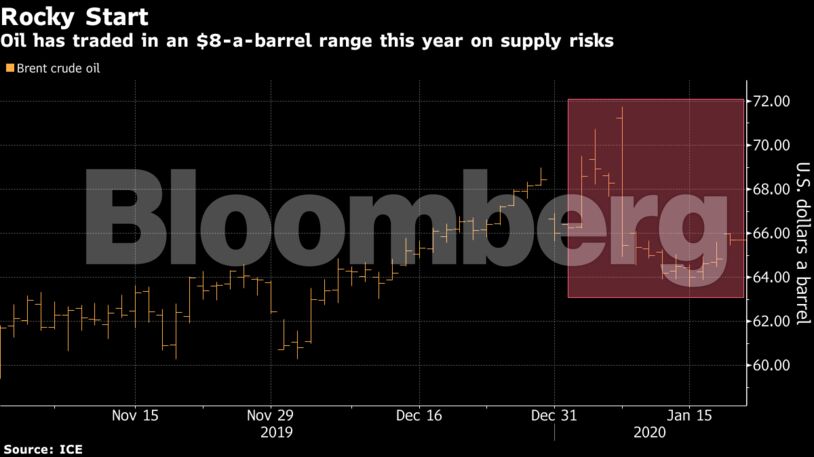 The latest incidents mark the second time this month that the market has been jolted by supply fears in OPEC nations, coming within weeks of a tense exchange between the U.S. and Iran that imperiled the region's energy exports.
While the dramas have roiled markets, with Brent swinging between a trading range of $8 a barrel, prices are now little changed with the end of last year. Supplies are continuing uninterrupted, and traders remain reassured by what the International Energy Agency calls a "solid base" of plentiful inventories and surging American shale-oil production.
"The amount of oil which is off is substantial, but right now the expectations are that it's not going to last because it's part of a negotiation process," said Olivier Jakob, managing director at consultant Petromatrix GmbH in Zug, Switzerland. "We are in this situation where you have some supply concerns if one looks at protests in Iraq and the situation in Libya, but on the other hand the products are weak."
Brent crude traded 35 cents higher at $65.20 a barrel on the ICE Futures Europe exchange as of 10:41 a.m. in London, having earlier climbed 1.8% to $66, the highest since Jan. 9. West Texas Intermediate futures rose 21 cents to $58.75 a barrel on the New York Mercantile Exchange.
Libya's oil production will collapse to just 72,000 barrels per day once its storage tanks are full, according to state-run National Oil Corp., down from more than 1.2 million barrels per day on Saturday. That would be the lowest level since August 2011, data compiled by Bloomberg show.
The output plunge started when an eastern military commander, Khalifa Haftar, blocked exports at ports under his control, according to a statement on Saturday from NOC. The company declared force majeure, which can allow Libya — home to Africa's largest-proven oil reserves — to legally suspend delivery contracts.
Separately, security guards in Iraq seeking permanent employment contracts blocked access to the Al Ahdab oil field, prompting a production halt, according to an official who declined to be identified. The Badra field, which has an output of about 50,000 barrels a day, is also at risk of closure.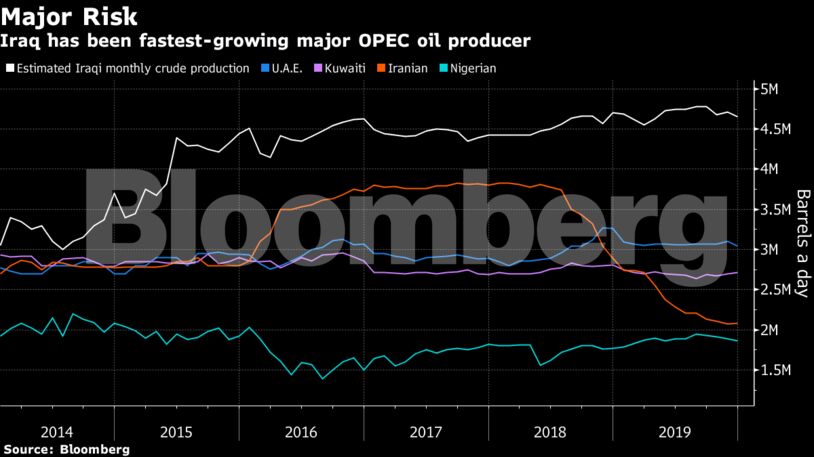 Other oil-market news
An obscure part of the global marine-fuel market, once viewed as having little value for most shippers, is about to have its day.
Schlumberger Ltd. said its business will continue to recover on the back of growing demand for international oilfield services, in sharp contrast to its North American operations, which are set to keep shrinking.
Iran is planning "one last step" in its gradual draw-down from complying with the nuclear deal, raising the possibility that it's close to announcing a complete withdrawal from the embattled international accord.
The European Union's foreign policy chief said member states will need to take a more active role in Libya if yesterday's peace conference in Berlin is to bring stability to the country and help get its oil flowing again.
Share This:
---
More News Articles