By Javier Blas, Salma El Wardany and Laura Hurst
(Bloomberg) 

Saudi Arabia and the United Arab Emirates remained silent over Iraq's proposal to deepen OPEC+ production cuts, leaving the market to speculate about the group's plans before crucial talks in Vienna this week.Iraq, which has the worst record among major producers of implementing the group's current supply deal, is nevertheless pushing for steeper cutbacks. Oil Minister Thamir Ghadhban said the group should remove another 400,000 barrels a day from the market, taking the total reduction to 1.6 million.

Upon arrival in the Austrian capital late on Tuesday, he told reporters that he believed Saudi Arabia, OPEC's defacto leader, also supported the move. The kingdom's Energy Minister Prince Abdulaziz bin Salman declined to answer specific questions when he arrived in the city on Wednesday, saying simply that the market outlook was "sunny" like the weather.

Contrary signals had emerged from Tuesday's meeting of the group's Joint Technical Committee, which advises ministers but doesn't make final decisions. Officials present at the talks didn't discuss steeper cutbacks, said delegates, who asked not to be named because the talks were private.

The group's main aim is to agree an extension of the existing deal beyond March, for which there is a consensus among the Gulf Arab members, Oman's Oil Minister Mohammed Al Rumhi said in Dubai on Wednesday. United Arab Emirates Energy Minister Suhail Al Mazrouei wouldn't confirm which proposals will be discussed on Dec. 5 to 6.
Missed Target
"Iraq is the main OPEC country missing its compliance target," Olivier Jakob, managing director of consultant Petromatrix GmbH, said in a note to clients. "Yet it is continuously repeating that OPEC could consider an increase in the size of the cut."
An alliance between the Organization of Petroleum Exporting Countries and several non-members including Russia and Kazakhstan has been restraining output since the start of 2017 in order to eliminate a surplus and bolster crude prices. The agreement expires at the end of March and ministers must decide what to do next. The vast majority of analysts and traders surveyed by Bloomberg considered an extension to be the most likely outcome of ministerial talks.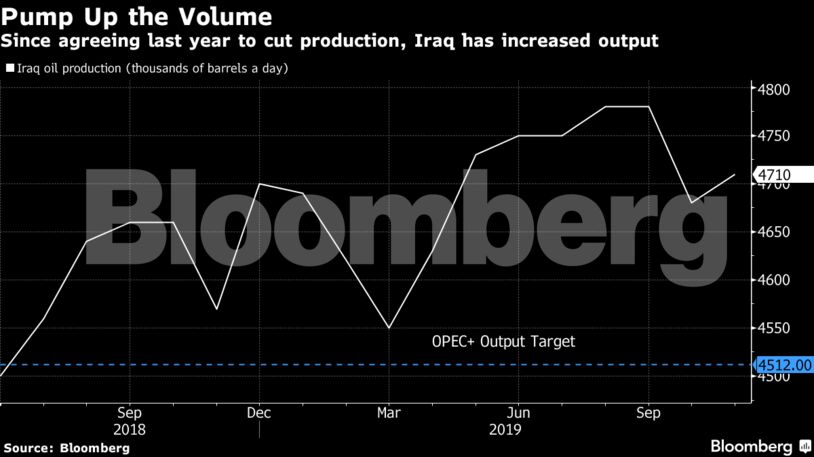 In 2020 the group faces slowing demand growth and another huge expansion in rival production, which together could create another oversupply that drives international prices back down toward $50 a barrel. That's too low for most OPEC members to balance their budgets, and would make an unfortunate epilogue for the record breaking initial public offering of Saudi Arabia's state oil company, Aramco.
"It has been calculated that the 1.2 million has proved not enough so an additional cut is required" because demand growth is slowing, Ghadhban said. "This is not yet final, it's very much subject to the member countries."
In reality, OPEC+ has already gone deeper than the pledged 1.2 million cut due to a combination of voluntary and involuntary measures. The JTC concluded that the group exceeded that target by about 40% in October, meaning the additional cuts Iraq is proposing is actually in place, albeit unofficially.
Saudi Arabia, wishing to lead by example, has pumped well below its quota for the duration of the agreement. Other nations including Angola, Venezuela and Mexico have simply been unable to sustain their production due to industry mismanagement or years of under-investment.
Cosmetic Cut
"Saudi Arabia could easily reduce its official production allowance by 300,000 barrels a day without affecting its actual production," said Jakob of Petromatrix, which is based in Zug, Switzerland. "A cosmetic cut might feed some automated buying on headlines but that would be a rally hard to sustain."
The kingdom's extra efforts have offset lax implementation of output reductions by several other nations. On average this year, Russia has implemented just 72% of its pledged cuts, while Nigeria and Iraq have actually increased output, according to data from the International Energy Agency.
Ghadhban said Iraq is striving to fulfill its part of the OPEC+ agreement and emphasized that every country should share the burden. Yet the production figure he gave for his country of 4.6 million barrels a day showed that 11 months into the deal he's implemented barely a third of his agreed cuts.
Share This:
---
More News Articles