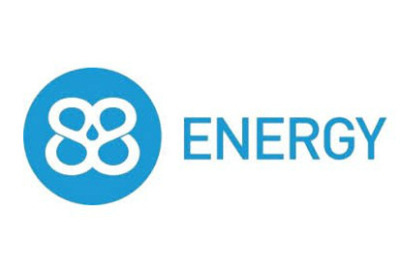 An exploration renaissance is underway at Alaska's North Slope basin — a region boasting a long history of successful oil discoveries.
The renewed industry interest can largely be attributed to new technologies along with exploration incentives that's leading to once stranded oil resources being commercialised.
Discoveries in the region include the largest current oil field in North America, Prudhoe Bay, which originally contained over 25 billion barrels of oil, while next door is ConocoPhillips' seven billion barrel Kuparuk which is the second largest oil field in North America.
The North Slope basin is surrounded by several other large oilfields, having together produced over 17 billion barrels of oil since 1977 through the Trans Alaska Pipeline System.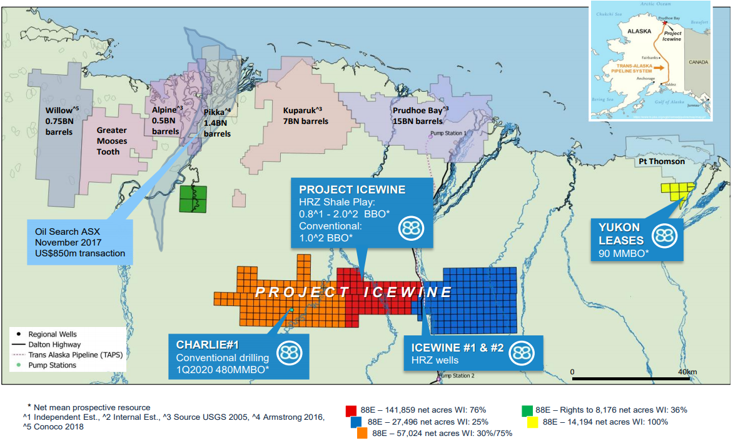 Dual listed 88 Energy (ASX:88E | AIM:88E) has four active exploration projects in the Alaskan North Slope: Project Icewine (Conventional), Project Icewine (Unconventional HRZ shale), Yukon Acreage, Western Blocks.
These projects are across 486,000 contiguous acres, totalling 250,000 net acres, each with access to the TransAlaska Pipeline. The company is now seeking to unlock the large potential of the acreage's conventional plays.88 Energy's Project Icewine
88 Energy's Project Icewine
88 Energy's Project Icewine has a 2.9 billion barrels unrisked gross mean conventional prospective resource which is based on modern 3D/2D seismic, of which 1.0 billion barrels is net to 88 Energy.
The company is on track to spud of its fully funded Charlie-1 appraisal well at Project Icewine in February. The well is shaping up to be one of the largest onshore targets to be drilled around the world in 2020 and given 88 Energy's large net resource potential this could prove to be a turning point for the company.
This upcoming drill is targeting no less than seven stacked horizons across four targets with gross mean prospective resources of 1.6 billion bbls — 480 million barrels net to 88E at its 30% working interest. Each have been identified using the same modern technology used to make the most recent Brookian discoveries
The Charlie-1 appraisal well has been designed as a step out appraisal of the Malguk-1 well drilled in 1991 by BP Exploration (Alaska) Inc.
Malguk-1 encountered oil shows with elevated resistivity and mud gas readings over multiple horizons during drilling but was not tested at that time. This was due to complications towards the end of operations, which resulted in lack of time before the close of the winter drilling season. That well was also drilled using vintage 2D seismic, which was insufficient to adequately determine the extent of any of the prospective targets encountered.
88 Energy subsequently undertook revised petrophysical analysis, which identified what is interpreted as bypassed pay in the Malguk-1 well. 88E also completed acquisition of modern 3D seismic in 2018, in order to determine the extent of the discovered oil accumulations.
Drilling at Charlie-1 is expected to take just 30 days and the results will arrive almost immediately, given that conventional targets are being tested. Although along with testing the multiple stacked conventional targets, the upcoming drilling of Charlie-1 will also test the HRZ shale.
Charlie-1 is an appraisal drill meaning it carries much lower relative risk compared to the company's previous wells that were pure exploration drills.
Premier Oil funding Charlie-1
88 Energy will operate Charlie-1 via its 100% owned subsidiary Accumulate Energy Alaska Inc, with the cost funded by Premier Oil Plc (LON:PMO) under a farm-out agreement of up to US$23 million.
In addition, a recent share placement saw the company raise $6.75 million, significantly strengthening the balance sheet in preparation of the Charlie-1 spud. At the end of third quarter the company reported cash reserves of $10.1 million, while its expenditure during the current quarter is estimated at $1.6 million.
88 Energy made the strategic decision to partner with Premier Oil rather than going with an industry major. This option suits 88 Energy as Premier is only interested in the conventional oil, so 88E retain the rights to the unconventional HRZ shale.
In exchange for 60% of the conventional potential in the Western Play Fairway, or "Area A", Premier Oil will pay the full costs of this well, up to a total of US$23 million. This is just one portion of the larger Project Icewine acreage.

Western Play Fairway (Area A) in orange – the area farmed-out to Premier Oil & the focus of near-term exploration
88 Energy will retain a 30% holding and the remaining 10% will be held by 88 Energy's joint-venture partner, Houston-based Burgundy Xploration.
Drilling at Charlie-1 well is the immediate focus heading into February's spud, while the other conventional targets — including those in the adjacent Area B and Area C — provide future exploration opportunities. Premier Oil is already lining up for a stake in these too and should Charlie-1 be successful, Premier has the option to take a 50% interest in Area B or C by spending US$15 million.
If the Charlie-1 well is successful, 88 Energy along with Premier Oil anticipate drilling a horizontal well in 2021, with first oil production expected in 2024/2025.
Author: Meagan Evans
Share This:
---
More News Articles