By Millicent Dent
(Bloomberg)

Of all the efforts to break up utility monopolies in the U.S., the one unfolding in Arizona may be the most likely to succeed.

Officials in the state, where Arizona Public Service Co. has long reigned, are considering allowing customers to pick their own electricity providers. Independent power companies and free-market groups are pushing similar efforts in Florida and Virginia. The difference is in Arizona it's being spearheaded by regulators.

"If they want to deregulate, they may be more in a place to do it," said Paul Patterson, an utility analyst at Glenrock Associates.

The outcome could have far-reaching implications. While Texas and other states have allowed customers to choose their electricity providers for more than a decade, traditional utility models are common across the U.S. The proliferation of rooftop solar panels, smart meters, battery systems and other technologies are already reshaping the utility landscape, and creating more competitive retail markets is shaping up to be the next step in that evolution.

Utilities say overhauling the market could jeopardize reliability and slow deployment of renewable energy. Supporters of the effort, including the chairman of the Arizona Corporation Commission, which regulates utilities, say it could lead to lower prices and better service.

"The modernizing of the grid is an opportunity to allow these new developing technologies to be players," Corporation Commission Chairman Bob Burns said in an interview. "If there are competitors, that will keep the price down and increase the number of choices."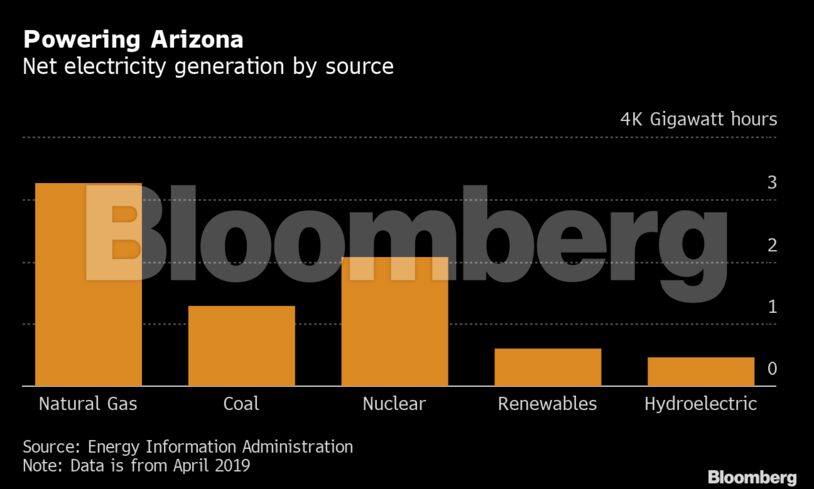 Arizona Public Service, owned by Pinnacle West Capital Corp., provides power for 1.2 million customers in 11 of Arizona's 15 counties. The company declined to comment on the notion of introducing competition in the state but said in a filing it would violate Arizona's constitution.
In 2013, Arizona regulators dropped an effort to create a competitive market, citing a 2004 state appeals court ruling that struck down the commission's rules at the time to govern a deregulated system.
"We strongly encourage the commission to reflect on the stable, reliable and increasingly clean framework for the provision of electric service that exists in the state today," Arizona Public Service said in its filing.
Last month, the staff of the Corporation Commission issued a draft of proposed rules that would open a competitive market for businesses and other large users of power. Residential customers would not be allowed to directly participate, but cities and towns could shop around to buy power for homeowners through community choice aggregation programs.
The proposal remains in the early stages, Burns said. It's unclear how long it will take before a final decision, he said. And it's not certain whether introducing competition into state would require approval from the Arizona legislature or a constitutional amendment, Burns said.
"We're deep into it, and it's going to take a while to work our way through it," Burns said.
Florida, Virginia
In Florida, a proposed ballot measure would erase monopolies held by NextEra Energy Inc. and Duke Energy Corp., allowing residents to choose their own power providers. The idea faces formidable opposition, including from the state's attorney general and leaders of the state house and senate who have asked the state Supreme Court to block the measure from the ballot altogether.
In Virginia, groups from both sides of the political spectrum are asking lawmakers to break Dominion Energy Inc.'s hold. And last year in Nevada, voters rejected a ballot measure backed by casino owner Sheldon Adelson to allow customers to choose their own electricity provider.
In the end, it's inevitable that competition will win out in Arizona, Burns said.
"We want to get the distribution grid in a place where it's open for whoever can provide power by whatever means," he said.
Share This:
---
More News Articles