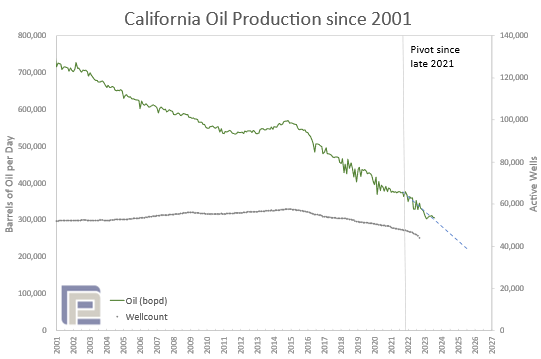 California has led American states in its efforts to restrict expansion of the upstream oil and gas industry, but, on the other hand, industry has successfully countered almost every move by policymakers.  So why has oil production turned down? Regardless of cause, is industry ready for the last phase of life?  What will happen to the rest of the country respond if California producers don't decommission their fields securely?
The graph above shows historical oil production from the state.  Production increased for nearly 100 years to peak in the 1980s. With the exception of a slight reversal in the early 2010s when Brent oil prices hovered around $100 /bbl, production has been sliding for most of the last 40 years.  That decline accelerated with the industry downturn eight years ago when OPEC made a play for market share.  More interestingly, the decline it appears to have accelerated again in the last two years even as oil prices and drilling activity have increased with war and OPEC supply cuts.
Production decline appears to have about doubled declining now around 11% per year.  Among a population of about 100,000 unplugged wells, the proportion of inactive wells appears to be growing, and new drilling has averaged only 3 rigs per week in 2023.
Of course, various jurisdictions in California have attempted reduce upstream activities.  But salience is not significance, and correlation is not causation.  Restrictions on drilling in Kern County which accounts for 75% of the wells in the state have been in place only intermittently, and industry currently seems to hold 100s to 1000s of valid, undrilled permits.  Governor Newsome did not take office until 2019, and despite a great deal of noisy discussion, few restrictive policies have been successfully maintained.  Most persistent has been the unofficial ban on hydraulic fracturing starting in 2021, but it affected only about 7% of permit applications.  The statewide setback provision passed last year stood valid for scarcely 30 days and now sits on the bench ineffective as it waits nearly two years for a referendum.  The Los Angeles County setback rule took effect late last year, but the county houses only about 7% of statewide production but a much smaller percentage of permits in recent years before the ban.
So what is driving the decline? Are operators ready and able to securely decommission their infrastructure?  (Please join the conversation on LinkedIn)
At some point, all oilfields will be plugged out and decommissioned, and the vast majority of California's unplugged wells produce less than a few barrels of oil equivalent per day. In many states, the small population of high-producing shale wells obscures the thin and declining production from most wells. Our detailed study of the old producing wells in California showed that the future profits from the industry were not sufficient to pay for the estimated decommissioning liabilities. (Original study here.)
California is not the only location with late-life production, and the economics at this stage can be surprisingly tricky, but you can learn about new economic yardsticks to protect your investments in this white paper.
In the meantime, join the conversation about California on LinkedIn, or reach out to Purvis Energy Advisors if you want to make better investment decisions with late-life assets.

Share This:
---
More News Articles