(Bloomberg) 

Russian crude flows through Ukraine to Hungary, Slovakia and the Czech Republic were halted last week after sanctions prevented payment of the transit fee, according to Russia's pipeline operator Transneft PJSC.

While the northern leg of the Druzhba pipeline, which runs through Belarus to Poland and Germany, was unaffected, according to Transneft, oil prices rose in London. Brent crude was 1.4% higher at $97.97 a barrel as of 12:25 p.m.

Russia has already blamed international sanctions for curbing flows of natural gas to Europe through the Nord Stream pipeline. Similar disruption to oil flows would deepen the region's energy crisis, adding to pressure on inflation and amplifying the risk of recession.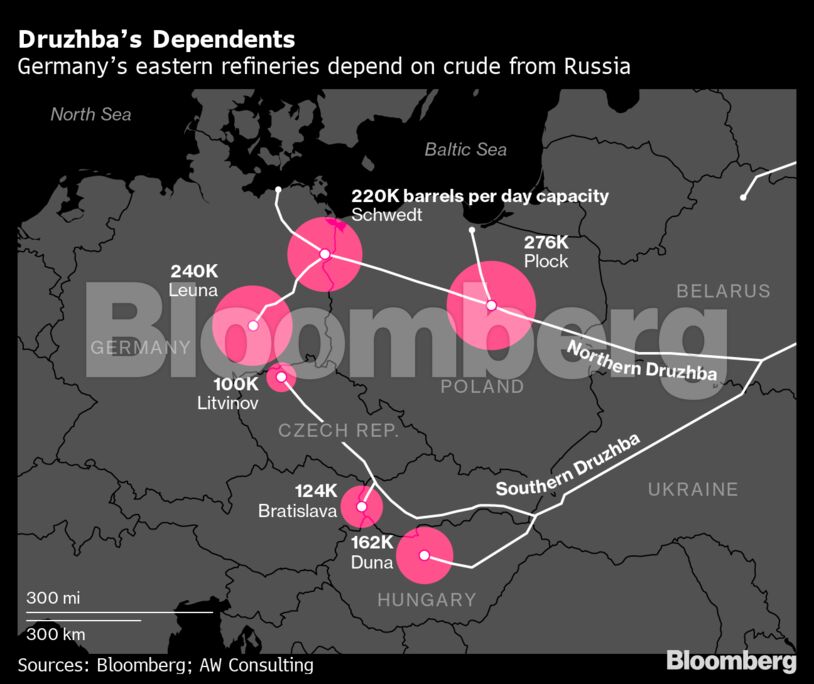 Ukrtransnafta JSC, which operates Ukraine's oil pipeline network and oversees the transit of crude via the southern leg of the Druzhba link, "stopped providing oil-transportation services" through its territory on Aug. 4, Transneft said in a statement on Tuesday. There was no immediate comment from Ukrtransnafta.
The contract between Transneft and Ukrtransnafta requires 100% prepayment for transit flows. While the Russian pipeline operator paid the August transit fee on July 22, it received the money back on July 28, Transneft said.
The European banks involved in the transaction are not authorized to make their own decisions on cross-border payments from Russia due to sanctions and need approvals from their national regulators, according to Transneft.
The Russian pipeline operator said it has appealed "to an authorized bank for further transfer of information to the European regulator in order to obtain permission to conduct settlements under an agreement with Ukrtransnafta." It is also looking at alternative ways to transfer funds.
The best-case scenario is that the financial dispute is resolved within days, said Erste Bank analyst Tamas Pletser. If the dispute is prolonged, Hungarian refiner Mol Nyrt. has fuel reserves for a couple of weeks, and beyond that the country would have to tap its strategic oil reserves, he said. Shares of Mol fell 5%.
Shares of Hungarian refiner Mol, which relies on the Druzhba for is crude supplies, dropped 5%.
Share This:
---
More News Articles