Jul 6, 2022
(Bloomberg)
Russia appears on track for a much shallower recession than many forecasters initially expected this year, boosted by rising oil production that has blunted the impact of US and European sanctions over its war in Ukraine.
Economists from JPMorgan Chase & Co., Citigroup Inc. and other big banks are slashing their outlooks for the drop in output this year to as little as 3.5%, dismissing fears in the first months after President Vladimir Putin's invasion of Ukraine that it could be the deepest in a generation.
Officials in Moscow, some of whom saw a contraction of as much as 12%, are now preparing to improve forecasts to less than half that.
"The boxer is now moving again after being knocked down," said Anton Tabakh, chief economist at Moscow-based credit assessor Expert RA. "There was a knockdown, but it's been offset substantially by comfortable export prices, even with the discounts, and the budget's capacity to pour money on the problem."
Improving Outlook
The improving outlook is adding to Kremlin confidence that it can weather the sanctions onslaught from the US and its allies even as leaders in those countries face increasing pressure from surging energy and food prices, trends the war has worsened. Momentum for new restrictions is running into growing opposition there with few politically palatable options left.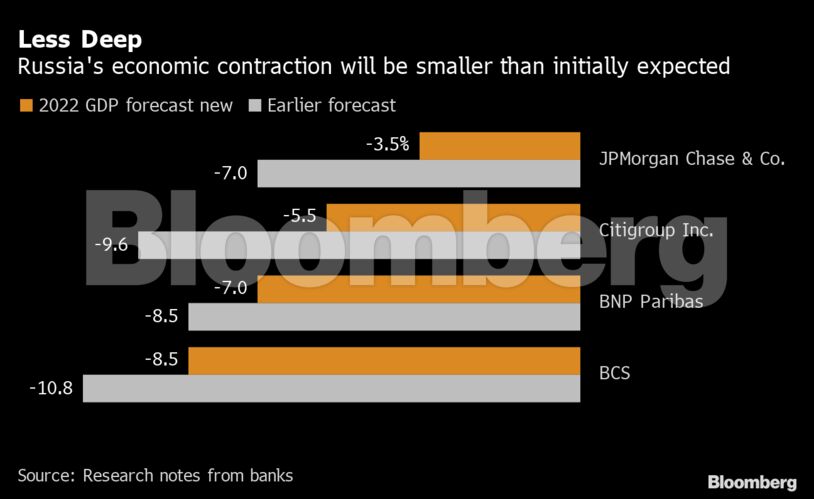 To be sure, Russia's economy is still facing the sharpest contraction since at least 2009. Many forecasters warn that this recession could last longer than past ones, with the impact of restrictions on key technologies and other products growing over time. Already, the auto industry has all but shut down, with car production off 97% in May amid shortages of parts and the departure of major foreign producers.
But across other parts of the economy, the worst fears have yet to materialize as quick moves to stabilize the currency in the first weeks after the war prevented a financial crisis and a flood of export earnings followed.
Companies reported the first broad increases in output and in their outlooks in June, S&P Global reported Tuesday.
Producers Adapting
"Russia is tracking a far milder recession than had been feared when the invasion began," JPMorgan economists wrote this week, cutting their expected contraction to 3.5% this year from the 7% they expected in March.
Industrial production was up 1.7% in May from the previous month, according to seasonally adjusted data from the Development Center at Moscow's Higher School of Economics. "The break in the contraction in May could be a sign that producers have initially adapted to the shock of anti-Russian sanctions," the center said.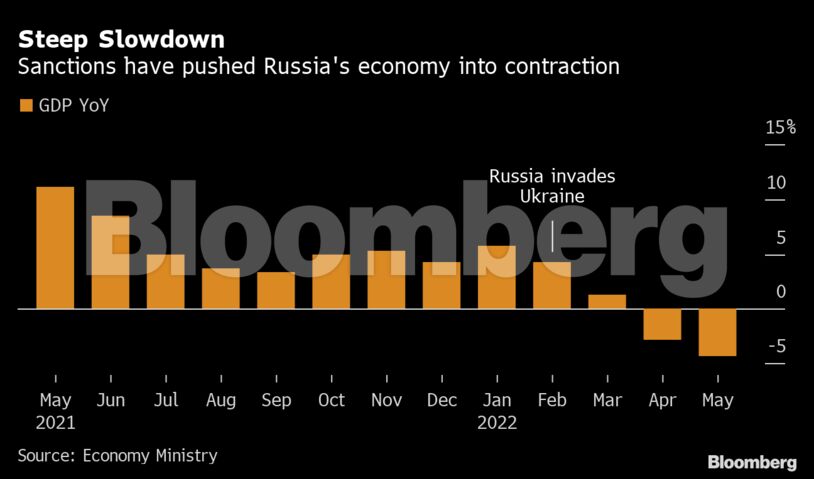 A big driver has been a rebound in oil production, which dropped after the invasion but was up 7% in June from those lows thanks to domestic demand and a shift to export buyers in Asia.
Gas output, another key economic engine, was down, but prices have spiked, fueling revenue gains.
"We are not at the level of stress that we had assumed for 2022," Rosbank economist Evgeny Koshelev said. "We should expect better trends because both budget and monetary policies are overall stimulative."
Restrained Recession?
Retail sales are down about 10%, but the drop appears to have stabilized in a sector that accounts for about half the economy. Consumer confidence has picked up and unemployment remains at record lows. Data from cash registers show purchases in late June picked up to pre-war levels, Economy Minister Maxim Reshetnikov told a government meeting Tuesday. "But it's early to talk about stabilization," he said.
Imports, which plunged 40% in April, have also showed signs of steadying.
The government has also stepped up spending on welfare programs and military procurement, giving an added economic boost. The central bank has reversed all the rate hikes imposed since the invasion.
RUSSIA INSIGHT: Nowcast Shows Gradual GDP Slide on Sanctions
"Activity indicators suggest that there is significant upside" to our 7% decline forecast for this year, Goldman economist Clemens Grafe said in a research note.
Still, forecasters warn of substantial uncertainty about the outlook. Quicker-than-expected imposition of limits on Russian energy in Europe could hit revenue in the second half, as could a drop in demand if fears of a recession prove justified.
Signs of tightening inventories in Russia in recent months may mean sanctions pain will deepen as supplies run out. Ruble strength could lead exporters to cut production as they're priced out of markets.
"There are grounds for optimism," said Natalia Lavrova, chief economist at BCS Financial Group in Moscow. "The risks are somewhat lower for 2022, but they also have moved to 2023 because of the oil embargo," she said, referring to EU plans to restrict imports next year.
Share This:
---
More News Articles