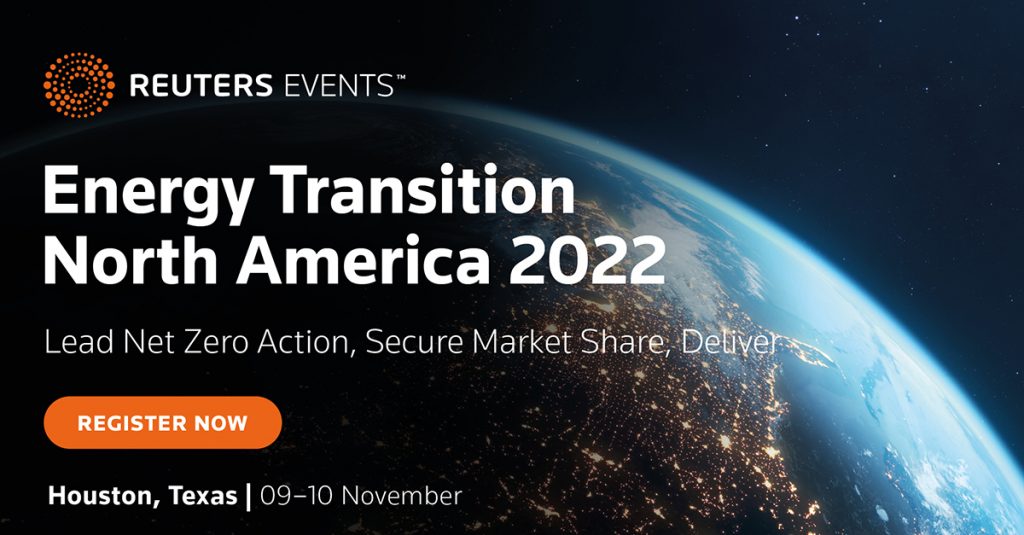 It is a sign of the times that Houston, Texas – a city dubbed the energy capital of the world due to its oil and gas predominance – now employs over 55,000 workers in the clean energy sector and ranks first in the nation for wind energy capacity. Indeed, the city now plays host to the full spectrum of energy and industrial leaders, with new cross-industry partnerships and collaborations forming to drive the transition towards a decarbonized economy.
In November, to celebrate this legacy and forge a sustainable future, Reuters Events will bring their flagship meeting for the energy community, Reuters Events: Energy Transition North America 2022, to Houston for two days of direction-setting insights, breaking news and partnership building. Upon the backdrop of the COP27 climate conference, key industry changemakers will strategize pathways to providing a secure, clean and affordable power supply across the U.S. and Canada.
Full event information is available here.
With a legacy of convening leading energy and industrial executives, Reuters Events: Energy Transition North America provides a central meeting place for boardroom leaders committed to net zero to convene, build strategies and establish partnerships.
Here's what you can expect:
Breaking News, Straight From the Boardroom: 50+ CXO and public sector leaders will share their latest transition thinking, to inform your short and long-term strategic decision-making.
Market-Leading Sustainability Strategy: Discover who is leading the charge on the North American energy transition, the innovative strategies that are effecting real change, and your organisation's role in delivering the transition.
Across Every Transition Vertical: From E&Ps to utilities, renewables to industry, finance to policymaking – executive representatives from businesses across the entire transition spectrum will be on the ground and ready to do business.
15+ Hours of Valuable Facetime: With evening receptions, closed-door issue-based workshops and roundtables, hours of dedicated networking time, and the dedicated Reuters Events App, building your transition community has never been easier.
For companies committed to delivering a net zero North America, the energy transition is a boardroom level discussion. Reuters Events' carefully curated speaker faculty will unite the continent's leading energy, industrial, finance and government leaders to define the future of the sector and guide companies through the most transformative challenge of our time.
Bob Dudley, Chairman, OGCI
Patti Poppe, Chief Executive Officer, Pacific Gas and Electric
Gretchen Watkin, President, Shell USA, Inc
Rafael Chaves, Chief Sustainability Officer, Petrobras
Alistair Vickers, Chief Executive Officer, bp Wind Energy
Amos Hochstein, Senior Advisor Global Energy Security, S. Dept. of State
Maria Pope, Chief Executive Officer, Portland General Electric
Chris Golden, US Country Manager, Equinor
Joseph Dominquez, Chief Executive Officer, Constellation Energy
Sandhya Ganapathy, CEO, North America, EDPR
Enrico Viale, Head of North America, Enel
Susan Nickey, Chief Client Officer, Hannon Armstrong
Mauricio Gutierrez, Chief Executive Officer, NRG Energy
And many more!
"Securing a just and effective energy transition in North America will be crucial to reduce global emissions and ensure security is the defining challenge of our time," said Owen Rolt, Head of Energy Transition at Reuters Events. "It is fitting that this year we will again be featuring one of the strongest lineups of any energy event in the world."
To facilitate this seismic shift for the energy industry, Reuters Events has built the forum around five critical themes: Delivering Net Zero North America, Security and Supply, Carbon Management Strategies, Cliamte Technology, and Electrification and the Grid
Those interested in taking part in the forum can find out more information here.
Share This:
---
More News Articles