(Bloomberg) 

President Joe Biden seeks to salvage relations with Saudi Arabia in a Mideast trip that risks political embarrassment unless near-record US gasoline prices swiftly come back to Earth.The hope is that restoring relations with Crown Prince Mohammed Bin Salman, a leader he decried as a "pariah" after the murder of columnist Jamal Khashoggi, will secure a boost in oil production and help ease pump prices battering Biden's approval ratings at home. The two will meet Friday night, an encounter that will be closely scrutinized for their body language and power dynamics.Yet a deal is far from a given.

Biden must avoid an embarrassing retrenchment on human rights that would further anger liberal Democrats. He finds himself hamstrung with approval ratings at a near record-low ahead of November's midterm elections.

The trip's secondary objective is hardly easier: aligning Israel, a country consumed by years-long domestic political turmoil, with the Arab world as a buttress against Iran.  But for Biden, the biggest goal of the trip is convincing Persian Gulf countries – led by the Saudis – to increase oil production in a bid to combat prices at the pump.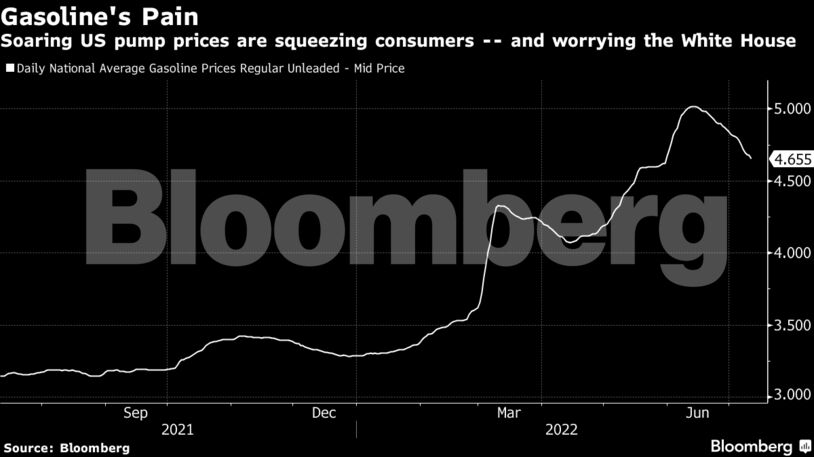 White House officials have insisted that the trip's scope is far broader than a simple mission to boost oil output. They say the US will only convey a general view to the Saudis and Gulf allies that there should be greater supply in global markets, rather than detailing a specific number of barrels.
That insistence is intended to paper over two realities. Firstly, the White House doesn't want to acknowledge how the energy situation has forced Biden's hand. Secondly, Saudi Arabia does not want to appear to be acting unilaterally on production, upsetting the delicate diplomacy that has held the OPEC+ cartel together through the pandemic and Russia's invasion of Ukraine.
From Pariah to Partner
Those familiar with West Wing dynamics acknowledge that the decision to consider Saudi Arabia more a partner than pariah was hastened by Russia's invasion of Ukraine.
As Russian troops amassed at the border late last year, Biden's aides argued aggressively that the US should seek to repair ties with Riyadh – despite reservations voiced by both the president himself and Secretary of State Antony Blinken.
One official described Russia's aggression as a paradigm-shifting event that changed the US perception of the kingdom.
Russia's invasion pushed the price for an average gallon of gasoline for American drivers over $5 last month. The US is primed to release new consumer price index data on Wednesday that may show inflation rose to nearly 9% in June from the same month a year ago.
And voters are dismayed: 58% of those surveyed in a new poll described the nation's economic conditions as "poor" and only one-third of voters approve of the president's job performance.
It's possible that the Saudis and the United Arab Emirates could announce increased production to compensate for the under-performance of countries like Nigeria and Angola under the current OPEC+ agreement extending through November, according to Helima Croft, Head of Global Commodity Strategy at RBC Capital markets.
The White House is also likely to seek help backfilling Russian exports as new shipping and insurance sanctions from Europe hit this winter, and as leaders attempt to implement a price cap on the sale of Russian oil.
The US believes "there is a capacity for further steps that could be taken," Sullivan said.
But while political analysts and energy experts are united in saying Biden would benefit from an oil production agreement, they're less optimistic a deal will actually materialize.
It's in Saudi Arabia's self-interest to emphasize that fossil fuels and energy security remain crucial for decades even as Western leaders eye a transition to more planet-friendly energy sources.
"There's a little bit of political danger here for the administration," said Jonathan Panikoff, director of the Atlantic Council's Scowcroft Middle East Security Initiative. "I think the default public view seems to be that the trip is about addressing current oil and gas prices. And I think the reality is that any expectation by the US public that the trip is going to result in a massive decrease in gas prices, is almost certainly going to lead to disappointment."
Biden aides this week have downplayed expectations, saying the president's success should be measured "over the weeks and months to come" rather than at the conclusion of the visit.
The effort is further complicated by Biden's political need not to appear too deferential to the crown prince, whose brutality he has repeatedly denounced.
White House aides said Biden would raise human-rights issues with the man known as MBS, but it's unlikely the president would scold the young prince publicly — in fact, much of the two-day program is expected to be out of earshot of the media.
Regional Security Push
Perhaps sensing the difficulties, Biden has sought to frame the trip instead as a push for regional security. That includes a possible deal to open Saudi airspace to all flights into and out of Tel Aviv, as well as an accommodation for Muslim pilgrims who want to fly directly from Israel to Saudi Arabia.
Before Biden landed in Israel, the two governments released a vague "strategic dialogue" on bilateral collaboration on technology, pandemic preparedness and artificial intelligence, part of the effort to highlight the US's close ties with the Jewish state.
The build-up to the trip has included discussions about formally resuming Saudi-Israel peace talks, including the possibility of formalizing some sort of road map for reopening the diplomatic discussions, according to multiple people with knowledge of the effort.
Israeli officials, who briefed reporters ahead of the trip, pointed to Biden's travel directly between the countries as evidence of the evolving dynamics.
Share This:
---
More News Articles