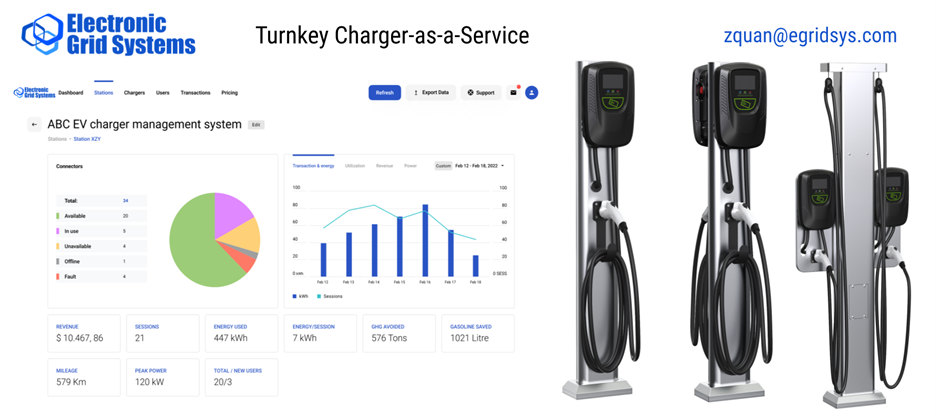 Electronic Grid Systems (eGrid) offers the most cost-effective and scalable EV charging solution on the market. We help you achieve ambitious sustainability goals by minimizing not only the upfront and operating costs, but also the costs for system expansion in the future.
Deploying EV chargers, slow or fast, has been a complicated and confusing process. It requires extensive knowledge of EV charger hardware, software, and electrical design. In many cases, the installation also involves utility companies to upsize the existing electrical infrastructures not only today, but also in the future, which is both time-consuming and extremely expensive.
We at eGrid have developed an innovative charging technology that can simplify the deployment process of EV charging stations. Our products cover both level 2 (slow) charging and fast charging. Currently, our level 2 charger solution is market ready. The fast charger will be available in Q2 2023.
Whether you want to install chargers for workspace or business locations, or fleets, we always have the right solution for you.
eGrid Turnkey Charger-as-a-Service
Turnkey service covering design, installation, maintenance, and future expansion
Industry-leading charger management system (CMS)
Built-in intelligent power management in the backend of our CMS allowing over 4 times more charger to be installed with the same electrical service infrastructure
$0 upfront costs
Subscription with monthly or annual payment for better budgeting
We take care of charger warranty and replace faulty hardware for free
Download our level 2 CaaS brochure
Microgrid DC fast charger
We are currently developing a unique DC fast charger product that features plug-and-play installation and extreme scalability. Our fast charger product enables over 25% capital cost reduction, over 70% electricity cost reduction, and installation of unlimited number of chargers with any existing electrical grid infrastructure. It will also work seamlessly with our level 2 chargers so if you need both level 2 and fast chargers, our solution can reduce the total cost by over 50% compared to any other products on the market.
Want to learn more about our fast charger or overall solution? Please contact us.
Zhongyi Quan
[email protected]
www.egridsys.com
Share This:
---
More News Articles