(Bloomberg) 

Oil was steady with dwindling U.S. inventories and roaring demand offset by the potential return of supplies from Iran.Futures in New York traded near $90 a barrel on Thursday after rising 0.3% in the previous session. U.S. crude stockpiles fell by about 4.8 million barrels last week, according to government data, with nationwide oil stockpiles the lowest since 2018. Investors are also keeping a keen eye on the talks aimed at reviving a nuclear agreement with Iran. A deal that addresses the concerns of all sides is in sight, White House Press Secretary Jen Psaki said Wednesday.

Elsewhere, Russian forces started joint military exercises in Belarus that include drills near the border with Ukraine, as well as close to Poland and Lithuania, both of which are NATO members. Russia has repeatedly denied it plans an attack on Ukraine after the U.S. and its allies warned a buildup of close to 130,000 Russian troops near the Ukrainian border might be preparation for an attack.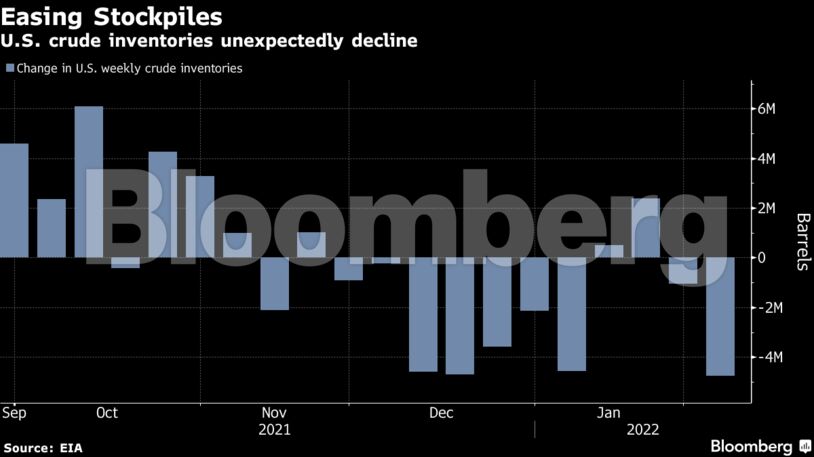 Oil's 2022 rally has cooled this week after a run of weekly gains propelled prices to the highest since 2014. Stronger-than-expected demand and a series of supply outages helped to tighten the market, which has been exacerbated by the inability of OPEC+ to meet its targeted output pledges.
The prospects for world powers resuming the nuclear agreement with Iran have become more likely amid a flurry of diplomacy as talks resumed this week in Vienna. A deal would pave the way for an increase in official crude exports from the OPEC producer, alleviating some market tightness.
"In the short term, the oil price direction will be a battle between a very tight physical market and potential return of Iranian barrels amid strong momentum in the nuclear negotiations," said Helge Andre Martinsen, senior oil market analyst at DNB Bank ASA.
Prices
West Texas Intermediate for March rose 0.2% to $89.85 a barrel at 10:15 a.m. in London.
Brent for April settlement was little changed at $91.57.
U.S. crude inventories at the key Cushing storage hub fell for the fifth week to the lowest level since November, according to data from the Energy Information Administration. The four-week average for supplied oil products — a gauge of demand — climbed to a record last week.
Other market news:
French energy giant TotalEnergies SE promised to increase its dividend and buy back more shares after posting a big increase in fourth-quarter profit.
South Korea said it's ready to tap its strategic oil reserves if tensions between Russia and Ukraine result in supply disruptions.
Private investment firm BlueCrest Capital Management, co-founded by billionaire Michael Platt, has been on a hiring spree for traders who can cash in on a blistering rally in commodities.
Share This:
---
More News Articles