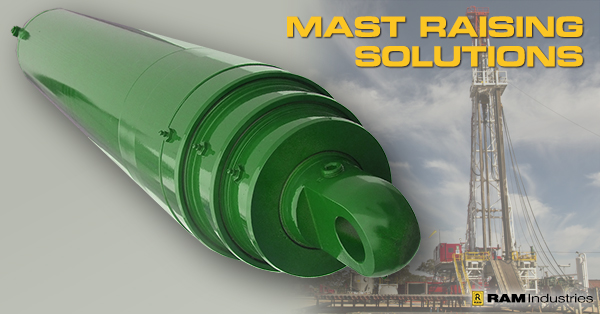 Hydraulics play a significant role in derricks and masts used in oilfield drilling rigs to support the crown block and drill string used during a wellbore. Hydraulic cylinders enable rapid rig deployment while maintaining precise control and a safe operating environment. Telescoping cylinders are often used to deploy the equipment and to raise, set and lock the drill floor and mast in the operating position.
RAM Industries provides a wide range of hydraulic cylinder solutions for the oil and gas industry, including RAM Mast Raising cylinders. When deployed, most masts do not have an even center of gravity. RAM Mast Raising cylinders are a unique hybrid of single and double-acting designs. The first stages of the cylinder are single-acting, with the last stage being double-acting to pull the weight of the load back over the center.
RAM's standard mast raising cylinder designs are frequently used on smaller service rigs. These cylinders comply with industry standards and offer a 60-inch retracted length and 8 1/2 inch base bore size with 2500 PSI operating pressure. RAM ensures these cylinders are well supported internally to withstand the loading demands during deployment. The default mount includes tang mounting on the rod and base with standard grease zerks to provide lubrication to the joint.
RAM also has experience producing larger or even smaller mast raising cylinders. Our engineering expertise ensures RAM hydraulic cylinders will specifically meet your performance requirements. Incorporating design options to optimize your cylinder performance is our specialty.
Some of the common features incorporated into RAM Mast Raising cylinders include:
Full single-acting or double-acting designs in addition to our hybrid format
Operating pressures up to 3000 PSI
Up to 5 stages to accommodate the extended lengths required on larger rigs
Large bore sizes up to 18 inches to match the force required for the specific application
Valve options like counterbalance or pilot operated check valves to provide additional safety
Wide range of mounts specific to your equipment, including the most common cross tube and clevis mounts
RAM Industries has significant experience designing and manufacturing hydraulic cylinders that are used in the oil and gas industry all around the world. RAM knows you require dependable performance in any conditions. You can trust that RAM Mast Raising cylinders will reliably support your equipment.
Contact RAM Industries to discuss your mast raising cylinder needs.
[email protected]
https://www.ramindustries.com/mast-raising-cylinders.aspx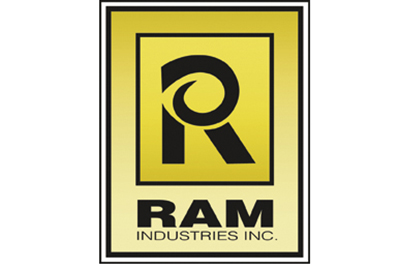 Share This:
---
More News Articles