Organizational support (OS) is a lynchpin in the success of project management and operational efficiency.
By maximizing the efficacy of organizational support, transactional costs can be minimized, and project throughput rates increased dramatically.
In a recent paper analyzing the success factors in global project management, Fossum et al. discovered compelling evidence to conclude that effective organizational support services provide:
Reductions in the transaction costs within supply chains
Highly effective project efficiency increases
Critical relief for management services
A pivotal aspect of organizational support is a company's chosen project scaffolding methodology. A project scaffold allows an organization to rapidly deploy project resources and track workflow within an incredibly short timeframe.
Yet, the project scaffolding technique, and to a larger extent organizational support, is seriously underutilized in many project-based organizations.
"OS practices included […] were found to have high importance for managerial success. OS practices for selection and training of team members show significant correlation with project efficiency but have low adaptation in many organizations. " – ( Fossum, Binder, et al. 2019)
Project scaffolding is a highly flexible feature of Current SCM. It provides rapid organizational support planning with preliminary project information. This early planning tool gives procurement teams a significant advantage, but the feature is not commonly found in supply chain management software.
This article will provide a brief overview of this organizational support service and will help your business to maximize company savings for any project.
Current SCM's Rapid Project Scaffolding
Procurement Lead, Melissa Stockley, breaks down Current SCM's project scaffold feature in this video.
Project scaffolding will build up any project and allow you to begin reporting as soon as the capital resources and staffing become available. You can use the feature to:
Instantly create order chains
Fully customize groups
Rapidly scale projects
Current SCM procurement management is a powerful tool for your organizational support services. Here are some of the features.
Project Setup
As soon as you have staff and resources on hand, you can begin populating your project scaffold with what's available. This information is accessible through Current SCM and available to whoever needs to be in the loop on your procurement project. This may include the:
Procurement team
Project managers
Engineers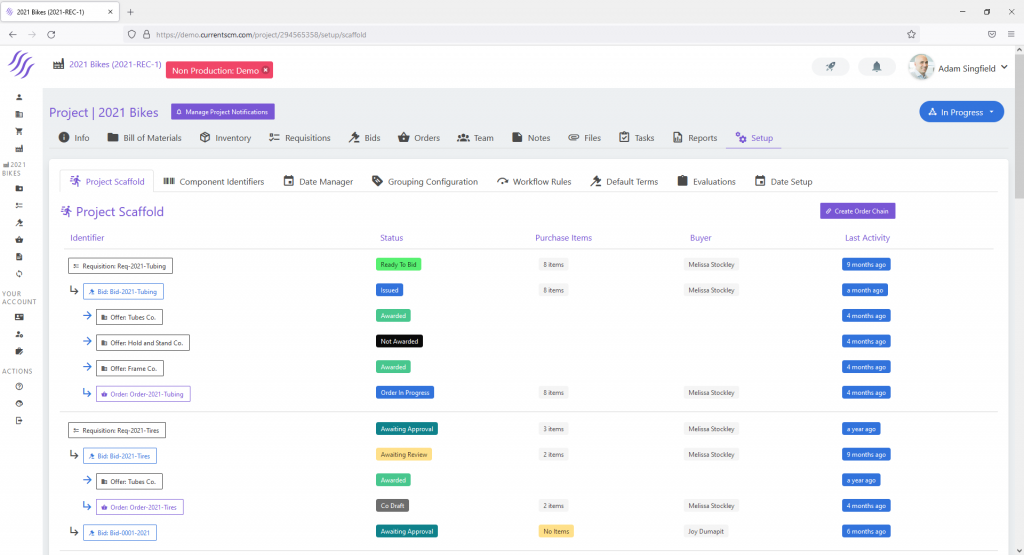 This information can be updated and instantly shared among the team to maintain an unbiased, flexible, and unopinionated single source of truth. This organizational methodology allows teams to instantly recognize project hierarchy, gaps in supply chains, bids, drafts, and critical tasks needed to ensure project health is maintained.
Order Chains
While Current SCM provides multiple avenues for project setup, order chain management allows you to quickly build up information before the project management team has committed to any actions.
Anything you might need to rapidly scale a project is available through order chains. This can be data from project managers, engineers, or buyers.
Even if the project stage has limited information, Current SCM allows you to build up a partial scaffold so you can go back and customize it as needed throughout the life of the project.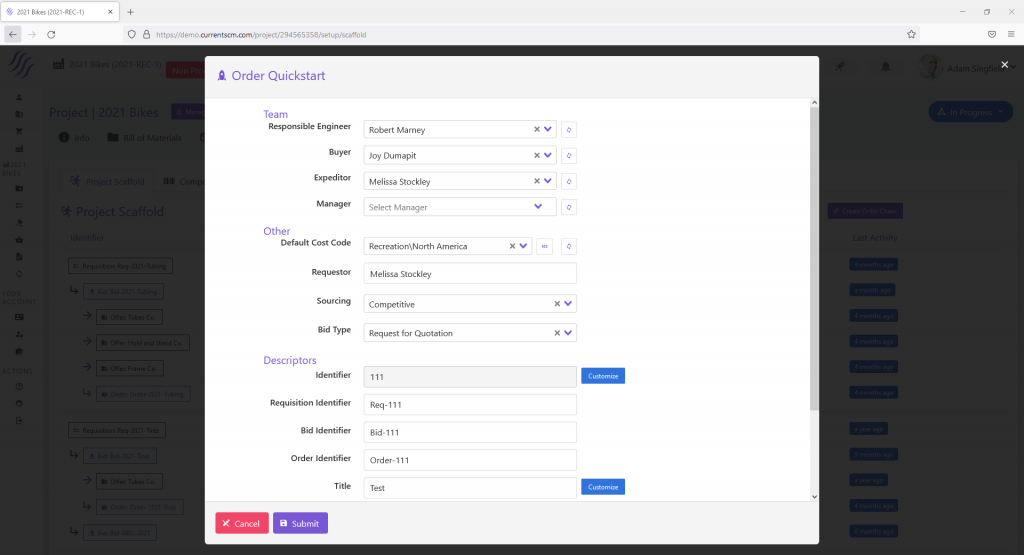 Order Chain Confirmation
Finally, you can view your requisitions, bids, and view orders available to you when you submit your order chains. These files are created the instant the order details are confirmed and can be changed and customized at any time during the project.
Better implementation of operational support practices for resource selection processes, scaffolding implementation, and personnel management can improve the efficiency of project-based organizations.
Upgrade Your Organizational Support
Current SCM's unique and highly customizable project management features help to better support your organization meet the challenges of future projects and scale operations.
If you need help transforming your operations or organizational support systems, or would like to see a customized demo of Current SCM, contact us today.
Share This:
---
More News Articles