AUTOSOL is pleased to announce the release of the Weatherford® 8500 protocol driver in AUTOSOL Communication Manager (ACM).  ACM's support of the Weatherford/Baker 8500 protocol allows customers access to critical data from Weatherford's WellPilot family of rod-pump controllers (RPC). ACM can deliver real-time via OPC DA, OPC UA or MQTT SparkPlug B. A variety of supported card data can be collected and exported to a database and/or CSV or returned as an array of position/load values to an OPC client.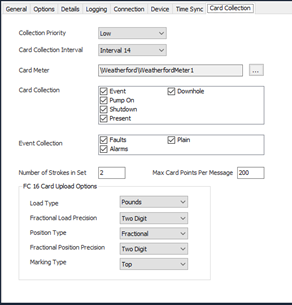 The Weatherford 8500 protocol module communicates with the Weatherford WellPilot® RPOC, ePic VSD, ePic RPC, M8800, M8750, M2000, M8650, M8500, and EXS-1000 ESP. Other devices that use the same Weatherford/Baker/.
Supported Features
The original limit in the protocol numbers were from 1 to 4095. The protocol has since been expanded to have parameter numbers greater than 4095. AUTOSOL has gone above typical industry support by reading parameter numbers below and above 4095.
The Weatherford 8500 device object provides support for reading and writing parameter data from all device types and uploading card buffer data from devices that support function codes FC16, FC16EX, FC24 and FC25.
Retrieval of downhole cards is supported for devices that support FC24 and FC25.
For other additional details please read our release notes and features supported for the Weatherford 8500 found here: https://autosoln.atlassian.net/wiki/spaces/ACMDOCS/pages/2157248513/Weatherford+8500+Protocol
---
AUTOSOL does not have rights to trade names of companies, devices and protocols.
Share This:
---
More News Articles