(Bloomberg) 

Oil held on to Tuesday's surge following the announcement of a coordinated release of strategic petroleum reserves, but the additional supply is unlikely to solve ongoing strength in some pockets of the oil market.Brent futures traded around $82 a barrel after climbing 3.3% on Tuesday. The total SPR release by the U.S., China, Japan, India and South Korea was smaller than many analysts and traders expected.

The U.S. also confirmed Tuesday that its barrels — which make up the bulk of the release — will be mostly sour, or high in sulfur. That does little to solve an underlying problem of a shortage of sweet crudes, which are low in sulfur content. As a result, a key time spread that measures the health of those markets has surged markedly.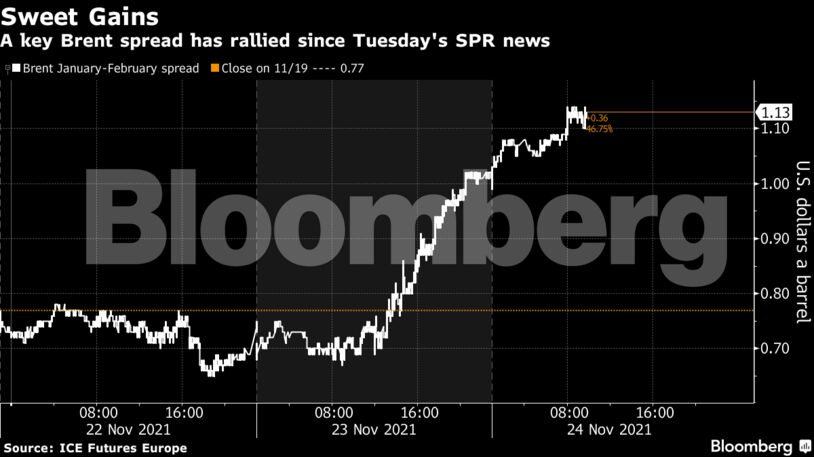 "This will do little to alleviate the ongoing tightness in sweet crudes," Energy Aspects analysts, including Amrita Sen, wrote in a note to clients. "The U.S.-led effort to reduce crude prices in the short run will – with all else equal – lead to higher prices next year."
Focus now turns to OPEC+ and how the group will respond to the move by some of its biggest customers. Prior to the announcement, the alliance said a release is unjustified by current market conditions, and they may have to reconsider plans to add more supply at a monthly meeting next week.
Talks on the Iran nuclear deal are set to get underway next week and, if successful, they still have the potential to add extra supply to the market. A Russian diplomat hinted Wednesday at the difficulty of resurrecting the deal, however, tweeting that "heated debates seem to be unavoidable."
Prices
West Texas Intermediate dipped 0.4% to $78.18 a barrel at 11:01 a.m. London time.
Brent lost 0.6% to $81.85 a barrel.
Of the 50 million barrels released by the U.S., 32 million will be issued from the Strategic Petroleum Reserve as an exchange over the next several months, and the remaining 18 million will come from an accelerated release of previously authorized sales, the White House said in a statement Tuesday. A senior administration official said barrels could start moving as soon as mid-December.
"By releasing reserves from the SPR, fundamentally you are just diminishing that cushion that you have in the event of a real crisis," Neil Beveridge, senior analyst at Sanford C. Bernstein, said in a Bloomberg Television interview. "It doesn't really make a big difference physically in the market today but will probably just make things worse, rather than better, down the road."
Share This:
---
More News Articles