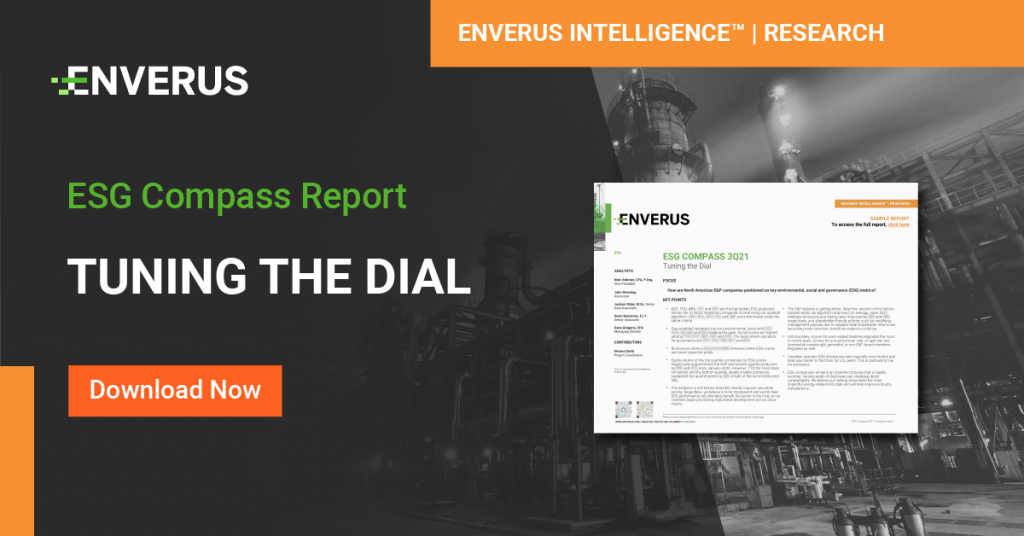 In the energy sector, KPIs dominate. But the latest metric to drive decisions in the sector is notoriously difficult to quantify – ESG. Gathering data on a company's environmental, social and governance performance is challenging because the information is often self-reported and can be subjective. In addition, a myriad of datapoints, found from a wide array of sources, is considered when factoring ESG.
Enverus has cleared through that fog with Enverus ESG™ Analytics. Taking a wealth of experience in the industry, coupled with industry-specific information and data-driven analysis, Enverus' ESG™ Analytics is the energy industry reference for ESG metrics, providing full and transparent visibility into companies' rankings, how they compare among their peers, and how they have improved their environmental and social responsibility since 2017. At a glance, you will be able to identify which are the most investible opportunities in the space.
Why ESG Matters
ESG isn't just the latest industry buzzword. It's a force that is driving change in the heavily scrutinized energy sector. ESG is a challenging metric to assess for firms who are long accustomed to evaluating themselves on easily quantifiable KPIs, like output and market share. While companies may be able to roughly assess their own ESG performance with self-reported data, the real challenge is understanding how their ESG rank compares to that of their peers. And with pressure from investors, input from shareholders and even internal decisions from management teams depending on ESG scores, companies are striving to improve their position relative to their peers.
The Enverus Difference
Enverus assesses ESG rankings based on 32 factors. These factors, curated based on Enverus' 20 years of industry experience and feedback from industrial and corporate customers, go well beyond any company's self-disclosure and are focused on quantifiable, industry-specific data accompanied by expert analysis.
From this ranking system, Enverus developed ESG Compass, a quarterly report that synthesizes the results of these metrics into an easy to digest, intelligence-packed report. Which North American E&Ps are leading the scoreboard? Which have improved their ranking in the past year? How are these rankings impacting bond and securities pricing? How would a deeper understanding of ESG improve your decision-making process?
Download your sample copy of Enverus' ESG Compass and find out the answers to these questions and more.
Share This:
---
More News Articles