(Bloomberg) 

Shale explorers are facing almost $12 billion in losses this year from bad bets on oil after a global rally, according to BloombergNEF.

Of the 50 U.S. drillers surveyed by BNEF, Devon Energy Corp., Pioneer Natural Resources Co. and Diamondback Energy Inc. are on track to rack up the steepest losses, with more than $1 billion in underwater hedges apiece. It's the sector's worst hedging performance in records dating back to mid-2017. The group as a whole hedged almost one-third of estimated 2021 output and the practical impact is that they are locked in to reap about $5 less than the American benchmark crude, West Texas Intermediate.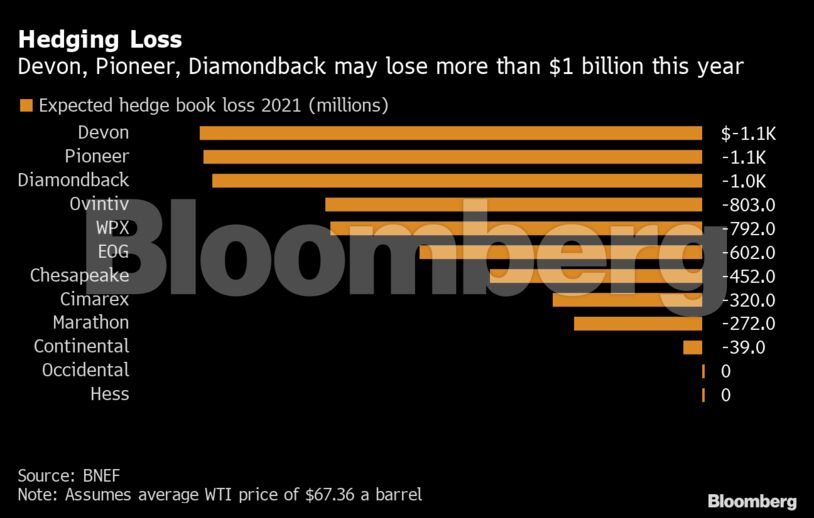 "Personally I actually prefer if you guys don't hedge," Paul Cheng, an analyst at Scotiabank, told Pioneer executives Tuesday on a conference call discussing second-quarter results. "If you look at whether it's a single company or the industry over 10 years, 20 years, 30 years, hedging is a losing-money proposition; I don't think the industry has ever made money."
Though oil explorers are racking up hedging losses, crude's rally has been a net positive for the industry, allowing it to boost dividends and share buybacks after reining in production amid last year's pandemic-driven collapse in fuel demand. Producers typically hedge to mitigate the risk of major price fluctuations and lock in relatively stable cash flows. But the practice carries the risk of leaving money on the table during bull markets.
Pioneer won't use hedging as a way to protect its variable dividend, Chief Executive Officer Scott Sheffield said on the same call. Instead, the company will allow the payout to vary over time depending on its free cash flow, he said.
Oil prices have already recovered from pre-Covid levels and are up by almost half this year at about $71 a barrel as the economy returns from lockdowns in 2020.
The group of 50 companies locked in protections on average at $49.51 a barrel, but some had hedges even lower, including Chesapeake Energy Corp. at $42.64. Unhedged output helped to offset those losses, however, with explorers on average realizing prices at $5.21 a barrel below the average U.S. oil price during the period. The 30% of output hedged this year is the lowest on record, according to BNEF.
The losses haven't been limited to crude drillers. EQT Corp., America's biggest natural-gas producer, irritated investors last week by boosting hedges at a time when the commodity also is surging. The company already has booked a $1.3 billion non-cash second-quarter loss on swaps and options contracts.
"One of the negatives of this quarter has been some horrible hedging," Paul Sankey, the veteran oil-industry analyst and founder of Sankey Research LLC, said during an interview on Bloomberg TV. As a result of disappointing hedging results, "the market guys are saying to me, 'God I hate this group.'"
Share This:
---
More News Articles