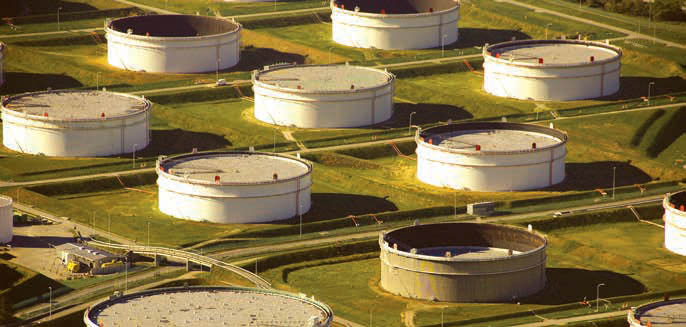 Application Description:
Flammable and combustible liquid storage tanks are found in industrial facilities such as refineries, petrochemical facilities, bulk storage plants, and marine terminals. Power plants, airports, local fuel companies, and large manufacturing facilities such as automotive and steel plants may also have bulk storage of flammable and combustible liquids. Atmospheric storage tanks are used to store or mix flammable and combustible liquids in various ways, depending on the facilities. These tanks can range from 10 feet to more than 350 feet in diameter and have an average height of about 45 feet. Such tanks can hold more than 1.5 million barrels (6 million gallons for crude oil and other petroleum products).
In a floating roof tank, a floating roof with a rim seal rises and falls with the level of surface liquid. This minimizes liquid loss through evaporation. However, when crude oil and petroleum products are stored in these tanks, there is a risk of vapor leaks around the rim seal. These vapors could ignite, destroying the rim seal and causing a large fire, unless first detected by a suitable flame detector.
Other examples of natural causes include:
Lightning strikes and the creation of static electricity when tanks are filled or emptied.
Human error, such as overfilling tanks, ineffective grounding of tanks, and allowing pumping equipment to become overheated are cases where human error can yield ignition.
Fire sources tied to equipment malfunction include:
Pipe/valve failures.
Improperly operating venting devices.
Challenges
Flame detection around the rim seal must occur at the earliest stage to enable prompt activation of suppression, before the rim seal is damaged, and more vapors can escape.
Other areas that require continuous monitoring include:
Tank piping manifolds
Valves and surrounding areas » Laboratory and quality control facilities
Control rooms
Compressors and turbine enclosures
Loading/filling stations for rail cars and automotive tankers
Solutions
Flame – Next Generation 40/40 Series – The SharpEye™ next-generation 40/40 series is based on proven Spectrex technologies, including IR3 and UV/IR. The SharpEye 40/40 series features QuadSense™ technology, providing the fastest response to fire, longest distance detection or revolutionary UV/IR technology, coupled with high sensitivity and superior immunity to false alarms, functioning in harsh conditions with unparalleled reliability and durability. With an improved design, the detectors are easy to install and maintain and come with universal wiring options and multiple output options for maximum flexibility and compatibility.
Hydrocarbon gases – Quasar 900 – High reliability long distance detection of hydrocarbon combustible gases in tough environments over distances of up to 660ft (200m)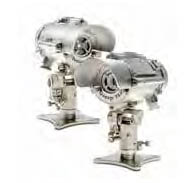 H2S – Quasar 950 – High reliability detection of H2S gas over distances of up to 200ft (60m)
Spectrex is a world leader in Optical Flame Detection and Open Path Gas Detection. They were the first to launch major innovations that have become trade standards such as the first UV/IR and IR3 Flame Detector designs, with continuing new designs meeting application challenges from Offshore to Mall Floors. Spectrex was first to incorporate the Xenon Flash in OPGD detectors to solve false alarm issues common in the industry.
Learn More
To learn more about our Spectrex Optical Flame and Gas Detectors please visit our website at https://bit.ly/3kwwLUF or call one of our local representatives to find the right solution for your company at 1-800-912-9262.
Share This:
---
More News Articles