Join our partner Mettler Toledo on August 5th at 9:00 AM (MST) to learn about Modernizing your pH Sensor Measurements.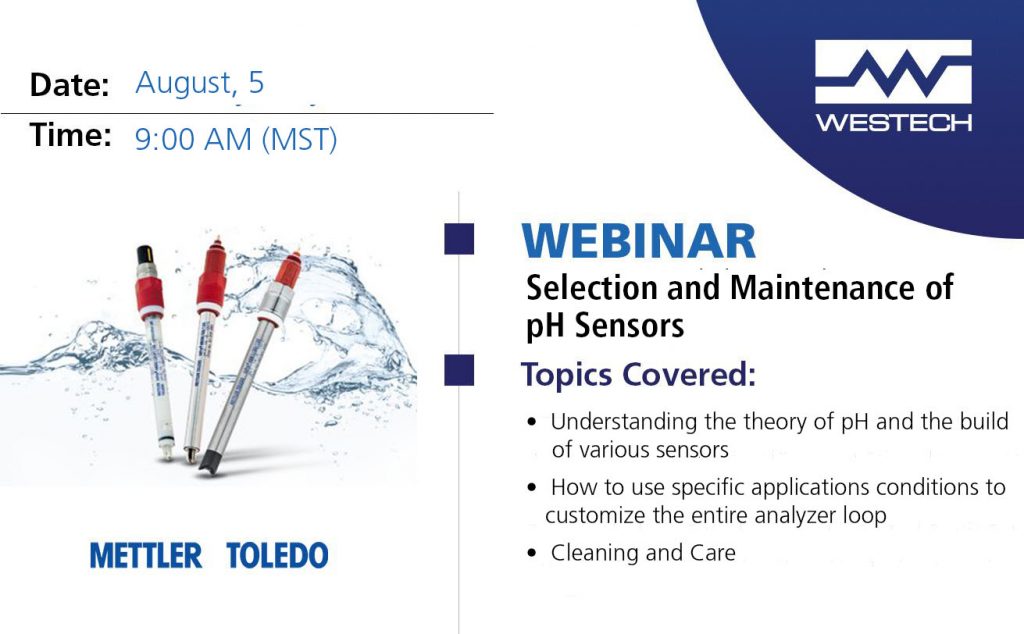 Register: https://bit.ly/3ibahZD
Despite being a small portion of all field instruments, inline analyzers have traditionally required a large amount of time for maintenance and care. pH sensors are one of the most common types of inline analyzers, however, they are frequently misunderstood. This seminar will take an in-depth and easy-to-understand approach to show you how to achieve optimal performance of your inline pH analyzers. The engineering thought process begins with understanding the theory of pH and the build of various sensors, each customized for a specific application. Furthermore, the seminar will address how to use specific applications conditions to customize the entire analyzer loop using a step-by-step method. Finally, the accuracy of an inline analyzer is only as good as its calibration, cleaning, and care. The seminar will conclude with how to use the top-of-the-line digital technology to facilitate best-practices in your cleaning and calibration routines. Digital technologies such as Combination Sensors, Predictive Diagnostics, Adaptive Calibration Timers, and seamless Industry 4.0 integration concepts will be showcased.​
METTLER TOLEDO has an extensive history filled with many industry firsts in the field of inline pH analyzers. Offering a complete measurement loop including transmitter, cabling, housing, cleaning and calibration systems ensures a best-in-class measurement system.​
This unique offering from METTLER TOLEDO will create unmatched confidence in you inline analyzers and economical gain through reduced worker-hours and extended measurement life.​ You will have the opportunity to join different optional e-demos at the completion of the webinar.​
Moderator: Martin Schüemperli, D.Sc, M.Eng Global Industry Manager
Duration: 1 hour
Date: 8/5/2021 9:00 AM [ English ] (MST)
Times are given in your local time. Your current time is 11:09:53 GMT-0600 (Mountain Daylight Time).
Topics will include:
Understanding the theory of pH and the build of various sensors
How to use specific applications conditions to customize the entire analyzer loop
Cleaning and Care
REGISTER
This webinar is free, but registration is required to receive the login link. Register today to save your spot.​
Click here to register: https://bit.ly/3ibahZD
Westech Industrial's Mettler Products
You can also visit our website at https://bit.ly/3fbuOLD to learn more about our Mettler product line or call to speak to one of our technical representatives at 1-800-912-9262.
Share This:
---
More News Articles