(Bloomberg) 

A key spread between monthly oil futures contracts has blown out to the widest level in seven years as traders bet that U.S. crude inventories are about to get a whole lot tighter.

The premium traders are placing on West Texas Intermediate crude for September delivery over October contracts touched $1.12 a barrel on Monday. Before this, the gap between the third- and fourth-closest contracts had only traded above $1 over two periods in the past 13 years — in 2008 and from mid-2013 to mid-2014. During both of those previous spans, oil prices were well above $100 a barrel. Futures are now trading below $75 a barrel, making the current gap all the more extraordinary.

The spread signals that some are expecting supplies to significantly tighten as Americans return to the roads and skies. Meanwhile, shale producers have stuck to their pledges of focusing on financial discipline and are limiting production growth. Bank of America Corp. has now forecast that oil may surge to $100 a barrel next year as travel demand rebounds, making the strongest call yet among major forecasters for a return to triple digits.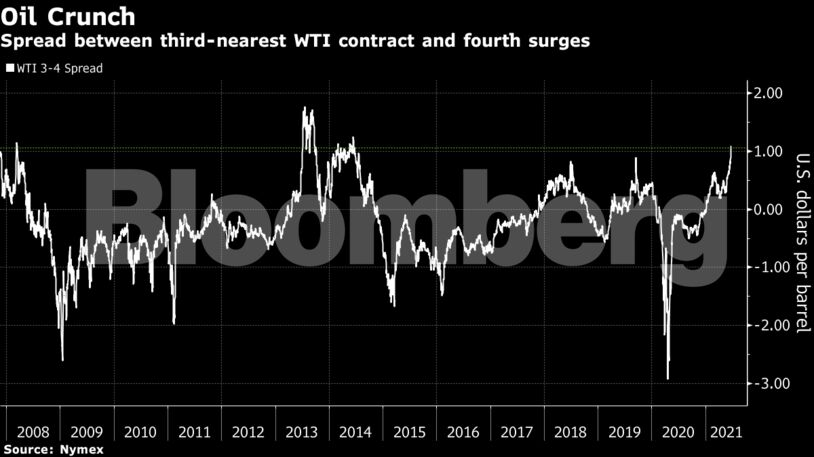 It's a stark reversal from a year ago when a market price crash devastated the oil industry as demand slid from pandemic-fueled restrictions. It forced traders to stuff unwanted crude supplies into storage around the world until consumption improved and shifted the market in a steep contango where oil for immediate delivery trades at a discount to crude for delivery in later months.
Now as the American economy is fully in recovery mode, the opposite is happening. Refiners are tapping on inventories, drawing them down rapidly to the lowest levels since a deep freeze paralyzed Texas production in February. Oil for immediate delivery now commands a premium in a market structure known as backwardation.
At Cushing, Oklahoma, the delivery point for WTI futures, crude inventories have reached pre-pandemic lows as Midwest refineries are operating at the highest rates in the country. Tanks are now being offered up for leasing for the first time since before the pandemic.
The International Energy Agency has warned that the market could face crude supply shortages in the second half of this year, unless the OPEC and its allies turn on more of its shut supply.
Share This:
---
More News Articles