(Bloomberg) 

The catastrophic drought that's gripping the U.S. West is claiming a new victim: the hydropower dams that much of the region depends on for electricity supplies.

Low water levels in key reservoirs mean that hydropower supplies are declining. One of the hardest hit areas is California, where output has tumbled to the lowest in more than five years. Nationally, the U.S. Energy Information Administration predicts electricity generation from conventional hydro sources will drop about 11% this year from 2020.

That's at a time when electric grids across the West are already forecast to be stretched this summer as heat waves send power demand surging. With less hydropower, the challenge of meeting peak demand may get even tougher, especially in California. Over the past three years, the state has depended on hydro for almost 13% of its electric power, according to Brianna Lazerwitz, an analyst at BloombergNEF.

"California is walking a tight rope," she said.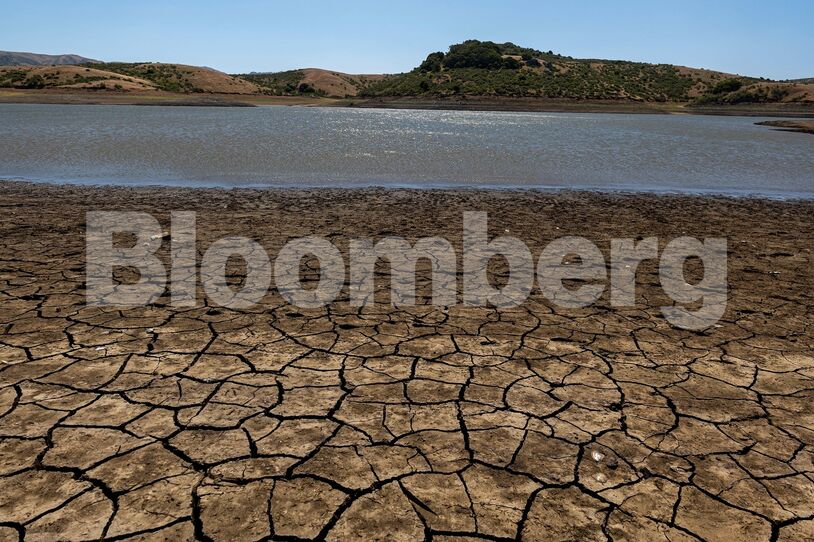 California's grid, meanwhile, is already being swamped with demand as temperatures are forecast to exceed 110 degrees Fahrenheit (43 Celsius) in the coming days.
The California Independent System Operator said in a May report that "a second year of significantly lower-than-normal hydro conditions and an increased possibility of extreme weather events" suggest it may face challenges meeting demand this summer.
Already in the state, hydropower is down about 40% this month compared with June 2020, according to BNEF. At the Hoover Dam, on the Nevada-Arizona border, capacity has fallen about 25%, with the site's reservoir at its lowest point since 1937.
Reduced hydro output could force California to lean heavily on natural gas-fired generation even as it pushes to reduce its use of carbon-based electricity.
READ: Stifling Heat in Texas and California Squeezes Power Grids
Hydropower is produced by capturing the energy of falling water over dams to generate electricity. When less water is available in rivers or stored in reservoirs, less hydroelectricity is generated, according to the Pacific Institute.
The dryness gripping almost three-fourths of the western U.S. is so severe that it's off the charts of anything recorded in the 20-year history of the U.S. Drought Monitor. As of June 10, 85% of California was in extreme or exceptional drought. The parched conditions mean wildfire threat is high and farmers are struggling to irrigate crops.
About three quarters of California's annual precipitation tends to fall between November and March, according to the state's Department of Water Resources. What little snow did fall soon melted away and seeped into dusty ground rather than rivers, streams and reservoirs. Now, the state's snowpack is well shy of normal.
"Since smaller snowpacks melt faster than larger ones, the lower-than-average snowpack may cause available hydropower generation to peak earlier in the year," the Federal Energy Regulatory Commission staff said in a May report.
"That could mean less hydropower generation would be available to help meet peak electric demand mid- to late-summer."
READ: Worst Drought in Decades Escalates Threats Across U.S. West
To prepare for that likelihood, California utility giant PG&E Corp. is holding back the use of its hydropower dams now, so there will still be water left in the reservoirs when the temperatures — and power demand — go higher.
"We have been conserving water in our reservoirs so that we have that same available volume for peak," Chief Executive Officer Patricia Poppe said in an interview.
It's not just California. The EIA predicts that the Pacific Northwest will also see a decline in electricity generated from conventional hydropower this year. The agency cited a forecast from the National Oceanic and Atmospheric Administration that pointed to near-average water supply in the northern half of the Columbia River Basin and below-average supply in the southern half.
LeRoy Coleman, a spokesman for the National Hydropower Association, said in an email that "hydropower generation will always vary depending on factors such as precipitation and timing of snowmelt," but that total U.S. output has remained stable despite regional fluctuations from year to year.
In California, hydropower output levels haven't been this low since late 2015, according to the EIA. At the Hoover Dam, hydropower was impacted at a similar level in 2016, when the reservoir elevation was about the same as now, according to the U.S. Bureau of Reclamation.
Hydropower provided about 9% of California's electricity on Aug. 18, 2020. The state may have about 1 gigawatt less hydropower this year during that month, Lazerwitz of BNEF said.
"It's likely that California will be more strained this year than last," she said.
Share This:
---
More News Articles