(Bloomberg) 

Oil advanced for a third day after the IEA lifted its forecasts for demand and an industry report pointed to another decline in U.S. crude stockpiles.Futures rose 1.6% in New York and are heading for the longest run of gains in over a month. The International Energy Agency lifted its forecasts for oil consumption this year by 230,000 barrels a day amid a stronger outlook for the U.S. and China. It follows an upbeat outlook for demand from OPEC on Tuesday.

The American Petroleum Institute reported crude inventories fell by 3.61 million barrels last week, according to people familiar with the data. It will be a third straight draw if confirmed by government data Wednesday.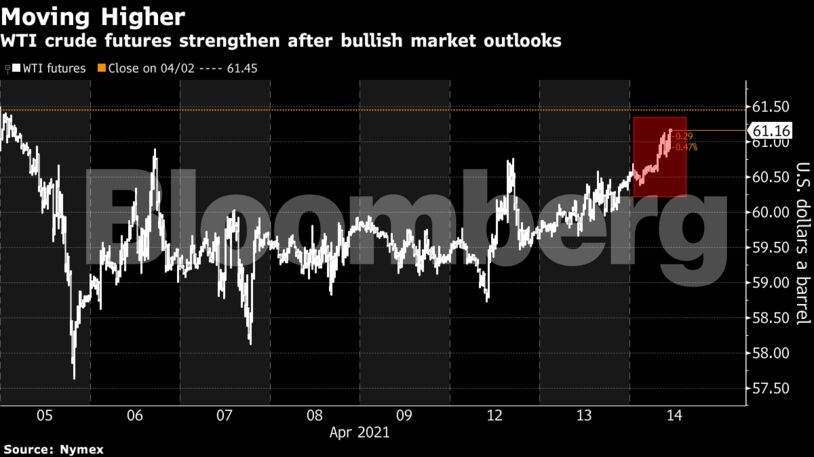 Concerns over near-term fuel demand as a result of surging Covid-19 cases in some major consuming countries ground oil's sizzling start to the year to a halt in recent weeks. India's normally bustling streets have been deserted and the pause in the Johnson & Johnson's Covid-19 vaccine rollout in the U.S. add renewed headwinds.
But the IEA took a more positive tone on Wednesday. Organization of Petroleum Exporting Countries also said this week that rising consumption should help to trim stockpiles and also absorb some of the halted supply the group plans to return to the market over the next three months.
"A combination of unprecedented fiscal stimulus and vaccination campaigns will provide a solid base for the oil demand recovery in the latter half of this year," said Stephen Brennock, an analyst at PVM Oil Associates Ltd. "The stage is set for some hefty stock draws."
Prices
West Texas Intermediate for May rose 95 cents to $61.13 a barrel at 9:57 a.m. London time
Brent for June settlement gained 1.5% to $64.65
While lifting its demand outlook, the IEA also noted the existing strength in some other key demand hubs. Japan, for example, saw its oil demand top pre-pandemic levels for the second month in a row in February.
Meanwhile, in China, the government is clamping down on independent refiners in an effort to curb overcapacity and stamp out illegal practices. A key reason for the probe is to determine whether processors have met Beijing's demand to close outdated and polluting equipment, according to people familiar with the matter.
Other oil-market news:
Iraq's SOMO gave full contractual Basrah crude oil supply to at least two customers in Asia for May sales, while another received reduced volumes, according to refinery officials that were informed by the company.
At least six New York-bound tankers laden with European gasoline have recently changed course for other ports, primarily in North America, amid a pile-up of similar vessels in the city's harbor.
Share This:
---
More News Articles