(Bloomberg) 

One of the world's largest producers of the key raw material for solar panels is planning a massive expansion amid surging demand for clean energy.Xinte Energy Co. will build a polysilicon project able to produce about a third of current global production in Inner Mongolia, it said Monday in a filing to the Hong Kong stock exchange. The company's shares have more than quadrupled since mid-December on the back of demand for the material that transmits electrons excited by photons of light, generating electricity.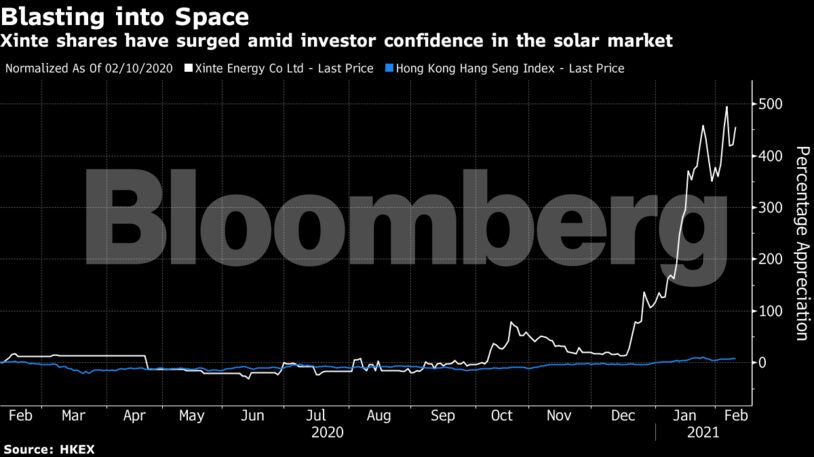 China's climate push, along with a return to clean energy zeal in the U.S., mean demand for solar panels may create a shortage of polysilicon this year, according to Daiwa Capital Markets. Other makers have also seen their shares surge and announced separate plans to expand production.
Phase 1 of the project will have a capacity of 100,000 tons and cost 8 billion yuan ($1.24 billion). Construction will start after confirming a location and securing approvals, and operations will begin within 18 to 24 months after building commences, Xinte said. The remaining 100,000 tons of capacity will be built in Phase 2, with no time-table specified. The size of the plant represents about 36% of this year's expected global production, according to BOCI Research Ltd.
The expansion also comes amid increased scrutiny on solar's supply chain in China's Xinjiang region, where Xinte operates the world's largest polysilicon factory. The company has entered into an investment framework agreement with the Baotou Municipal Government and the Tumd Right Banner Government in Inner Mongolia for the new plant, it said in the filing.
Xinte isn't the only manufacturer eyeing expansions, with Tongwei Co. and Daqo New Energy Corp. recently announcing plans to add capacity. The new factories will further an impending surplus in the polysilicon market, said Dennis Ip, head of renewables research at Daiwa Capital Markets Hong Kong. He forecasts that the polysilicon market will flip from a severe shortage this year to a surplus of 21.4% in 2023.
The polysilicon market has undergone an abrupt U-turn in the past six months after prices for the material had steadily fallen for much of the past decade. Prices have surged 85% since June, first because of supply disruptions and more recently because of demand optimism.
This year, China is expected to install a record amount of solar power, and BOCI Research expects global polysilicon supply to total 550,000 tons in 2021, with 84% coming from China.
Xinte shares advanced 5.8% in Hong Kong Tuesday.
Share This:
---
More News Articles