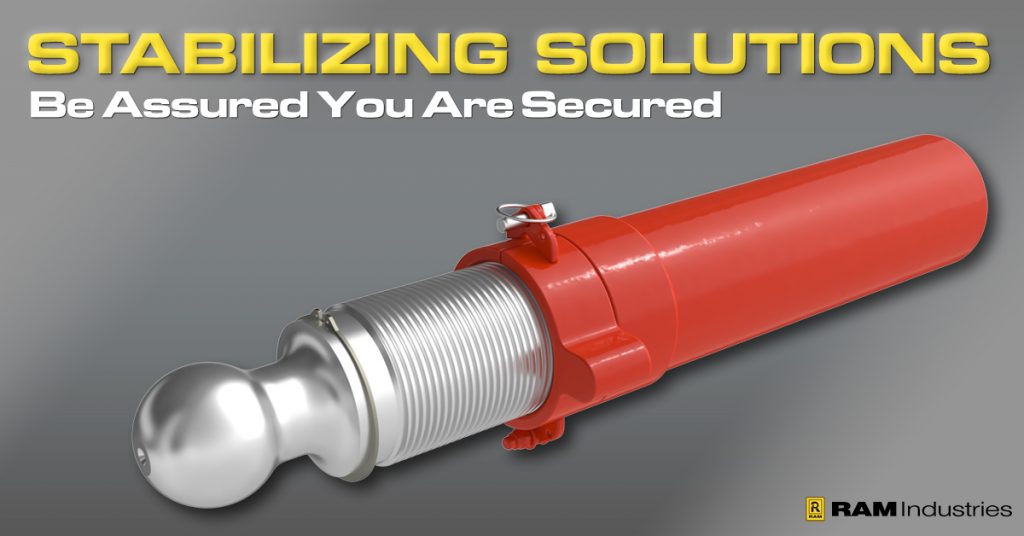 RAM Industries has the stabilizer hydraulic cylinder solutions you need for your levelling or outrigging applications. These versatile cylinders are commonly used in many oil & gas industry applications, including – service rigs, coil rigs, drilling rigs, data logging trucks, fracking operations, catwalks, pipe tubs, and service truck cranes.
RAM Stabilizer cylinders enable quick deployment and are easy to modify after placement. These unique cylinders provide infinite adjustments to the finished height over the full range of the stroke. They use a threaded engagement system instead of a pin to lock it in place. Utilizing RAM mechanical or hydraulic locking stabilizer cylinders provides increased assurance your equipment will perform safely and reliably.
RAM's standard models focus on two primary mechanical locking methods – split or locking nut. These positive locking systems assure that there will be no creeping from the desired settings. The split locking nut design features an external split ring mechanism easily removed and replaced to lock the stabilizer in position once deployed. The solid locking nut design is fixed to the equipment and is rotated to lock the stabilizer in position. Hydraulic locking can be incorporated with hydraulic valves such as PO check, counterbalancing and thermal relief valves.
RAM's expertise is demonstrated with an offering of 120 pre-engineered designs. RAM Stabilizer cylinders provide a starting point to customize the precise fit and functionality you require. Each model includes a wide range of standard features that can be customized to accommodate the equipment specifications. RAM Stabilizer cylinders are produced with bore diameters between 2" and 8" and stroke lengths from 0" to 60" with pressure ratings up to 5000 PSI.
RAM Stabilizer cylinders feature standard cross-pin and ball ends. The cross-pin mounts provide quick and easy functionality that can easily be incorporated into your equipment. Ball ends are a unique design that provides 360-degree stability with angular interaction with the ground to match any slope. RAM designs can easily incorporate many mounting options from positions (side, top, pass-through, and flange mounts) to the mount hole patterns and sizes. Custom jacking pads or feet are available.
RAM Stabilizers can easily be incorporated into existing designs and customized to fit your application. Custom paint options include matching your equipment colours and various paint finishes like our standard two-part urethane or electrostatic plating.
With extensive experience providing fully customizable mechanical and hydraulic locking stabilizer cylinders for OEM customers, we can find a solution for your Oil & Gas equipment.
Contact the RAM team to configure a stabilizing solution today!
Share This:
---
More News Articles