By Joe Ryan and Brian Eckhouse
By Joe Ryan, Brian Eckhouse and Mark Chediak
(Bloomberg) 

In a matter of weeks, California has been hit with two record-breaking heat waves, hundreds of blazes, freak lightning storms and dangerously poor air quality. Now, unusually strong winds are threatening to knock down power lines and ignite more wildfires.That prompted PG&E Corp. to impose power cuts for more than 500,000 people and could spurs utilities in Southern California to do the same on a smaller scale Tuesday night. As dangerous conditions stretch across the West, an Oregon-based utility has also switched off power to some of its customers.The shutoffs that California's largest utility began late Monday are the latest blow for the disaster-weary state, where climate change is making weather ever more extreme. Temperatures have soared to records from Napa to Los Angeles. Wildfires have torched more than 2.2 million acres, the most in records stretching back three decades. Hundreds of thousands of people may be in the dark for days while trapped indoors due to wildfire smoke and Covid-19 outbreaks.Officials are responding with equally extreme measures. In August, California carried out its first rotating blackouts since the 2001 energy crisis, drawing the ire of millions who went powerless as extreme temperatures boosted demand for electricity. The Trump administration on Sunday declared a power emergency, allowing generating plants to run at full bore, regardless of environmental limits.The preventative shutoffs are a fairly new and controversial practice, and their use by PG&E last year triggered investigations, even as utilities defended them as necessary in the face of increasingly wild weather.

Now, as a second round of ferocious temperatures abates, so-called Diablo winds sweeping in have set the conditions for even more outages.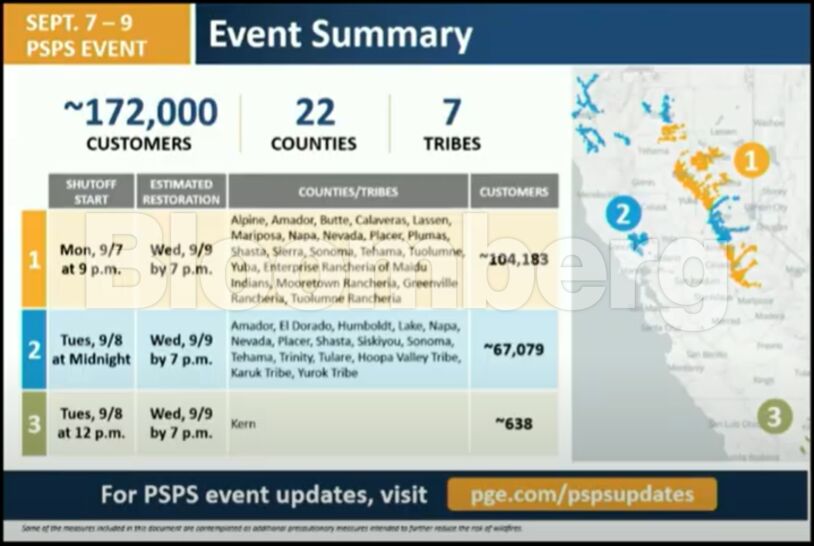 "We do expect a second peak in winds overnight and lasting through early tomorrow morning," Scott Strenfel, senior meteorologist for PG&E, said during a briefing Tuesday evening.
PG&E has so far cut power to more than 167,000 customers, or about 500,000 people based on the size of the average California household. While more shutoffs are expected in Kern County late Tuesday, the company has started the process of inspecting lines for damage to try to get power back on in certain areas.
"We are estimating we can restore most customers by Wednesday evening," said Mark Quinlan, incident commander for PG&E.
The state's two other major utilities are also making plans to cut power if necessary. Southern California Edison Co. said it may shut off electricity to more than 54,000 customers starting Tuesday evening, with 292 cut off as of 3:57 a.m. Pacific time after rising to more than 1,000 earlier. San Diego Gas & Electric Co. is considering doing so for more than 16,000 customers, with 19 currently disconnected.
In Oregon, high winds have knocked out electricity to about 63,000 customers of Portland General Electric Co., and for the first time the company intentionally cut power to about 5,000 homes and businesses near Mt. Hood.
September and October typically mark the peak of California's fire season, when plants have been sapped of moisture by the state's dry summer. Rains most often return in October or November.
Last year, when California's utilities first began carrying out widespread blackouts like this, some homes and businesses were left in the dark for days. That drew outrage from state and local officials, triggered investigations and prompted PG&E to reassess the scope of future shutoffs.
The company, which emerged from Chapter 11 in July after agreeing to pay $25.5 billion to settle wildfire lawsuits afters it equipment ignited fires, has taken steps to limit the size and duration of outages, including putting wires underground in some locations.
(Adds latest SoCal updates starting in 10th paragraph.)
–With assistance from David R. Baker.
Share This:
---
More News Articles