Join us for our weekly Online Series where we engage with global policymakers, industry innovators and energy CEOs hosting discussions on topics which include energy investment in the post pandemic world, long-term sustainable energy solutions and building resilience in the sector through advancement of technology, innovation and partnerships.
---
EXPLOITATION OF WASTE ENERGY TO HELP O&G COMPANIES IN THE PATH OF DECARBONIZATION
Technical Stream | Wed. June 10 at 3:00 p.m. MDT
Nowadays people's consciousness about global warming and climate change issues is increasing day by day. Several solutions are available to shift to a low-carbon economy on a global scale and they could bring substantial benefits to avoid the critical consequences of the ongoing climate changes. Global warming must be curbed, therefore the reduction of the energy consumption is becoming more and more important among all the industrial fields. Following the positive trend of energy efficiency, the oil & gas sector is looking continuously at the development and implementation of new solutions.
In this webinar you will learn the following:
Where to take action in the O&G industry to increase energy efficiency
Waste-heat-to-power: where and when it makes sense
ORC technology to improve process sustainability
---
XTL 101: FUNDAMENTALS OF XTL
XTL Summit Stream | Thu. June 11 at 3:00 p.m. MDT
Please join Nico Duursema and Peter Tijm as they discuss everything you need to know about XTL. The XTL process includes technologies such as waste to liquids (WTL), bio-refineries (BTL), gas to liquids (GTL), and other conversions to high-value products. With new developments in technologies XTL makes sense and provides answers to key global drivers. This is a strategic energy asset that should be part of any state or country's energy portfolio. In this webinar you will learn the following:
What is XTL Technology and what does it do
How it can work for you
Positive environmental impacts of XTL technology and its products
---
REDUCE COSTS NOW: REALIZE IMMEDIATE SAVINGS THROUGH SOURCING, CONTRACT COMPLIANCE, & EFFICIENT PROCUREMENT
Strategic Stream | Wed. June 17 at 3:00 p.m. MDT
Reduced global demand has the energy sector scrambling to control costs and mitigate risk. Immediate savings can be found through procurement – from day-to-day purchasing to broad organization-wide strategic sourcing initiatives, wrangling organizational spend will help right away.
In this webinar, you will learn how to find cost savings opportunities you can act on immediately in your organization by:
Leveraging competitive bids for goods and services through strategic sourcing activities
Ensuring contract compliance in organization's purchase of goods and services
Simplifying how goods and services are requested and received by users in your organization
---
ZERO GHG PRODUCTION OF OIL SANDS RESERVOIRS USING RF HEATING
Technical Stream | Wed. June 24 at 3:00 p.m. MDT
This presentation will cover the economic and operational realities of producing a zero-GHG barrel of heavy oil or oil sands by applying renewable sources of energy to power a RF heating system.
In this webinar you will learn the following:
How RF XL can deliver zero GHG emissions production of heavy oil through the use of renewable energy sources
How a renewable power source like solar panels be used to support this zero emission RF XL deployment
How the combination of RF XL, solar power, and innovative facility design can make zero emissions heavy oil production profitable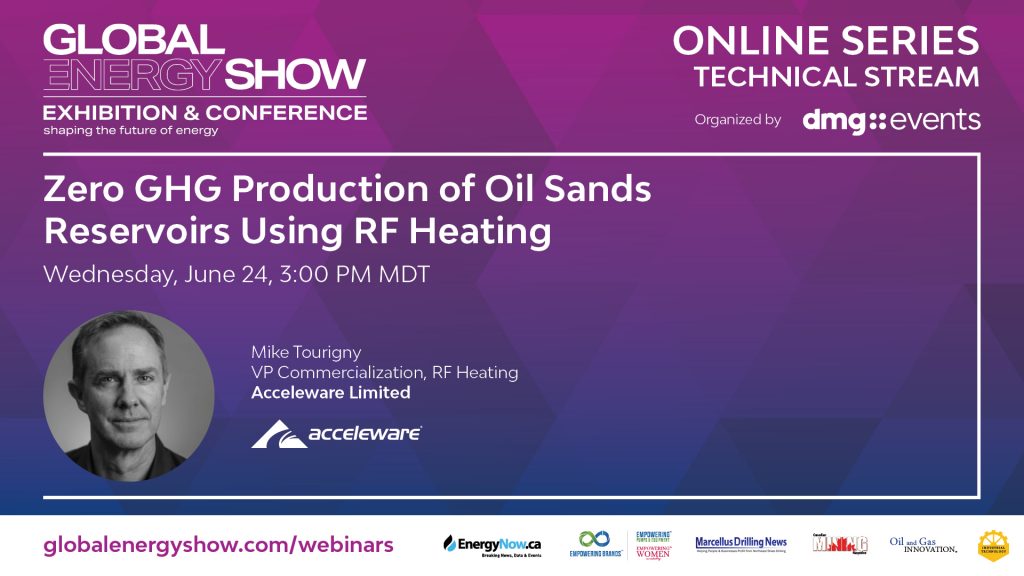 ---
GLOBAL ENERGY SHOW ONLINE SERIES MEDIA PARTNERS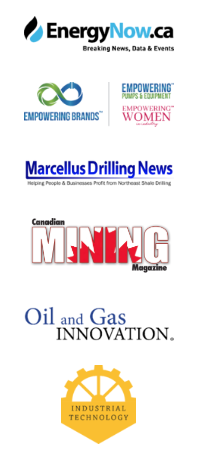 Share This:
---
More News Articles