By James Thornhill and Alex Longley
(Bloomberg) 

Oil fell below $20 a barrel after the International Energy Agency said a historic production cut deal won't be enough to counter a record demand slump this year.

Futures fell as much as 4.5% in New York to the lowest since 2002. Oil demand will drop by over 9 million barrels a day this year, wiping out a decade of consumption growth, the IEA said, exhausting storage by mid-year. While Saudi Arabia and other Middle East producers have pledged to cut supply starting next month, they continue to flood the market in April.

Stockpiles are expected to rise further in the U.S. and European inventories increased the most in more than a year last week. This is weakening key physical market gauges. New York oil futures moved deeper into contango, signaling an expanding oversupply, while swap prices indicate North Sea cargoes are at their biggest discounts to Brent futures in more than a decade.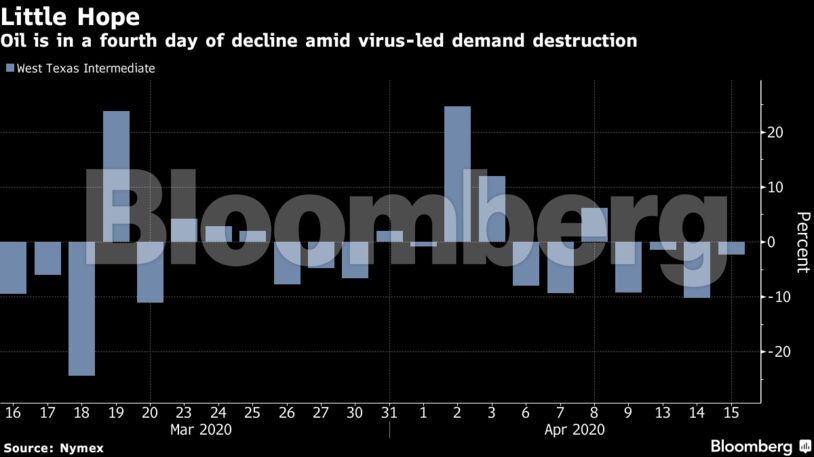 Oil has lost about two-thirds of its value this year as countries extend their coronavirus lockdowns, death tolls mount around the world, and unemployment explodes in America. The International Monetary Fund estimated the global economy will shrink 3% this year, a signal that energy demand may remain weak, while the IEA is warning that the worst may be yet to come.
"We may see further downward pressure on prices in coming days and weeks," IEA Executive Director Fatih Birol said.
Prices:
West Texas Intermediate fell 50 cents to $19.61 a barrel as of 8:37 a.m. in New York
Brent declined $1.19, or 4%, to $28.41 a barrel
Dated Brent, the benchmark for two-thirds of the world's physical supply, was assessed at $20.66 on Tuesday, compared with $23.73 on Thursday, according to S&P Global Platts
The IEA said consumption in April will fall by almost a third to the lowest level since 1995, and make this year the worst in the history of the oil market. Despite OPEC+'s efforts, global inventories will accumulate by 12 million barrels a day in the first half of the year and "overwhelm the logistics of the oil industry" in the coming weeks, it warned.
The massive OPEC+ deal to cut production starts next month. Until then the battle for market share persists with Abu Dhabi cutting its crude pricing for Asia. It follows a similar move by Saudi Arabia earlier in the week.
Other oil-market news
Diamondback Energy Inc., one of the biggest Texas shale explorers, warned it will halt all drilling if the state imposes OPEC-style production caps, raising the stakes in a debate over a contentious proposal to arrest free-falling oil prices.
The founder of energy private equity giant Quantum Energy Partners painted an apocalyptic picture of the U.S. shale industry while pleading with Texas regulators to impose mandatory production cuts.
Continental Resources Inc. founder Harold Hamm told Texas oil regulators he expects neighboring Oklahoma to adopt crude-production limits in a bid to bolster energy prices.
India's Bharat Petroleum Corp. is seeking to cut its crude oil imports from Saudi Arabia by as much as half in May.
Share This:
---
More News Articles