By Alex Longley and Ann Koh
(Bloomberg) 

Oil traded near $23 as traders weighed the collapse in global consumption as a result of the coronavirus outbreak, which continues to roil markets, against a broader fiscal response.Futures in New York pared earlier gains but are set to eke out a small weekly increase. While global stocks staged a partial recovery this week as policy makers sought to cushion the blow from the virus, there have been more signs of a demand collapse. Refineries from India to South Korea are slashing their consumption, while the International Energy Agency warned that demand is in freefall.

Lower prices are already taking their toll, with producers facing forced production cuts for the first time in 35 years. Suppliers from Brazil to Canada are already acting, while Nigeria said it will pump as much as it can at low prices, but may have to shut in production. Algeria has asked for an emergency OPEC board meeting to discuss the cuts. It comes as industry consultant IHS Markit said the world will run out of places to store oil in as little as three months.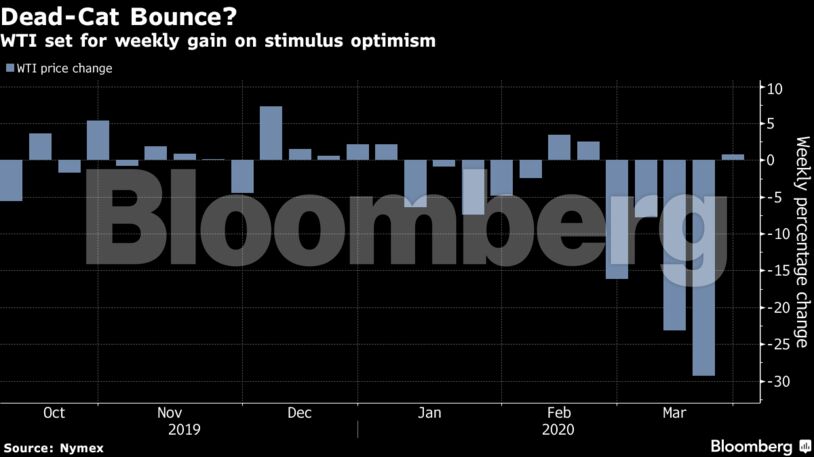 "The bearish stock overhang on oil markets will not abate any time soon," said PVM Oil Associates analyst Stephen Brennock.
Prices:
West Texas Intermediate rose 0.1% to $22.62 a barrel as of 10:59 a.m. in London

U.S. benchmark is up 0.9% this week

Brent crude lost 1.2% to $26.02 a barrel
In another bad omen for oil prices, the U.S. Energy Department was forced to rescind an offer to buy from shale producers to top up emergency stockpiles after President Donald Trump failed to win funding from Congress. The purchases would have targeted small to mid-size producers that have borne the brunt of the recent market meltdown.
The signs of storage starting to fill are growing too. Inland tanks for heating oil in Germany are now full up, while Pakistan banned oil imports on Thursday because its stockpiles are now sufficiently built up.
Other oil-market news
Global oil demand will slump by 17.4m barrels a day in April from a year earlier, industry consultant FGE said in a note.
Mega-refineries across Asia are caving to plunging oil consumption as billions of people stay home in the region's major demand centers.
Canadian heavy crude has become so cheap that the cost of shipping it to refineries exceeds the value of the oil itself, a situation that may result in even more oil-sands producers shutting operations.
Russia's average oil production is little changed so far in March, the final month of the OPEC+ deal, as the nation prepares to ramp up output.
Share This:
---
More News Articles