By Alfred Cang, Javier Blas and Sharon Cho
(Bloomberg)

Chinese oil demand has dropped by about three million barrels a day, or 20% of total consumption, as the coronavirus squeezes the economy, according to people with inside knowledge of the country's energy industry.The drop is probably the largest demand shock the oil market has suffered since the global financial crisis of 2008 to 2009, and the most sudden since the Sept. 11 attacks. It could force the hand of OPEC and its allies, which are considering an emergency meeting to cut production and staunch the decline in prices, which are headed for the lowest close in four months.

"It is truly a black swan event for the oil market," said John Kilduff, a partner at Again Capital LLC in New York who has more than 15 years of experience in energy trading. "There was some hope for the demand outlook this year before the outbreak, but that has been knocked off its block. OPEC+ has to react. If there are no further production cuts, there will only be more price losses."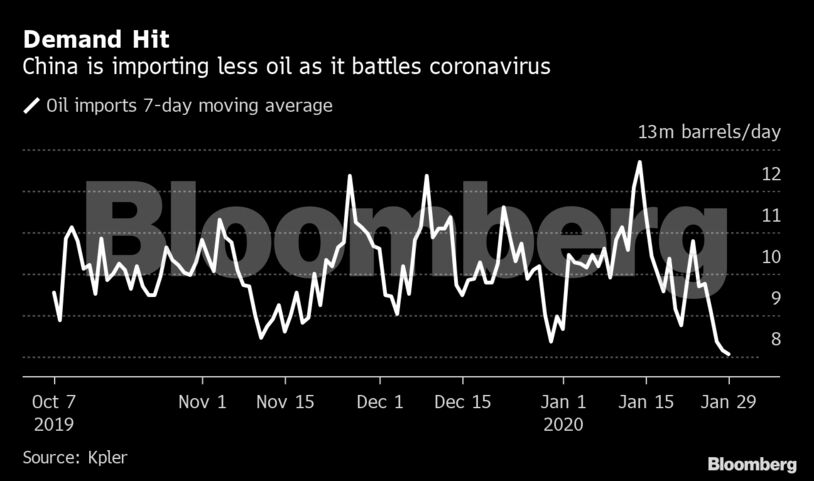 China is the world's largest oil importer, after surpassing the U.S. in 2016, so any change in consumption has an outsize impact on the global energy market. The country consumes about 14 million barrels a day — equivalent to the combined needs of France, Germany, Italy, Spain, the U.K., Japan and South Korea.
The price of Brent, the global oil benchmark, has fallen more than 10% since Jan. 20, when financial markets first took notice of the magnitude of the health crisis in China. The April contract extended losses in Asian trade on Monday, dropping 0.7% to $56.25 a barrel in London as of 11:50 a.m. in Singapore. West Texas Intermediate lost 0.3% to $51.39 after falling as much as 2.2% earlier.
Chinese and Western oil executives, speaking on condition of anonymity because they aren't authorized to discuss the matter publicly, said the decline was measured against normal levels for this time of year. It's a measure of the current loss in demand, rather than the average loss since the crisis started, which would be smaller.
Beijing has locked millions of people in quarantine and the New Year holiday has been extended. Flights have been canceled and authorities across the globe are trying to contain the virus's spread. China's central bank, seeking to avert a sell-off after markets opened on Monday, is taking measures to boost liquidity.
The collapse in Chinese oil consumption is starting to reverberate across the global energy market, with sales of some crudes slowing to a crawl and benchmark prices in free-fall. Sales of Latin American oil cargoes to China came to a halt last week, while sales of West African crude, a traditional source for Chinese refineries, are also slower than usual, traders said.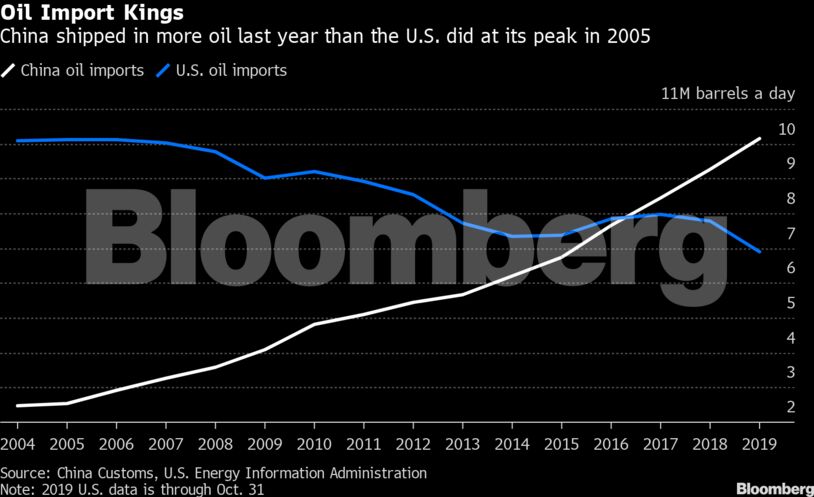 Chinese refineries are storing unsold petroleum products such as gasoline and jet fuel, according to the executives. But every day stockpiles are growing, and some refineries may soon reach their storage limits. If that were to happen, they would have to cut the amount of crude they process. One executive said that refinery runs were likely to be cut soon by 15-20%.
Sinopec Group, the nation's biggest refiner, is in the process of reducing runs at its plants by an average of about 13-15% and will review whether further cuts are needed Feb. 9, according to one of the people. The company declined to comment on its operations.
Traditionally during the New Year holiday, gasoline and jet-fuel demand increase as hundred of millions go back home, while gasoil consumption drops as industrial activity slows.
Beyond the headline price for Brent, every other indicator in the physical and derivatives market also points to a weakening market. So-called time-spreads, which measure the price difference between contracts for delivery at different times, have collapsed — an indication that short-term demand is expected to remain weak.
Share This:
---
More News Articles