By Grant Smith and Ann Koh
(Bloomberg) 

Oil traded near the lowest close since mid-October as the market was dominated by alarm that the deadly coronavirus will hurt economic activity in China and beyond.Futures held near $53 a barrel in New York, after losing 9% during five straight days of declines to Monday, on concern reduced travel will hit jet fuel demand in the world's biggest oil importer. Chinese authorities have locked down cities with a combined 50 million people around the outbreak's epicenter in Wuhan, and will stop individuals traveling to Hong Kong.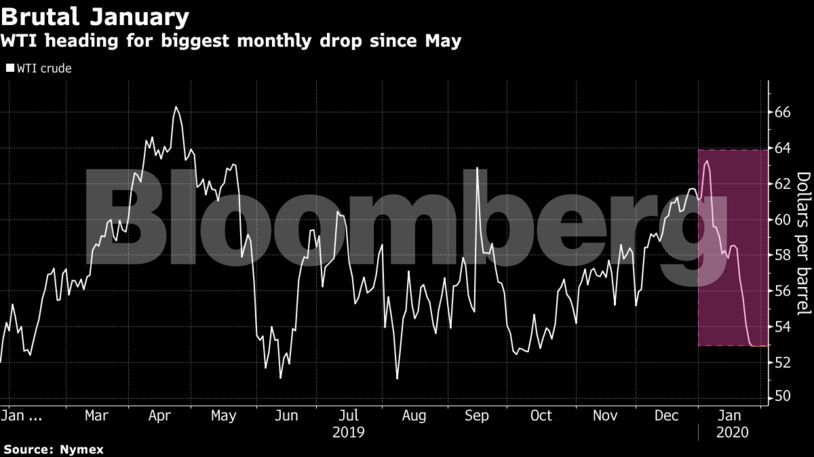 Fatalities increased to 106 in China, and infections have been reported throughout Asia as well as in the U.S., France, Canada and Germany.
Flight activity in the five airports closest to Wuhan plunged 48% from the previous week, while aviation traffic in Shanghai and Shenzhen also fell, even though Lunar New Year holidays should have increased it, according to RBC Capital Markets. Profits from producing jet fuel in Asia fell to the lowest in nearly four years.
"Given the uncertainty over containment, duration and economic impact of the coronavirus outbreak in China, the oil market has understandably been focusing on the negative effect the virus will have on oil demand, notably in jet fuel," said Harry Tchilinguirian, head of commodity markets strategy at BNP Paribas SA.
See also: Oil Experts See $5 Downside, OPEC+ Response as Virus Spreads
West Texas Intermediate for March delivery rose 10 cents to $53.24 a barrel on the New York Mercantile Exchange as of 7:20 a.m. local time. It closed at $53.14 on Monday, the lowest since Oct. 15. The grade has lost 13% so far in January, set for the biggest monthly decline since May.
Brent for March settlement declined 7 cents to $59.25 a barrel on the London-based ICE Futures Europe exchange after falling 2.3% on Monday.
Saudi Arabia, the world's biggest oil exporter, attempted to reassure markets this week by saying it saw "very limited impact" on demand from the virus. The kingdom said OPEC and its allies are prepared to take action to stave off any supply imbalances. Yet as the Organization of Petroleum Exporting Countries is already implementing steep production cuts, it's unclear how much more the cartel is willing to do to defend prices.
With traders focused on demand, oil markets have largely ignored a political crisis in Libya that has choked off the OPEC nation's exports. Eastern-based general Khalifa Haftar blockaded the country's ports earlier this month while haggling over a peace settlement with the national government.
Production has slumped almost 80% since the blockade began about 10 days ago, to 262,000 barrels a day. It could dwindle to just 72,000 a day within days, National Oil Corp. Chairman Mustafa Sanalla said in a Bloomberg television interview.
Other market drivers
Big Oil's final months of 2019 were littered with, from natural gas prices near record lows to weak refining and chemicals, which will probably weigh on earnings.
Facing economic collapse and painful sanctions, the socialist government of Venezuelan President Nicolas Maduro has proposed giving majority shares and control of its oil industry to big international corporations, a move that would forsake decades of state monopoly.
The premium on immediate crude contracts versus later deliveries has narrowed, another sign of how fears over the virus are buffeting demand.
The cost of hauling U.S. crude to Asia is plummeting as new ships come onto the market. Shipowners are now charging around $8 million to $9 million to book a very large crude carrier, known as a VLCC, for the voyage.
Share This:
---
More News Articles