(Bloomberg)

Blackstone Infrastructure Partners is offering to buy out the remaining shares of Tallgrass Energy LP following a 40% slump since it took control of the pipeline operator earlier this year.Blackstone is offering $19.50 for all outstanding Class A shares, a 36% premium to Tuesday's close, Tallgrass said in a statement. The take-private proposal is valued at about $3 billion, according to data compiled by Bloomberg.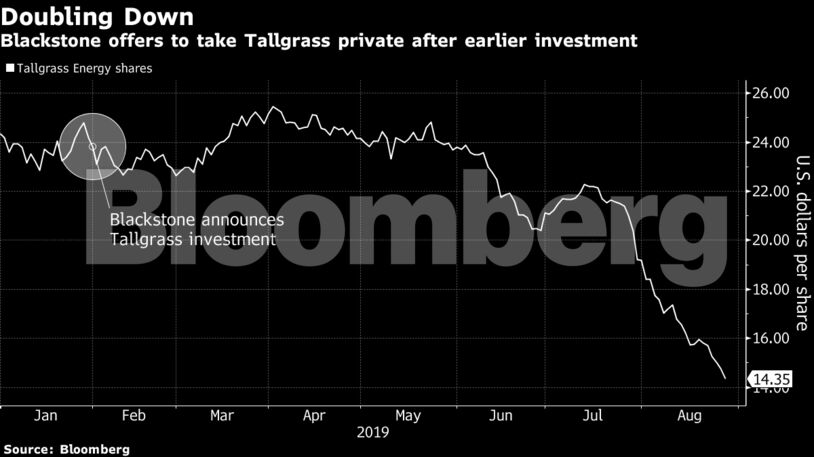 Blackstone's offer is the latest example of financial players trying to privatize the slumping energy companies they control. Brookfield Business Partners LP in May made a take-private offer for Teekay Offshore Partners LP, and ArcLight Capital Partners LLC in March agreed to acquire the portion of American Midstream Partners LP it didn't already own. The offers for these firms, structured as master limited partnerships, have come after the bidders took control of the general partner.
It's a good sign for other U.S. pipeline companies, said Hinds Howard, a portfolio manager at CBRE Clarion Securities LLC. "Valuations look a bit out of whack for some of these names the market has given up on."
Earlier this year, Blackstone and its affiliates entered into agreements to acquire Tallgrass's general partner and a 44% economic interest in the company for $3.3 billion. Tallgrass shares have fallen 40% since that announcement was made Jan. 31. Blackstone declined to comment.
While an eventual take-out was generally expected, the timing of the deal likely surprised investors who expected Blackstone to wait until Tallgrass got new or returning shippers to sign up for space on two of its key pipelines, Tudor Pickering Holt & Co. analysts said in a note to clients.
The shares rose 36% to $19.52 at 9:34 a.m. in New York. Tallgrass's 5.5% bonds due January 2028 were among top high-yield decliners Wednesday, sinking 2.875 cents on the dollar to 95 cents, according to Trace data. The debt yields 6.3%.
Tallgrass operates Pony Express — which carries oil from the Niobrara shale basin in Wyoming and Colorado to the U.S. oil hub in Cushing, Oklahoma — and the Rockies Express gas pipeline that stretches from Colorado to Ohio. It's also announced plans to build Seahorse oil pipeline, which would bring 800,000 barrels a day from Oklahoma to the Louisiana Gulf Coast.
Tallgrass has been weighed down as competition from rival pipelines has stoked concerns that the company might have to cut its rates on Pony Express or possibly even scrap plans for Seahorse.
Share This:
---
More News Articles