by Vanessa Dezem, Mathew Carr and Anna Shiryaevskaya
(Bloomberg)

President Donald Trump's threat to sanction Russia's controversial new natural gas pipeline into Europe is an indication that competition to supply the fuel is heating up.

Blocking the Nord Stream 2 link under the Baltic Sea would be a blow to Russia, keeping it dependent on Ukraine as a gas export corridor at a time those two nations are locked in a dispute over the fuel transit. Trump also is seeking to carve out market share for liquefied natural gas shipments from the U.S. Gulf Coast, which is growing rapidly after making its first overseas deliveries in 2016.

The winners so far are European energy consumers, who are enjoying some of the lowest gas prices in three years. While Trump and officials in his administration have spent months threatening sanctions without delivering any specifics, keeping that risk in the public eye is likely to complicate efforts by Russia's gas pipeline company Gazprom PJSC to complete the link on schedule by the end of this year.

"Although Gazprom has said that U.S. sanctions would not impact its ability to finance the project, the company will face challenges in tapping global debt markets," said Leslie Palti-Guzman, president of the GasVista LLC energy consultant in New York.

Trump framed the issue as one for Germany, adding to tensions that span a number of issues ranging from trade to security and immigration. The U.S. is concerned that Chancellor Angela Merkel's government isn't putting enough money into defense of the region against threats including Russia and that Nord Stream 2 will ensure funds go to Vladimir Putin's government in Moscow.

"I say, 'How can you do that?"" Trump said at the White House in Washington on Wednesday night. "We're protecting Germany from Russia. And Russia is getting billions and billions of dollars of money from Germany."

Trump's suggestion is that Germany should buy American gas.

"We have tremendous LNG, liquefied natural gas, and a lot of the European countries are wanting it," Trump said. "Germany made a decision to buy a tremendous percentage of their energy from Russia. And Germany, whether they should be doing that or not, they're the ones that have the power to block it. They shouldn't buy it."

Click Here to Read a Reaction to Trump's Comments From Germany.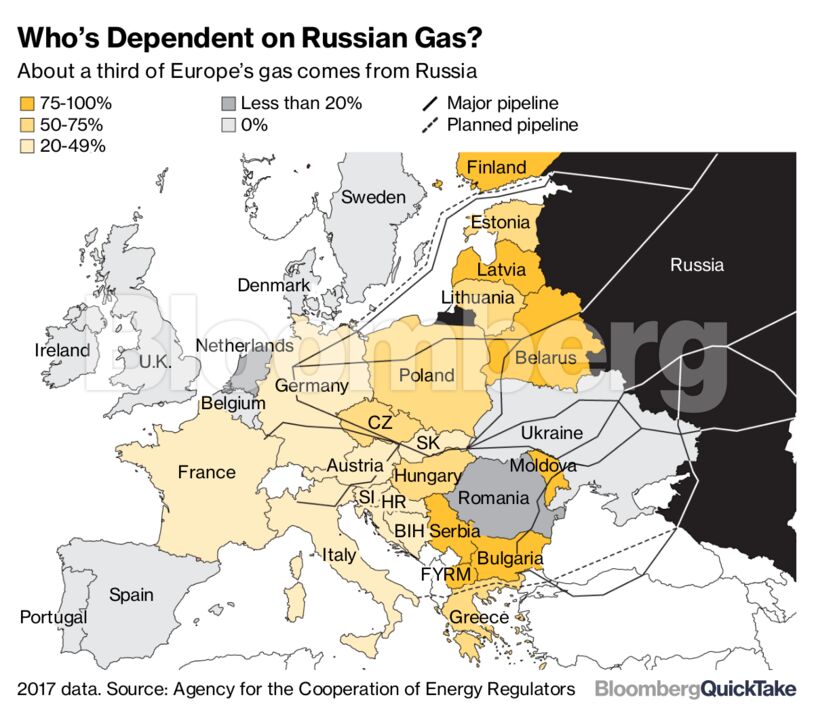 The fate of Nord Stream 2 may also be linked to the other disputes roiling Trump's relationship with Merkel, especially his concern about a trade deficit with Germany coming from car shipments from companies like BMW AG to Volkswagen AG.
"If Trump links tariffs on German cars with the gas pipeline, Merkel might blink," said Laurent Segalen, a partner at Megawatt-X in London, who advises on financing wind and solar projects and is a former commodities banker. "She is non confrontational. She might kick the can down the road and hand the problem to her successor hoping there will be someone else in the White House."
Click here to read about Russia's dispute with Ukraine over gas transit fees.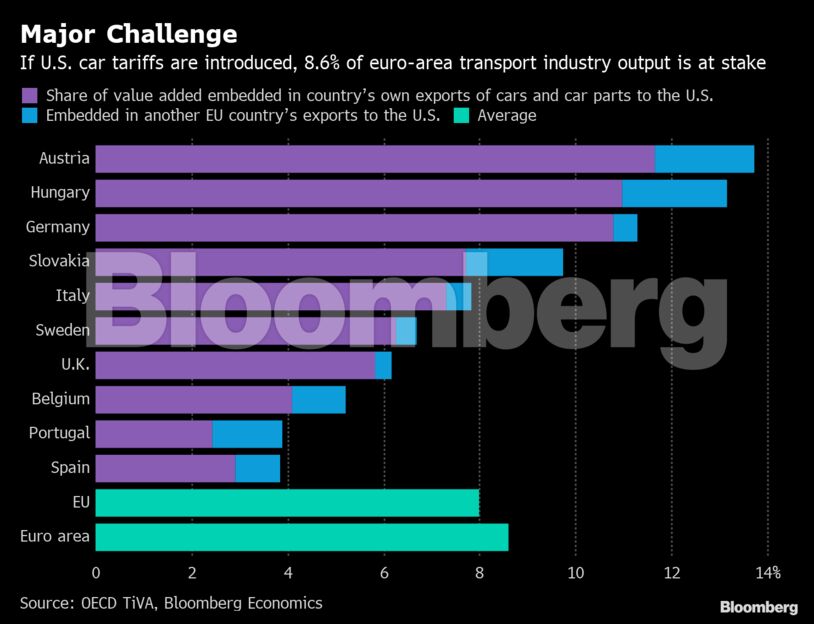 How the U.S. might sanction Nord Stream 2 isn't clear. The U.S. House of Representatives passed an anti-Nord Stream nonbinding resolution in December 2018, and a bipartisan group of 67 senators introduced a similar measure in January. Energy Secretary Rick Perry last month said the Senate is working on legislation that would include sanctions.
Trump threat isn't likely to halt the pipeline that is already being built, though it may slow its completion and prompt partners to rethink their financial stakes in it, according to a Bloomberg Intelligence report.
Russian President Vladimir Putin's government and Gazprom have sought to assure EU nations that they can be a reliable supplier and that the Nord Stream 2 link shouldn't be a political issue.
"The pipeline is a commercial project to bring reliable, affordable gas to Europeans,'' said Sebastian Sass, the EU representative for Nord Stream 2. "That is why western European energy companies from Austria, Germany, France, the U.K. and the Netherlands have committed to invest almost 1 billion euros ($1.1 billion) each in the project."
Royal Dutch Shell Plc, Uniper SE and Wintershall AG all declined to comment on "speculations of sanctions." Shell said it is committed to act in full compliance with applicable sanctions and trade control requirements.
At the moment, Nord Stream 2 has acknowledged that the link may be completed at least six months late if it is forced to use an unfavorable route around Denmark. That would mean completion sometime in the second half of 2020. Denmark's Board of Appeal is taking longer than usual to assess the case.
"After receiving the second application, we found that there might be good reasons for a route in the south of the island," said Trine Sannem Monsted, head of division at the center for risk preparedness at the Danish Energy Agency. "There are lots of ships passing in the north of the island every day, and there is a nature protection area in the sea. Decisions like this from a public entity in Denmark is always accompanied by a right to appeal. In this case Nord Stream 2 has chosen to use this right."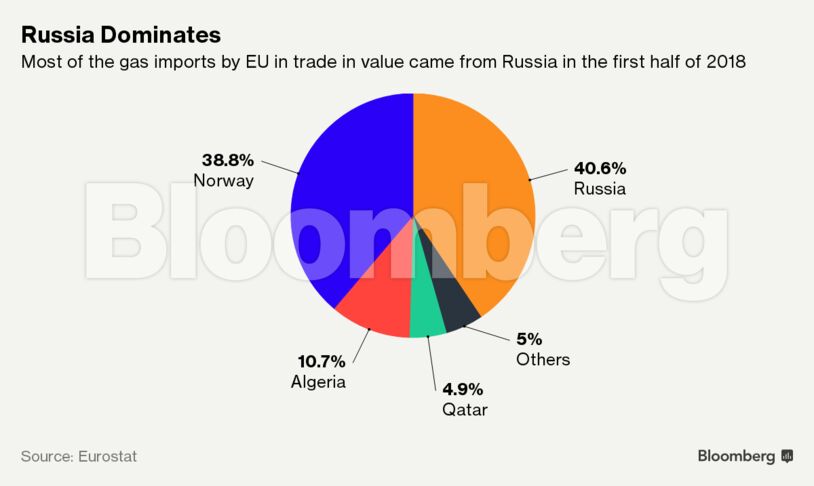 (Updates with comments from the project's financial backers in 15th paragraph.)
–With assistance from Ewa Krukowska.
Share This:
---
More News Articles