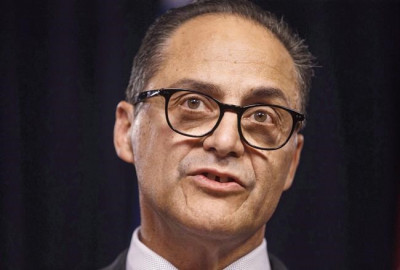 EDMONTON — Alberta Finance Minister Joe Ceci says he is not considering introducing a sales tax to help cure the province's financial woes because Albertans don't support it.
Ceci says the idea of a sales tax came up today when he had a roundtable meeting with economists but says having no provincial sales tax reflects, in his words, "the mindset of Albertans."
Ceci says the province will continue to try to reduce spending and grow the economy with an eye to balancing the budget by 2023.
Alberta is on track for a $10.3-billion deficit this year and more than $42 billion in debt by next spring.
Economist Robert Kavcic with BMO Capital Markets says Alberta's low tax regime gives it room to manoeuvre and, from an economic perspective, a consumption tax is the best way to ensure a stable base of revenue in tough times.
Opposition Alberta Party interim leader Greg Clark says the province should have a conversation around a sales tax, adding people will accept such a levy if the government can demonstrate it will use the money prudently.
The Canadian Press
Share This:
---
More News Articles